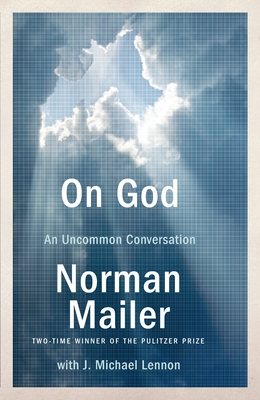 On God: An Uncommon Conversation (Paperback)
An Uncommon Conversation
Random House Trade, 9780812979404, 215pp.
Publication Date: November 4, 2008
Description
"I see God," wrote Norman Mailer, "as a Creator, as the greatest artist. I see human beings as His most developed artworks." In these moving, amusing, and probing dialogues conducted in the years before his death, Mailer establishes his own system of belief, rejecting both organized religion and atheism. He avows that sensual pleasures were bestowed on us by God; he finds fault with the Ten Commandments; and he holds that technology was the Devil's most brilliant creation. In short, Mailer is original and unpredictable in this inspiring journey, in which "God needs us as much as we need God." Praise for On God

" Norman Mailer's] theology is not theoretical to him. After eight decades, it is what he believes. He expects no adherents, and does not profess to be a prophet, but he has worked to forge his beliefs into a coherent catechism."--New York "The glory of an original mind in full provocation."--USA Today

"At once illuminating and exciting . . . a chance to see Mailer's intellect as well as his lively conversational style of speech."--American Jewish Life

"Remarkable . . . Mailer's] a believer--in his own fashion. . . . He has made God] into a complex character."--The Globe and Mail

Praise for Norman Mailer

" Norman Mailer] loomed over American letters longer and larger than any other writer of his generation."--The New York Times "A writer of the greatest and most reckless talent."--The New Yorker "Mailer is indispensable, an American treasure."--The Washington Post "A devastatingly alive and original creative mind."--Life "Mailer is fierce, courageous, and reckless and nearly everything he writes has sections of headlong brilliance."--The New York Review of Books "The largest mind and imagination in modern] American literature . . . Unlike just about every American writer since Henry James, Mailer has managed to grow and become richer in wisdom with each new book."--Chicago Tribune "Mailer is a master of his craft. His language carries you through the story like a leaf on a stream."--The Cincinnati Post
About the Author
Born in 1923 in Long Branch, New Jersey, and raised in Brooklyn, New York, Norman Mailer was one of the most influential writers of the second half of the twentieth century and a leading public intellectual for nearly sixty years. He is the author of more than thirty books. The Castle in the Forest, his last novel, was his eleventh New York Times bestseller. His first novel, The Naked and the Dead, has never gone out of print. His 1968 nonfiction narrative, The Armies of the Night, won the Pulitzer Prize and the National Book Award. He won a second Pulitzer for The Executioner's Song and is the only person to have won Pulitzers in both fiction and nonfiction. Five of his books were nominated for National Book Awards, and he won a lifetime achievement award from the National Book Foundation in 2005. Mr. Mailer died in 2007 in New York City. From the Hardcover edition.
Praise For On God: An Uncommon Conversation…
Praise for On God
 
"[Norman Mailer's] theology is not theoretical to him. After eight decades, it is what he believes. He expects no adherents, and does not profess to be a prophet, but he has worked to forge his beliefs into a coherent catechism."—New York
 
"The glory of an original mind in full provocation."—USA Today
 
"At once illuminating and exciting . . . a chance to see Mailer's intellect as well as his lively conversational style of speech."—American Jewish Life
 
"Remarkable . . . [Mailer's] a believer—in his own fashion. . . . He has made [God] into a complex character."—The Globe and Mail
 
Praise for Norman Mailer
 
"[Norman Mailer] loomed over American letters longer and larger than any other writer of his generation."—The New York Times
 
"A writer of the greatest and most reckless talent."—The New Yorker
 
"Mailer is indispensable, an American treasure."—The Washington Post
 
"A devastatingly alive and original creative mind."—Life
 
"Mailer is fierce, courageous, and reckless and nearly everything he writes has sections of headlong brilliance."—The New York Review of Books
 
"The largest mind and imagination [in modern] American literature . . . Unlike just about every American writer since Henry James, Mailer has managed to grow and become richer in wisdom with each new book."—Chicago Tribune
 
"Mailer is a master of his craft. His language carries you through the story like a leaf on a stream."—The Cincinnati Post
Advertisement