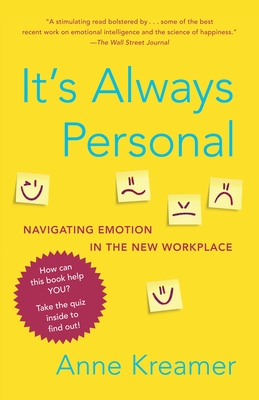 It's Always Personal (Paperback)
Navigating Emotion in the New Workplace
Random House Trade Paperbacks, 9780812979930, 256pp.
Publication Date: January 1, 2013
* Individual store prices may vary.
Description
An innovative study of gender, emotion, and power, It's Always Personal is an essential companion for everyone navigating the challenges of the contemporary workplace.
 
How often have we heard "It's nothing against you, it's not personal—it's just business"? But in fact, at work it's never just business—it's always personal. In this groundbreaking book, journalist and former corporate executive Anne Kreamer shows us how to get rational about our emotions, and provides the necessary new tools to flourish in an emotionally charged workplace. Combining the latest information on the intricacies of the human brain, candid stories from employees, and the surprising results of two national surveys, It's Always Personal offers
 
• a step-by-step guide for identifying your emotional type: Spouter, Accepter, Believer, or Solver
• Emotion Management Toolkits that outline strategies to cope with specific emotionally challenging situations
• vital facts that will help you understand—and handle—the six main emotional flashpoints: anger, fear, anxiety, empathy, joy, and crying
• an exploration of how men and women deal with emotions differently
 
"A stimulating read bolstered by snippets of some of the best recent work on emotional intelligence and the science of happiness."—The Wall Street Journal
 
"So what should be the rules and boundaries for showing how you feel while you work? That's a question asked and answered in Anne Kreamer's fascinating book . . . [a] look at an issue that rarely gets discussed."—The Washington Post
 
"Finally, someone is willing to unpack the morass of anger, anxiety, sadness, and joy that drives the workday. . . . [Kreamer] has hit the 'It's about time!' button."—Elle
 
"[A] lively, well-researched exploration of emotions on the job."—Oprah.com
 
"Explores how to be true to your 'emotional flashpoints—anger, fear, anxiety, empathy, happiness and crying'—without sabotaging your career."—The New York Times Book Review
About the Author
Anne Kreamer is the author of Going Gray: What I Learned about Beauty, Sex, Work, Motherhood, Authenticity and Everything Else that Really Matters, a former executive vice president and worldwide creative director of Nickelodeon, part of the founding team of SPY magazine, and a onetime columnist for both Fast Company and Martha Stewart Living. Her work has appeared in Time, Real Simple, Travel & Leisure, and More. She graduated from Harvard College and lives in Brooklyn with her husband, the writer Kurt Andersen.


From the Hardcover edition.
Praise For It's Always Personal: Navigating Emotion in the New Workplace…
Praise for It's Always Personal:

"Throughout this heartfelt book, Ms. Kreamer comes down on the side of accepting and expressing one's authentic feelings, though in sensible and constructive ways. "It's Always Personal" argues that greater emotional openness could lend vitality to American business, and it urges both men and women to 'bring their full, true selves to the game.' It's a stimulating read bolstered by snippets of some of the best recent work on emotional intelligence and the science of happiness."
—Clare McHugh, The Wall Street Journal

"It's Always Personal will transform the way you look at office culture and work relationships.  In an insightful analysis packed with research, evidence, and real-life examples, Kreamer demonstrates why emotion matters so much in the workplace--and, with practical advice, she identifies ways to be happier and more effective at work." 
--Gretchen Rubin, #1 New York Times bestselling author of The Happiness Project
 
"This will be one of the most fascinating and useful books you'll ever read.  In this groundbreaking study, Anne Kreamer looks at emotion in the workplace through first-hand experiences, scientific research, and empirical data.  What's the role of anger, fear empathy, anxiety and tears?  This book explains them in ways that will make you a better worker, boss and human being." 
--Walter Isaacson, President and CEO, The Aspen Institute and former CEO of CNN   
 
"It's Always Personal made me want to stand up and cheer!  I love this book.  And every person who has ever been a boss or an employee needs to read it.  Superb reading and highly practical!" 
--Christiane Northrup, M.D., New York Times bestselling author of Women's Bodies,Women's Wisdom and The Wisdom of Menopause

"A magnificent book, deeply researched, fun to read.  Destined to become a classic in the field of women and work."
--Dr. Louann Brizendine, New York Times bestselling author of The Female Brain

"Anne Kreamer's fascinating book...is the next pick for the Color of Money Book Club.  To better manage your feelings, Kreamer recommends building an emotion-management toolkit... So, you know what? Cry if you want to. Just use the suggestions and techniques Kreamer outlines to make sure your weeping doesn't get in the way of your work." 
—The Washington Post

 "Kreamer makes a solid case for her philosophy in the most compelling way possible, by appealing to rationality and the bottom line, resulting in an extremely readable, well-reasoned volume that will leave readers with a heightened emotional intelligence of their own, more confidence and rationality about their emotions, and an ability to take that knowledge to the office."
—Publisher's Weekly Review

"Big girls do cry—and yell—at work, according to this lively, well-researched exploration of emotions on the job."
—O, The Oprah Magazine
 
"…what makes Kreamer's book transcend Who Moved My Cheese-yness is the tension that thrums beneath her ex-executive optimism…and also
her own still-palpable disappointment in the corporate sphere."
—Elle Magazine