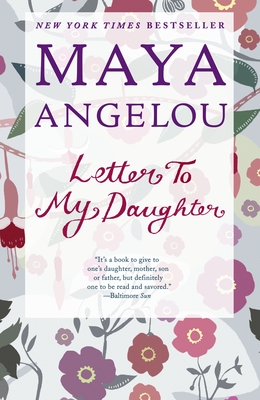 Letter to My Daughter (Paperback)
Random House Trade, 9780812980035, 166pp.
Publication Date: October 27, 2009
Description
Dedicated to the daughter she never had but sees all around her, Letter to My Daughter reveals Maya Angelou's path to living well and living a life with meaning. Here in short spellbinding essays are glimpses of the tumultuous life that taught Angelou lessons in compassion and fortitude: how she was brought up by her indomitable grandmother in segregated Arkansas, taken in at thirteen by her more worldly and less religious mother, and grew to be an awkward six-foot-tall teenager whose first experience of loveless sex paradoxically left her with her greatest gift, a son. Whether she is recalling lost friends such as Coretta Scott King and Ossie Davis, extolling honesty, decrying vulgarity, explaining why becoming a Christian is a "lifelong endeavor," or simply singing the praises of a meal of red rice, Maya Angelou writes from the heart to millions of women she considers her extended family.
About the Author
Maya Angelou was raised in Stamps, Arkansas. In addition to her bestselling autobiographies, including I Know Why the Caged Bird Sings and The Heart of a Woman, she wrote numerous volumes of poetry, among them Phenomenal Woman, And Still I Rise, On the Pulse of Morning, and Mother. Maya Angelou died in 2014. From the Hardcover edition.
Praise For Letter to My Daughter…
"It's a book to give to one's daughter, mother, son or father, but definitely one to be read and savored."—Baltimore Sun

"Sound advice, vivid memory and strong opinion . . . What is clear is that [Maya] Angelou is, all these years later, still a charmer, still speaking her mind."—Washington Post Book World

"A slim volume packed with nourishing nuggets of wisdom . . . Overarching each brief chapter is the vital energy of a woman taking life's measure with every step."—Kirkus Reviews

"Written in Angelou's beautiful, poetic style, the essays feel like warm advice from a beloved aunt or grandmother, whose wisdom you know was earned."—Fredericksburg Free Lance—Star

"Spellbinding . . . Angelou delivers with her signature passion and fire. . . . Each [essay] delivers a powerful message."—Rocky Mountain News


Advertisement