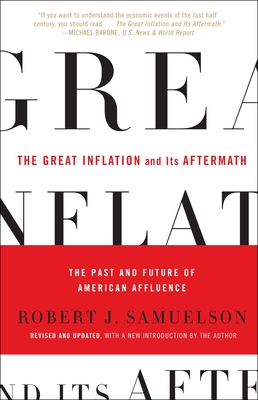 The Great Inflation and Its Aftermath
The Past and Future of American Affluence
Paperback

* Individual store prices may vary.
Other Editions of This Title:
Hardcover (11/11/2008)
Description
The Great Inflation in the 1960s and 1970s, notes award-winning columnist Robert J. Samuelson, played a crucial role in transforming American politics, economy, and everyday life. The direct consequences included stagnation in living standards, a growing belief—both in America and abroad—that the great-power status of the United States was ending, and Ronald Reagan's election to the presidency in 1980. But that is only half the story. The end of high inflation led to two decades of almost uninterrupted economic growth, rising stock prices and ever-increasing home values. Paradoxically, this prolonged prosperity triggered the economic and financial collapse of 2008 and 2009 by making Americans—from bank executives to ordinary homeowners—overconfident, complacent, and careless. The Great Inflation and its Aftermath, Samuelson contends, demonstrated that we have not yet escaped the boom-and-bust cycles common in the nineteenth and early twentieth centuries. This is a sobering tale essential for anyone who wants to understand today's world.
Praise For The Great Inflation and Its Aftermath: The Past and Future of American Affluence…
"If you want to understand the economic events of the last half century, you should read. . . Robert Samuelson's The Great Inflation and Its Aftermath —U.S News & World Report

"Barack Obama . . . should read The Great Inflation and Its Aftermath, [a] timely history of how good political intentions stoked an inflationary hell in the 1970s—and how only bold, painful action smothered the flames."—James Pressley, Bloomberg 
 
"Samuelson's clear-eyed focus on the rise and fall of inflation remains relevant today."—USA Today
 
"[Samuelson preaches] old-fashioned virtue on a macroeconomic scale: don't promise more than you can deliver; weigh the unintended consequences of your actions; beware hucksters bearing easy fixes."—Noam Scheiber, New York Times Book Review
 
"Economics can be fun! Samuelson has a knack for making obscure topics interesting."—Rocky Mountain News
 

Random House Trade Paperbacks, 9780812980042, 352pp.
Publication Date: January 26, 2010
About the Author
Robert J. Samuelson is a columnist for Newsweek and The Washington Post. He began his journalism career as a reporter for the Post in 1969. He is the author of The Good Life and Its Discontents: The American Dream in the Age of Entitlement, 1945-1995 and Untruth: Why the Conventional Wisdom Is (Almost Always) Wrong, a collection of his columns. He lives in Bethesda, Maryland, with his wife, Judy Herr. They have three children.
or
Not Currently Available for Direct Purchase