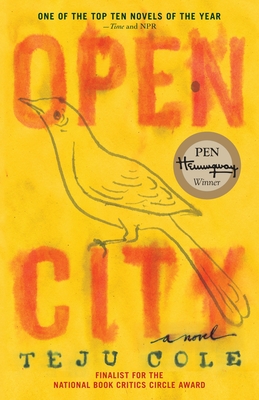 Open City
A Novel
Paperback

* Individual store prices may vary.
Other Editions of This Title:
Digital Audiobook (4/27/2020)
Description
"Cerebral and capacious, Teju Cole's novel asks what it means to roam freely."—The New York Times (One of the 25 Most Significant New York City Novels From the Last 100 Years)

"Influential . . . makes you think about what kind of city is revealed to us based on where we cannot go."—Katie Kitamura, bestselling author of Intimacies
 
ONE OF THE TEN BEST BOOKS OF THE YEAR: Time, NPR • WINNER: PEN/Hemingway Award, Rosenthal Foundation Award, New York City Book Award
 
Along the streets of Manhattan, a young Nigerian doctor named Julius doing his residency wanders aimlessly. The walks are a release from the tightly regulated mental environment of work, and they give him the opportunity to process his relationships, his recent breakup, his present, his past. Though he's navigating the busy parts of town, the impression of countless faces does nothing to assuage his feelings of isolation.

Julius crisscrosses social territory as well, encountering people from different cultures and classes who provide insight on his journey—which takes him to Brussels, to the Nigeria of his youth, and into the most unrecognizable facets of his own soul.

Seething with intelligence and written in a clear, rhythmic voice, Open City is a haunting, mature, profound work about our country and our world.
 
FINALIST: National Book Critics Circle Award, Young Lions Fiction Award • ONE OF THE BEST BOOKS OF THE YEAR: The New York Times Book Review, The New Yorker, The Atlantic, The Economist, Newsweek, The New Republic, New York Daily News, Los Angeles Times, The Boston Globe, The Seattle Times, Minneapolis Star Tribune, GQ, Salon, Slate, New York, The Week, The Kansas City Star, Kirkus Reviews, The Guardian, Toronto Star, The Globe and Mail, The Irish Times
Praise For Open City: A Novel…
"Reminiscent of the works of W. G. Sebald, this dreamy, incantatory debut was the most beautiful novel I read this year—the kind of book that remains on your nightstand long after you finish so that you can continue dipping in occasionally as a nighttime consolation."—The New Republic
 
"A psychological hand grenade."—The Atlantic

"A meditative and startlingly clear-eyed first novel."—Newsweek

"Magnificent . . . a remarkably resonant feat of prose."—Seattle Times

"A precise and poetic meditation on love, race, identity, friendship, memory, [and] dislocation."—The Economist
 
"[Teju] Cole writes beautifully; his protagonist is unique; and his novel, utterly thrilling."—The Globe and Mail
 
"Lean and mean and bristles with intelligence. The multi-culti characters and streets of New York are sharply observed and feel just right. . . . Toward the end, there's a poignant, unexpected scene in a tailor's shop that's an absolute knockout."—Salon

"I couldn't stop reading Teju Cole's debut novel and was blown away by his ability to capture the human psyche with such beautiful yet subtle prose."—Slate
 
"An indelible debut novel . . . [It] does precisely what literature should do: it brings together thoughts and beliefs, and blurs borders. . . . A compassionate and masterly work."—The New York Times Book Review

"The cool, concise prose of Open City draws you in more quietly, then breaks your heart. Who knew that taking a long walk in Manhattan could be so profound?"—New York
 
"Beautiful, subtle, and finally, original . . . Cole has made his novel as close to a diary as a novel can get, with room for reflection, autobiography, stasis, and repetition. This is extremely difficult, and many accomplished novelists would botch it, since a sure hand is needed to make the writer's careful stitching look like a thread merely being followed for its own sake. Mysteriously, wonderfully, Cole does not botch it."—The New Yorker
 
"In Cole's intelligent, finely observed portrait, Julius drifts through cities on three continents, repeatedly drawn into conversation with solitary souls like him: people struggling with the emotional rift of having multiple homelands but no home." —GQ
 
"[A] complicated portrait of a narrator whose silences speak as loudly as his words—all articulated in an effortlessly elegant prose . . . Teju Cole has achieved, in this book, a rare balance. He captures life's urgent banality, and he captures, too, the ways in which the greater subjects . . . glimmer darkly in the interstices."—The New York Review of Books
 
"Open City is not a loud novel, nor a thriller, nor a nail-biter. What it is is a gorgeous, crystalline, and cumulative investigation of memory, identity, and erasure. It gathers its power inexorably, page by page, and ultimately reveals itself as nothing less than a searing tour de force. Teju Cole might just be a W. G. Sebald for the twenty-first century."—Anthony Doerr, Pulitzer Prize–winning author of All the Light We Cannot See
Random House Trade Paperbacks, 9780812980097, 272pp.
Publication Date: January 17, 2012
About the Author
Teju Cole was born in the United States in 1975 and raised in Nigeria. He is the author of Every Day Is for the Thief and Open City, which won the PEN/Hemingway Award, the Internationaler Literaturpreis, the Rosenthal Family Foundation Award for Fiction from the American Academy of Arts and Letters, and the New York City Book Award, and was nominated for the National Book Critics Circle Award. His photography has been exhibited in India and the United States. He is Distinguished Writer in Residence at Bard College.