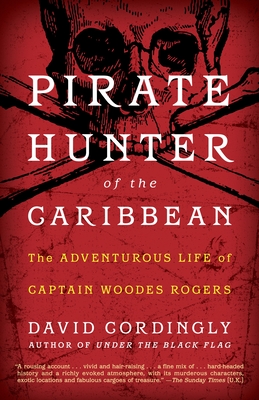 Pirate Hunter of the Caribbean:: The Adventurous Life of Captain Woodes Rogers (Paperback)
The Adventurous Life of Captain Woodes Rogers
Random House Trade, 9780812980172, 301pp.
Publication Date: September 4, 2012
* Individual store prices may vary.
or
Not Currently Available for Direct Purchase
Description
From renowned pirate historian David Cordingly, author of "Under the Black Flag "and film consultant for the original "Pirates of the Caribbean, " comes the thrilling story of Captain Woodes Rogers, the avenging nemesis of the worst cutthroats ever to terrorize the high seas. Once a marauding privateer himself, Woodes Rogers went from laying siege to laying down the law. During Britain's war with Spain, Rogers sailed for the crown in sorties against Spanish targets in the Pacific; battled scurvy, hurricanes, and mutinies; captured a treasure galleon; and even rescued the castaway who inspired "Robinson Crusoe." Appointed governor of the Bahamas in 1717, the fearless Rogers defended the island colony of King George I against plundering pirates and an attempted Spanish invasion. His resolute example led to the downfall of such notorious pirates as Blackbeard, Calico Jack, and the female pirates Anne Bonny and Mary Read. A vividly detailed and action-packed portrait of one of the early eighteenth century's most colorful characters, "Pirate Hunter of the Caribbean" serves up history that's as fascinating and gripping as any seafaring legend.
About the Author
David Cordingly was for twelve years on the staff of the National Maritime Museum in Greenwich, England, where he was curator of paintings and then head of exhibitions. He is a graduate of Oxford, and the renowned author of the definitive book on pirates, "Under the Black Flag," as well as "Seafaring Women" and "Cochrane: The Real Master and Commander." Cordingly lives with his wife by the sea in Sussex, England. "From the Hardcover edition."
Praise For Pirate Hunter of the Caribbean:: The Adventurous Life of Captain Woodes Rogers…
"A rousing account . . . vivid and hair-raising . . . a fine mix of . . . hard-headed history and a richly evoked atmosphere, with its murderous characters, exotic locations and fabulous cargoes of treasure."—The Sunday Times (U.K.)
 
"The true story of the rise and fall of the pirates of the Caribbean makes for a tale more interesting and surprising than the legends themselves. . . . Woodes Rogers' resolute actions . . . proved a defining step in the campaign against the pirates, inspiring the fight-back against men like Blackbeard, Calico Jack and Bartholomew Roberts."—Historic Naval Fiction
 
"An excellent primer in the barnacle-infested field of piratology."—Booklist
 
"A colourful and rollicking biography."—The Express (U.K.)
Advertisement