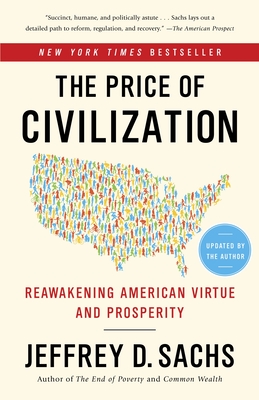 The Price of Civilization (Paperback)
Reawakening American Virtue and Prosperity
Random House Trade Paperbacks, 9780812980462, 352pp.
Publication Date: August 21, 2012
Other Editions of This Title:
Digital Audiobook (10/3/2011)
Compact Disc (10/4/2011)
Prebound (8/21/2012)
* Individual store prices may vary.
Description
NEW YORK TIMES BESTSELLER • NAMED ONE OF THE BEST BOOKS OF THE YEAR BY THE GUARDIAN AND PUBLISHERS WEEKLY
 
"Succinct, humane, and politically astute . . . Sachs lays out a detailed path to reform, regulation, and recovery."—The American Prospect
 
In this forceful and impassioned book, Jeffrey D. Sachs offers a searing and incisive diagnosis of our country's economic ills, and an urgent call for Americans to restore the core virtues of fairness, honesty, and foresight as the foundations of national prosperity. Sachs finds that both political parties—and many leading economists—have missed the big picture, profoundly underestimating globalization's long-term effects and offering shortsighted solutions. He describes a political system that is beholden to big donors and influential lobbyists and a consumption-driven culture that suffers shortfalls of social trust and compassion. He bids readers to reclaim the virtues of good citizenship and mindfulness toward the economy and each one another. Most important, he urges each of us to accept the price of civilization, so that together we restore America to its great promise. The Price of Civilization is a masterly road map for prosperity, founded on America's deepest values and on a rigorous understanding of the twenty-first-century world economy.
 
With a new Preface by the author

"Half a century ago J. K. Galbraith's The Affluent Society changed the political consciousness of a generation. . . . Jeffrey Sachs's new book is a landmark in this great and essentially American tradition. . . . Sachs by his life and his writing goes far to restore one's wavering faith in the informing inspiration of the post-1945 new dawn, faith in economics, faith in America and faith in humanity."—The Spectator
 
"Stimulating . . . a must-read for every concerned citizen . . . [a] hard-hitting brief for a humane economy."—Publishers Weekly (starred review)
 
"Sachs's book is loaded with information and anecdotes [and] proposals that would make it harder for the powerful to rig the system for their benefit."—Scientific American
 
"An eloquent call for American civic renewal based on moderation, compassion, and cooperation across the lines of class, ethnicity, and ideology."—CNN Money
 
"Compelling . . . This is an important book."—Financial Times
About the Author
Jeffrey Sachs is the director of the Earth Institute at Columbia University and special adviser to Secretary-General Ban Ki-moon on the United Nations' Millennium Development Goals. He is internationally renowned for his contributions to solving some of the world's most daunting economic and social crises, in his roles as a leading scholar and as an economic adviser to governments and international organizations around the world.
Praise For The Price of Civilization: Reawakening American Virtue and Prosperity…
Praise for THE PRICE OF CIVILIZATION
"
An important assessment of what ails America,
and a must-read for policymakers."--
Kirkus Reviews
"Best known for advising postcommunist and impoverished countries on development strategies, economist Sachs (Common Wealth) takes on the cesspool of debt, backwardness, and corruption that is the United States in this hard-hitting brief for a humane economy... a must-read for every concerned citizen."--Publishers Weekly, starred review
"There is no shortage of books on why laissez-faire is bad theory and dangerous practice. For a succinct, humane, and politically astute tour of the horizon, it's hard to improve on Sachs's The Price of Civilization: Reawakening American Virtue and Prosperity."--The American Prospect
"Jeffrey Sachs's new book is a landmark in this great and essentially American tradition, setting out with luminous clarity the narrative and the analysis of how the US and the wider world has been traduced and seduced by debased ideology, racist reflexes and huge vested interests from its liberal and enlightened roots. Indeed, Sachs by his life and his writing goes far to restore one's wavering faith in the informing inspiration of the post-1945 new dawn, faith in economics, faith in America and faith in humanity."--The Spectator