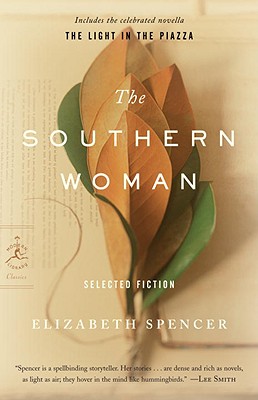 The Southern Woman: Selected Fiction (Paperback)
Selected Fiction
Modern Library, 9780812980769, 462pp.
Publication Date: August 25, 2009
Description
Born in rural Carrollton, Mississippi, Elizabeth Spencer has been writing masterly stories and novellas about Southerners for more than half a century. The Southern Woman collects the best of Spencer's shorter fiction and displays her range of place-the agrarian South, Italy in the decade after the Second World War, the gray-sky North, and the contemporary Sun Belt. In -The Little Brown Girl, - Maybeth discovers the limits of friendship in a racially divided world. In the elegiac -The Cousins, - a group of Southerners roams through Italy, brushing with love and regret and the grip of family. Also included is -The Light in the Piazza, - the novella about an American woman and her daughter in Florence that brought Spencer widespread acclaim and was adapted for both the screen and the Broadway stage. In this capstone collection, Elizabeth Spencer firmly claims her place in the distinguished heritage of the Southern short story.
About the Author
Elizabeth Spencer, the acclaimed author of several novels and short-story collections, is a five-time recipient of the O. Henry Award for short fiction. She was brought up in Mississippi during the Depression, at a time when tales of the Civil War lingered and segregation seemed permanent. Spencer's wanderings took her to Italy in 1953, to Montreal in 1958, and back home to the South in 1986. She lives in Chapel Hill, North Carolina.
Praise For The Southern Woman: Selected Fiction…
"A retrospective collection of twenty-seven stories, written over a period of more than half a century, by a Southern writer whose best fiction merits comparison with the work of Katherine Anne Porter and Eudora Welty."—Kirkus Reviews, starred review

"Spencer is a spellbinding storyteller. Her stories . . . are dense and rich as novels, as light as air; they hover in the mind like hummingbirds."—Lee Smith

"What [Spencer's] stories do wonderfully, for me, is explore the ties that bind–in families, friendships, communities, marriages–how mysterious, twisted, chafing, inescapable, and life-supporting such ties are."—Alice Munro

"A writer one puts on the 'permanent' shelf. These stories will be read and reread."—James Dickey
Advertisement