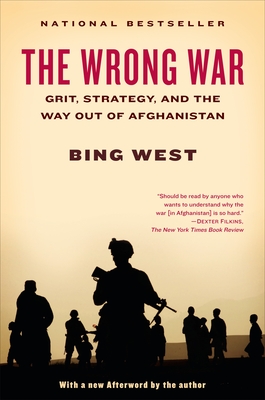 The Wrong War (Paperback)
Grit, Strategy, and the Way Out of Afghanistan
Random House Trade Paperbacks, 9780812980905, 352pp.
Publication Date: February 21, 2012
* Individual store prices may vary.
Description
NATIONAL BESTSELLER

In this definitive account of the conflict, acclaimed war correspondent and bestselling author Bing West provides a practical way out of Afghanistan. Drawing on his expertise as both a combat-hardened Marine and a former assistant secretary of defense, West has written a tour de force narrative, rich with vivid characters and gritty combat, which shows the consequences when strategic theory meets tactical reality. Having embedded with dozens of frontline units over the past three years, he takes the reader on a battlefield journey from the mountains in the north to the opium fields in the south. A fighter who understands strategy, West builds the case for changing course. His conclusion is sure to provoke debate: remove most of the troops from Afghanistan, stop spending billions on the dream of a modern democracy, and insist the Afghans fight their own battles. Bing West's book is a page-turner about brave men and cunning enemies that examines our realistic choices as a nation.
About the Author
Bing West's bestselling books have won the Veterans of Foreign Wars News Media Award, the Marine Corps Heritage Foundation's General Wallace M. Greene Jr. Award for nonfiction, the Andrew J. Goodpaster Prize for military scholarship, the Colby Award for military nonfiction, and the Marine Corps University Foundation's Major General John H. Russell Leadership Award. West, a Marine combat infantryman, is a member of the Council on Foreign Relations and a former assistant secretary of defense.
Praise For The Wrong War: Grit, Strategy, and the Way Out of Afghanistan…
"Should be read by anyone who wants to understand why the war [in Afghanistan] is so hard."—Dexter Filkins, The New York Times Book Review

"One of the best books yet written on the war in Afghanistan . . . filled with both vivid descriptions of the Afghan fighting and sound advice concerning how counterinsurgencies should be waged."—The Wall Street Journal

"Should be must reading for President Obama—and for you. . . . Most of us really don't give Afghanistan much thought. . . . Most of us don't get it. If you read The Wrong War you will."—USA Today
 
"As always, West's greatest strengths are his exceptional personal courage and his experienced perception of combat. He anchors a narrative of failed policy in a set of battlefield stories that explains events with unusual clarity."—The Washington Post
 
"West offers vivid accounts of the war from ground level and an unsparing analysis of the chances for U.S. success."—Los Angeles Times