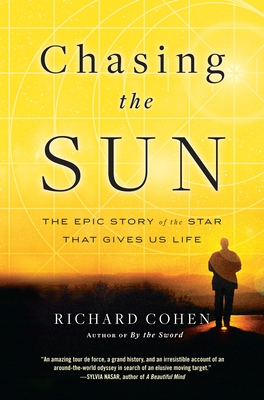 Chasing the Sun: The Epic Story of the Star That Gives Us Life (Paperback)
The Epic Story of the Star That Gives Us Life
Random House Trade, 9780812980929, 574pp.
Publication Date: September 13, 2011
* Individual store prices may vary.
or
Not Currently Available for Direct Purchase
Description
In the grand tradition of the scholar-adventurer, acclaimed author Richard Cohen takes us around the world to illuminate our relationship with the star that gives us life. Drawing on more than seven years of research, he reports from locations in eighteen different countries. As he soon discovers, the Sun is present everywhere—in mythology, language, religion, politics, sciences, art, literature, and medicine, even in the ocean's depths. For some ancient worshippers, our star was a man abandoned by his spouse because his brightness made her weary. The early Christians appropriated the Sun's imagery, with the cross becoming an emblem of the star and its rays, and the halo a variation of that. Einstein helped replicate the Sun's power to create the atomic bomb, while Richard Wagner had Tristan inveigh against daylight as the enemy of romantic love. In this splendidly illustrated volume packed with captivating facts, extraordinary myths, and surprising anecdotes, Cohen not only explains the star that so inspires us, but shows how multifacted our relationship with it has been—and continues to be.
About the Author
Richard Cohen is the former publishing director of Hutchinson and Hodder & Stoughton and the founder of Richard Cohen Books. The acclaimed author of By the Sword: A History of Gladiators, Musketeers, Samurai, Swashbucklers, and Olympic Champions, he has written for The New York Times and most leading London newspapers, and has appeared on BBC radio and television. He lives in New York City. From the Hardcover edition.
Praise For Chasing the Sun: The Epic Story of the Star That Gives Us Life…
"An amazing tour de force, a grand history, and an irresistable account of an around-the-world odyssey in search of an elusive moving target."—Sylvia Nasar, author of A Beautiful Mind

"A quite extraordinary book, which I absolutely loved. It's a fabulously provoking history of discoveries, dreams, and delusions. I shall bask in its shimmering digressions, crazy cross-references, and dizzy overviews for many moons."—Richard Holmes, author of The Age of Wonder
 
"Remarkably comprehensive and engrossing . . . Apollo, Ra, Inti or Huitzilopochtli—all would rock with delight at Cohen's sweeping endeavor."—Kirkus Reviews (starred review)
 
"A firework of a book . . . sprinkled throughout with such glittery delights."—The Wall Street Journal
 
"On every single page there is something utterly fascinating."—Philip Pullman, author of His Dark Materials
 
"[Full of] playfulness and jam-packed lyricism."—The Boston Globe
Advertisement