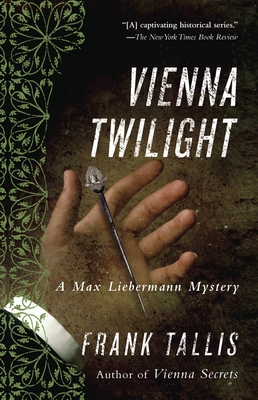 Vienna Twilight (Paperback)
Random House Trade, 9780812981001, 356pp.
Publication Date: April 12, 2011
Description
In the dynamic and dangerous Vienna of 1903, a brilliant psychoanalyst and a brave detective battle to catch criminals who commit the most clever and brutal crimes.
Detective Inspector Oskar Reinhardt finds that young women are being slain in an unnerving and ingenious manner, with a small, almost undetectable, hat pin. For Dr. Max Liebermann, the killer is unique in the annals of psychopathology, one who murders in the midst of consensual love. Is the culprit a patient, one who swears he has a double, a shadow figure that is far more forward (in fact, indecent) with women? As danger mounts, Liebermann must find the answer while struggling with his own forbidden desire for a female patient.
About the Author
Frank Tallis is a writer and practicing clinical psychologist. He has held lecturing posts in clinical psychology and neuroscience at the Institute of Psychiatry and King's College, London, and is one of Britain's leading experts on obsessional states. In 1999 he received a Writers' Award from the Arts Council of Great Britain and in 2000 he won the New London Writers Award (London Arts Board). Tallis's novels include Killing Time, Sensing Others, Mortal Mischief, Vienna Blood, Fatal Lies, Darkness Rising, Deadly Communion, and Death and the Maiden. He is also the author of many nonfiction books on psychology, including Love Sick: Love as a Mental Illness and Hidden Minds: A History of the Unconscious. He lives and works in London.
Praise For Vienna Twilight…
PRAISE FOR Vienna Twilight

"[T]he best, of Tallis's Max Liebermann books….the story not only provides a glimpse of Austrian politics, society, music and literature at the time but also gives a keen insight into the early development of Freudian psychoanalysis.  The most compelling feature of the book, however, is the plot….. With numerous unexpected plot twists, captivating characters, intriguing intellectual interplay between Reinhardt and Liebermann, and masterful writing, this is a must-read for all mystery buffs."   -- Booklist, starred review

"Meticulous…Liebermann's fifth once more folds a nifty mystery into a fascinating portrait of a unique time. And there's a nice surprise twist."  -- Kirkus Reviews

PRAISE FOR FRANK TALLIS'S VIENNA THRILLERS
 
"A most enjoyable read and, as usual, Vienna sparkles with atmosphere."—The Times (London), on Vienna Twilight
 
"Rich in historical detail . . . chock-full of tantalizing elements."—The Austin Chronicle, on Vienna Secrets
 
"Immensely satisfying . . . delights us with rich, often gorgeous prose . . . If you're looking for the best in popular fiction, it's well worth seeking out."—The Washington Post, on Fatal Lies

"[A] captivating historical series."—The New York Times Book Review
 
Advertisement