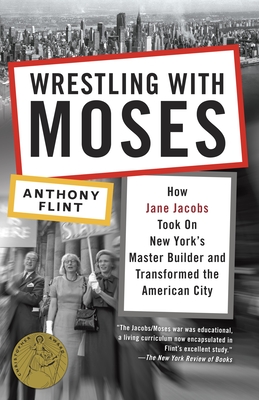 Wrestling with Moses (Paperback)
How Jane Jacobs Took On New York's Master Builder and Transformed the American City
Random House Trade Paperbacks, 9780812981360, 272pp.
Publication Date: February 8, 2011
Other Editions of This Title:
Hardcover (7/28/2009)
* Individual store prices may vary.
Description
The rivalry of Jane Jacobs and Robert Moses, a struggle for the soul of a city, is one of the most dramatic and consequential in modern American history. To a young Jane Jacobs, Greenwich Village, with its winding cobblestone streets and diverse makeup, was everything a city neighborhood should be. But consummate power broker Robert Moses, the father of many of New York's most monumental development projects, thought neighborhoods like Greenwich Village were badly in need of "urban renewal." Standing up against government plans for the city, Jacobs marshaled popular support and political power against Moses, whether to block traffic through her beloved Washington Square Park or to prevent the construction of the Lower Manhattan Expressway, an elevated superhighway that would have destroyed centuries-old streetscapes and displaced thousands of families. By confronting Moses and his vision, Jacobs forever changed the way Americans understood the city. Her story reminds us of the power we have as individuals to confront and defy reckless authority.
About the Author
Anthony Flint is the director of public affairs at the Lincoln Institute of Land Policy, a think-tank on land and development issues located in Cambridge, MA, and was a reporter at The Boston Globe for sixteen years. He is the author of This Land: The Battle Over Sprawl and the Future of America. He lives in Boston.
Praise For Wrestling with Moses: How Jane Jacobs Took On New York's Master Builder and Transformed the American City…
"The Jacobs/Moses war was educational, a living curriculum now encapsulated in Flint's excellent study."—The New York Review of Books

"[A] winning account . . . dramatically described . . . [Anthony] Flint looks at a seminal struggle of twentieth-century city planning, one that involved two giants with utterly differing views of how cities should look and develop."—The Boston Globe

"[This book] shows how these mythic characters shaped each other's work and reputations. . . . If there's such a thing as beach reading for the urban studies set, it's Wrestling with Moses."—San Francisco Chronicle
 
"Lively and informative . . . Wrestling with Moses is about those who fought back against the power broker and in so doing helped set the stage for the city's revitalization."—The Wall Street Journal
 
"Well told . . . one of America's greatest David and Goliath stories."—The Hartford Courant