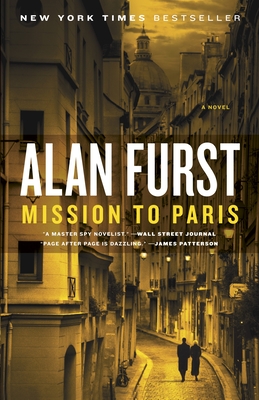 Mission to Paris (Paperback)
A Novel
Random House Trade Paperbacks, 9780812981827, 272pp.
Publication Date: June 4, 2013
Other Editions of This Title:
Digital Audiobook (6/11/2012)
Hardcover, Large Print (7/5/2012)
CD-Audio (6/12/2012)
Hardcover (6/12/2012)
* Individual store prices may vary.
Description
"A master spy novelist."—The Wall Street Journal
 
"Page after page is dazzling."—James Patterson
 
NEW YORK TIMES BESTSELLER
 
Late summer, 1938. Hollywood film star Fredric Stahl is on his way to Paris to make a movie. The Nazis know he's coming—a secret bureau within the Reich has been waging political warfare against France, and for their purposes, Fredric Stahl is a perfect agent of influence. What they don't know is that Stahl, horrified by the Nazi war on Jews and intellectuals, has become part of an informal spy service run out of the American embassy. Mission to Paris is filled with heart-stopping tension, beautifully drawn scenes of romance, and extraordinarily alive characters: foreign assassins; a glamorous Russian actress-turned-spy; and the women in Stahl's life. At the center of the novel is the city of Paris—its bistros, hotels grand and anonymous, and the Parisians, living every night as though it were their last. Alan Furst brings to life both a dark time in history and the passion of the human hearts that fought to survive it.
 
Praise for Mission to Paris
 
"The most talented espionage novelist of our generation."—Vince Flynn
 
"Vividly re-creates the excitement and growing gloom of the City of Light in 1938–39 . . . It doesn't get more action-packed and grippingly atmospheric than this."—The Boston Globe

"One of [Furst's] best . . . This is the romantic Paris to make a tourist weep. . . . In Furst's densely populated books, hundreds of minor characters—clerks, chauffeurs, soldiers, whores—all whirl around his heroes in perfect focus for a page or two, then dot by dot, face by face, they vanish, leaving a heartbreaking sense of the vast Homeric epic that was World War II and the smallness of almost every life that was caught up in it."—The New York Times Book Review
 
"A book no reader will put down until the final page . . . Critics compare [Alan] Furst to Graham Greene and John le Carré [as] a master of historical espionage."—Library Journal (starred review)
 
"Alan Furst's writing reminds me of a swim in perfect water on a perfect day, fluid and exquisite. One wants the feeling to go on forever, the book to never end. . . . Furst is one of the finest spy novelists working today."—Publishers Weekly
About the Author
Alan Furst is widely recognized as the master of the historical spy novel. Now translated into eighteen languages, he is the author of Night Soldiers, Dark Star, The Polish Officer, The World at Night, Red Gold, Kingdom of Shadows, Blood of Victory, Dark Voyage, The Foreign Correspondent, The Spies of Warsaw, and Spies of the Balkans. Born in New York, he lived for many years in Paris, and now lives on Long Island.
Praise For Mission to Paris: A Novel…
"This is the romantic Paris to make a tourist weep … The brilliant historical flourishes seem to create – or recreate – a world … In Furst's densely populated books, hundred of minor characters – clerks, chauffeurs, soldiers, whores – all whirl around his heroes in perfect focus for a page or two, then dot by dot, face by face, they vanish, leaving a heartbreaking sense of the vast Homeric epic that was World War II and the smallness of almost every life that was caught up in it."
—The New York Times Book Review

"Alan Furst again shows why he is a grandmaster of the historical espionage genre. Furst not only vividly re-creates the excitement and growing gloom of the City of Light in 1938-39, as war with Nazi Germany looms, but also demonstrates a profound knowledge of the political divisions and cultural sensibilities of that bygone era … As summer or subway reading goes, it doesn't get more action-packed and grippingly atmospheric than this."
—The Boston Globe

"Between them, Fredric and Paris make this a book no reader will put down to the final page. Furst evokes the city and the prewar anxiety with exquisite tension that is only a bit relieved by Fredric's encounters with several women, each a vivid and attractive character. Critics compare Furst to Graham Greene and John le Carré, but the time has come for this much-published author (this is his ninth World War II novel after Spies of the Balkans) to occupy his own pinnacle as a master of historical espionage."
—Library Journal (starred)

"Furst conveys a strong sense of the era, when responding to a knock might open the door to the end of one's days. The novel recalls a time when black and white applied to both movies and moral choices. It's a tale with wide appeal."
—Kirkus (starred)

"[Furst] is most at home in Paris, which is why legions of his fans, upon seeing only the title of his latest book, will immediately feel pulses quicken … Furst has been doing this and doing it superbly for a long time now … Long ago Furst made the jump from genre favorite to mainstream bestsellerdom; returning to his signature setting, Paris, he only stands to climb higher."
—Booklist (starred)
 
"Alan Furst's writing reminds me of a swim in perfect water on a perfect day, fluid and exquisite. One wants the feeling to go on forever, the book to never end … Like Graham Greene, Furst creates believable characters caught up, with varying degrees of willingness, in the parade of political life. And because they care, the reader does, too … Furst is one of the finest spy novelists working today, and, from boudoir to the beach, Mission to Paris is perfect summer reading."
—Publisher's Weekly
 
"The writing in Mission to Paris, sentence after sentence, page after page, is dazzling. If you are a John le Carré fan, this is definitely a novel for you."
—James Patterson
 
"I am a huge fan of Alan Furst. Furst is the best in the business--the most talented espionage novelist of our generation."
—Vince Flynn

"Reading Mission to Paris is like sipping a fine Chateau Margaux: Sublime!"
—Erik Larson