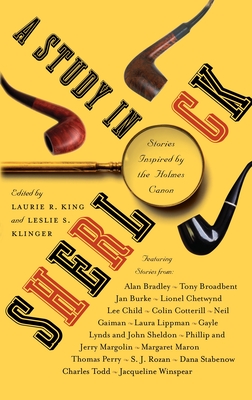 A Study in Sherlock
Stories inspired by the Holmes canon
Paperback

* Individual store prices may vary.
Description
BESTSELLING AUTHORS GO HOLMES—IN AN IRRESISTIBLE NEW COLLECTION edited by award-winning Sherlockians Laurie R. King and Leslie S. Klinger
 
Neil Gaiman. Laura Lippman. Lee Child. These are just three of eighteen superstar authors who provide fascinating, thrilling, and utterly original perspectives on Sherlock Holmes in this one-of-a-kind book. These modern masters place the sleuth in suspenseful new situations, create characters who solve Holmesian mysteries, contemplate Holmes in his later years, fill gaps in the Sherlock Holmes Canon, and reveal their own personal obsessions with the Great Detective.

Thomas Perry, for example, has Dr. Watson tell his tale, in a virtuoso work of alternate history that finds President McKinley approaching the sleuth with a disturbing request; Lee Child sends an FBI agent to investigate a crime near today's Baker Street—only to get a twenty-first-century shock; Jacqueline Winspear spins a story of a plucky boy inspired by the detective to make his own deductions; and graphic artist Colin Cotterill portrays his struggle to complete this assignment in his hilarious "The Mysterious Case of the Unwritten Short Story."*

In perfect tribute comes this delicious collection of twisty, clever, and enthralling studies of a timeless icon.

Featuring these stories

"You'd Better Go In Disguise" by Alan Bradley
"As To 'An Exact Knowledge of London'" by Tony Broadbent
"The Men With the Twisted Lips" by S. J. Rozan
"The Adventure of the Purloined Paget" by Phillip Margolin and Jerry Margolin
"The Bone-Headed League" by Lee Child
"The Startling Events in the Electrified City" by Thomas Perry
"The Case of Death and Honey" by Neil Gaiman
"A Triumph of Logic" by Gayle Lynds and John Sheldon
"The Last of Sheila-Locke Holmes" by Laura Lippman
"The Adventure of the Concert Pianist" by Margaret Maron
"The Shadow Not Cast" by Lionel Chetwynd
"The Eyak Interpreter" by Dana Stabenow
"The Case That Holmes Lost" by Charles Todd
"The Imitator" by Jan Burke
"A Spot of Detection" by Jacqueline Winspear

*print-version only
Bantam, 9780812982466, 400pp.
Publication Date: October 25, 2011
About the Author
Laurie R. King is the New York Times bestselling author of fifteen Mary Russell mysteries, five contemporary novels featuring Kate Martinelli, the Stuyvesant & Grey novels Touchstone and The Bones of Paris, and the acclaimed A Darker Place, Folly, Califia's Daughters (written under the pen name Leigh Richards), and Keeping Watch. She lives in Northern California.