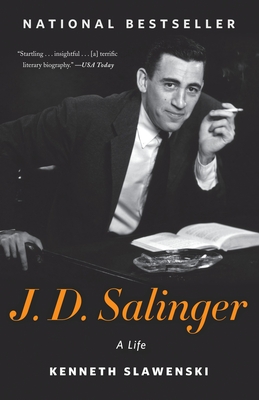 J. D. Salinger (Paperback)
A Life
Random House Trade Paperbacks, 9780812982596, 464pp.
Publication Date: January 3, 2012
Other Editions of This Title:
Compact Disc (3/31/2011)
Hardcover (1/25/2011)
Hardcover (5/1/2010)
MP3 CD (3/31/2011)
Compact Disc (3/31/2011)
Pre-Recorded Audio Player (6/1/2011)
* Individual store prices may vary.
Description
NATIONAL BESTSELLER • The inspiration for the major motion picture Rebel in the Rye

One of the most popular and mysterious figures in American literary history, the author of the classic Catcher in the Rye, J. D. Salinger eluded fans and journalists for most of his life. Now he is the subject of this definitive biography, which is filled with new information and revelations garnered from countless interviews, letters, and public records.

Kenneth Slawenski explores Salinger's privileged youth, long obscured by misrepresentation and rumor, revealing the brilliant, sarcastic, vulnerable son of a disapproving father and doting mother. Here too are accounts of Salinger's first broken heart—after Eugene O'Neill's daughter, Oona, left him—and the devastating World War II service that haunted him forever. J. D. Salinger features this author's dramatic encounters with luminaries from Ernest Hemingway to Elia Kazan, his office intrigues with famous New Yorker editors and writers, and the stunning triumph of The Catcher in the Rye, which would both make him world-famous and hasten his retreat into the hills of New Hampshire. J. D. Salinger is this unique author's unforgettable story in full—one that no lover of literature can afford to miss.

Praise for J. D. Salinger: A Life
 
"Startling . . . insightful . . . [a] terrific literary biography."—USA Today

"It is unlikely that any author will do a better job than Mr. Slawenski capturing the glory of Salinger's life."—The Wall Street Journal
 
"Slawenski fills in a great deal and connects the dots assiduously; it's unlikely that any future writer will uncover much more about Salinger than he has done."—Boston Sunday Globe
 
"Offers perhaps the best chance we have to get behind the myth and find the man."—Newsday
 
"[Slawenski has] greatly fleshed out and pinned down an elusive story with precision and grace."—Chicago Sun-Times
 
"Earnest, sympathetic and perceptive . . . [Slawenski] does an evocative job of tracing the evolution of Salinger's work and thinking."—The New York Times
About the Author
Kenneth Slawenski is the creator of DeadCaulfields.com, a website founded in 2004 and recommended by The New York Times. He has been working on this biography for eight years. Slawenski was born in New Jersey, and has lived there all his life.
Praise For J. D. Salinger: A Life…
"Startling . . . insightful . . . [a] terrific literary biography."—USA Today

"It is unlikely that any author will do a better job than Mr. Slawenski capturing the glory of Salinger's life."—The Wall Street Journal
 
"Slawenski fills in a great deal and connects the dots assiduously; it's unlikely that any future writer will uncover much more about Salinger than he has done."—Boston Sunday Globe
 
"Offers perhaps the best chance we have to get behind the myth and find the man."—Newsday
 
"[Slawenski has] greatly fleshed out and pinned down an elusive story with precision and grace."—Chicago Sun-Times
 
"Earnest, sympathetic and perceptive . . . [Slawenski] does an evocative job of tracing the evolution of Salinger's work and thinking."—The New York Times
 
"A first-rate book which is especially good on the links between Salinger's fictions and their thematic developments . . . The passages on Salinger's own war show that Slawenski can be an excellent storyteller himself, as he follows his subject through the thick of the horrors from D-Day to the Battle of the Bulge."—The Daily Telegraph
 
"A welcome trove of information. Partly through exhaustive biographical research (especially into the early years) and partly through porings over almost unknown, uncollected stories, Slawenski enthrallingly illuminates what turned Salinger into an extraordinary literary phenomenon."—The Sunday Times

"Slawenski sets about his task with such unblushing love and zest that his book is as irresistible to me as Salinger himself. . . .  Slawenski has a priceless humility and a sympathy with his subject which is unstinting though not unqualified. As a result, I think you get from him a rather better idea of what Salinger was really like and why he lived his life as he did than you might from a biography which is licensed to describe itself as 'scholarly' or 'authorised.' . . . If you can imagine Salinger having a soft spot for any book about him . . . then Slawenski's might be the one."—The Spectator
 
"Diligent, respectful, resolute in its refusal to include gossip, always ready to acknowledge the point at which evidence ends and speculation begins."—The Mail on Sunday