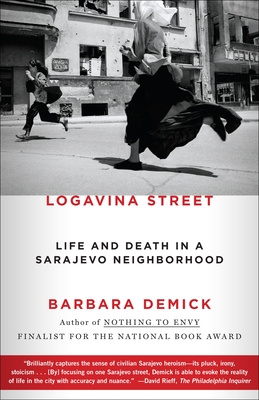 Logavina Street: Life and Death in a Sarajevo Neighborhood (Paperback)
Life and Death in a Sarajevo Neighborhood
Spiegel & Grau, 9780812982763, 232pp.
Publication Date: April 17, 2012
Description
Logavina Street was a microcosm of Sarajevo, a six-block-long history lesson. For four centuries, it existed as a quiet residential area in a charming city long known for its ethnic and religious tolerance. On this street of 240 families, Muslims and Christians, Serbs and Croats lived easily together, unified by their common identity as Sarajevans. Then the war tore it all apart. As she did in her groundbreaking work about North Korea, Nothing to Envy, award-winning journalist Barbara Demick tells the story of the Bosnian War and the brutal and devastating three-and-a-half-year siege of Sarajevo through the lives of ordinary citizens, who struggle with hunger, poverty, sniper fire, and shellings. Logavina Street paints this misunderstood war and its effects in vivid strokes--at once epic and intimate--revealing the heroism, sorrow, resilience, and uncommon faith of its people. With a new Introduction, final chapter, and Epilogue by the author
About the Author
Barbara Demick is the Beijing bureau chief of the Los Angeles Times. Her book Nothing to Envy was a finalist for both the National Book Award and the National Book Critics Circle Award. Her reporting on North Korea won the Overseas Press Club's award for human rights reporting as well as awards from the Asia Society and the American Academy of Diplomacy. Her coverage of Sarajevo for The Philadelphia Inquirer won the George Polk Award and the Robert F. Kennedy Journalism Award and was a finalist for the Pulitzer Prize in international reporting.
Praise For Logavina Street: Life and Death in a Sarajevo Neighborhood…
"Brilliantly captures the sense of civilian Sarajevo heroism—its pluck, irony, stoicism . . . [By] focusing on one Sarajevo street, Demick is able to evoke the reality of life in the city with accuracy and nuance."—David Rieff, The Philadelphia Inquirer
 
"[A] beautifully rendered portrait of Sarajevo."—Mark Danner, The New York Review of Books
 
"Barbara Demick shapes the history of one city street into a small masterpiece."—Jim Dwyer, columnist, The New York Times
 
"If you can read only one book about Bosnia, this should be the one."—Mary McGrory, syndicated columnist, The Washington Post
 
"Take a walk on Logavina Street—you'll learn a lot about the heroism and courage of the human race."—Georgie Anne Geyer, columnist and author, Universal Press Syndicate
Advertisement