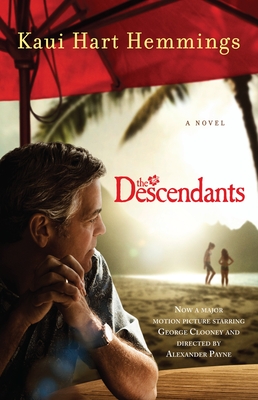 The Descendants
A Novel
Paperback

* Individual store prices may vary.
Other Editions of This Title:
Digital Audiobook (9/30/2010)
Paperback (4/8/2008)
Compact Disc (12/1/2011)
Compact Disc (10/18/2011)
Description
Now a major motion picture starring George Clooney and directed by Alexander Payne

Fortunes have changed for the King family, descendants of Hawaiian royalty and one of the state's largest landowners. Matthew King's daughters—Scottie, a feisty ten-year-old, and Alex, a seventeen-year-old recovering drug addict—are out of control, and their charismatic, thrill-seeking mother, Joanie, lies in a coma after a boat-racing accident. She will soon be taken off life support. As Matt gathers his wife's friends and family to say their final goodbyes, a difficult situation is made worse by the sudden discovery that there's one person who hasn't been told: the man with whom Joanie had been having an affair. Forced to examine what they owe not only to the living but to the dead, Matt, Scottie, and Alex take to the road to find Joanie's lover, on a memorable journey that leads to unforeseen humor, growth, and profound revelations.



Praise For The Descendants: A Novel…
"A Pandora's box–style tragicomedy . . . [Kaui Hart Hemmings's] comic sense is finely honed in this refreshingly wry debut novel."—The New York Times Book Review

"With beautiful and blunt prose, Hemmings explores the emotional terrain of grief, promising something far more fulfilling than paradise at its end."—San Francisco Chronicle
 
"A surprising and affecting novel, a story about death and infidelity that manages to be a finer, lighter story about life and love."—Time Out New York
Random House Trade Paperbacks, 9780812982954, 320pp.
Publication Date: October 4, 2011
About the Author
Kaui Hart Hemmings is the author of the critically acclaimed short-story collection House of Thieves. Her work has been published in Zoetrope, Best American New Voices, and Best American Nonrequired Reading. Hemmings grew up in Hawaii and lives with her husband and daughter in San Francisco.
What do you think of Joanie? Is she a harmless thrill-seeker or a well-meaning but self-absorbed mother?
At first Matt struggles to engage his daughters in a meaningful way; the family's shared tragedy eventually brings him closer. How are father-daughter relationships different than those between mothers and daughters?
What role does Sid play in this novel? Do you think he impedes or facilitates Matt King's renewed relationship with his daughters?
What do you think of Scottie's journal? How can you analyze her strange behavior–why do you think she acts out the ways she does?
How would you describe Matt as a father? Do you think it's irresponsible of him to include his kids on the journey to find the man that his wife was having an affair with? How does he evolve over the course of The Descendants?
In what ways is the depiction of Alex realistic in terms of the ways teenagers cope with crisis? Were you surprised she was aware of her mother's infidelity? Do you think young adults more aware of the adult world around them than we give them credit for?
Who is at fault for Joanie and Matt's marriage falling apart?
What was unique about the Hawaiian setting of the book and how did it enhance or take away from the story?
What specific themes did the author emphasize throughout the novel? What do you think she is trying to get across to the reader?
Do the characters seem real and believable to you? Can you relate to their predicaments?
Do you believe the Kings will have a better life without Joanie? How do you feel about the ending of this book? How do you picture the family's future?
Did certain parts of the book make you uncomfortable? If so, why did you feel that way? Did this lead to a new understanding or awareness of some aspect of your life you might not have thought about before?
In what ways is The Descendants a survival story? A love story? An adventure story?