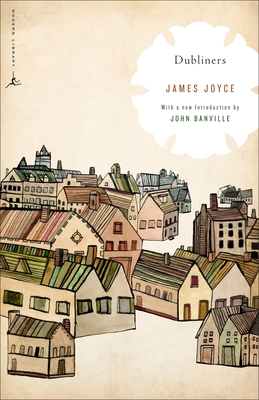 Dubliners (Paperback)
Modern Library, 9780812983012, 288pp.
Publication Date: August 14, 2012
Other Editions of This Title:
Paperback (9/1/2004)
Paperback (9/24/2018)
Paperback (10/30/2018)
Paperback (4/3/2019)
Paperback (7/31/2018)
Paperback (12/22/2015)
Paperback (10/14/2018)
Paperback (9/30/2018)
Paperback (11/12/2018)
Paperback (8/9/2018)
Paperback (1/30/2017)
Paperback (4/14/2019)
Paperback (7/4/2018)
* Individual store prices may vary.
Description
Introduction by John Banville
 
James Joyce was the singular figure of modernism, and to this day his grand vision looms large over contemporary literature and the entire Western canon. His stylistic innovations were revolutionary, yet nowhere is Joyce more accessible than in this volume of short stories, a brilliant collection that celebrates, critiques, and immortalizes the place that Joyce knew better than anyone else: Dublin. From the young boy encountering death in the opening story, "The Sisters," to the middle-aged protagonist of its haunting finale, "The Dead," considered one of the greatest short stories of all time, Dubliners is a vivid portrait of the city in all its glory and hardship, and a seminal work that redefined the short form. Featuring a new Introduction by acclaimed novelist John Banville, this edition is not only a breathless portal into Joyce's "dear dirty Dublin" but a vital literary treasure from one of the great masters of all time.
About the Author
The Modern Library has played a significant role in American cultural life for the better part of a century. The series was founded in 1917 by the publishers Boni and Liveright and eight years later acquired by Bennett Cerf and Donald Klopfer. It provided the foundation for their next publishing venture, Random House. The Modern Library has been a staple of the American book trade, providing readers with affordable hardbound editions of important works of literature and thought. For the Modern Library's seventy-fifth anniversary, Random House redesigned the series, restoring as its emblem the running torch-bearer created by Lucian Bernhard in 1925 and refurbishing jackets, bindings, and type, as well as inaugurating a new program of selecting titles. The Modern Library continues to provide the world's best books, at the best prices.
Praise For Dubliners…
"In Dubliners, Joyce's first attempt to register in language and fictive form the protean complexities of the 'reality of experience,' he learns the paradoxical lesson that only through the most rigorous economy, only by concentrating on the minutest of particulars, can he have any hope of engaging with the immensity of the world."–from the Introduction

"Joyce renews our apprehension of reality, strengthens our sympathy with our fellow creatures, and leaves us in awe before the mystery of created things." –Atlantic Monthly

"It is in the prose of Dubliners that we first hear the authentic rhythms of Joyce the poet…Dubliners is, in a very real sense, the foundation of Joyce's art. In shaping its stories, he developed that mastery of naturalistic detail and symbolic design which is the hallmark of his mature fiction." –Robert Scholes and A. Walton Litz, authors of Dubliners: Text and Criticism

With an Introduction by John Kelly