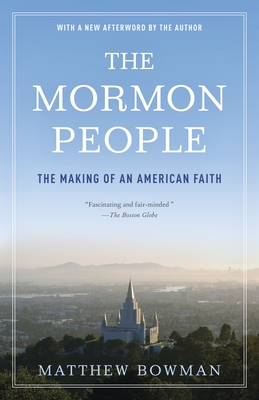 The Mormon People: The Making of an American Faith (Paperback)
The Making of an American Faith
Random House Trade, 9780812983364, 336pp.
Publication Date: August 28, 2012
Description
From one of the brightest of the new generation of Mormon-studies scholars comes a crisp, engaging account of the religion's history. The Wall Street Journal

With Mormonism on the nation's radar as never before, religious historian Matthew Bowman has written an essential book that pulls back the curtain on more than 180 years of Mormon history and doctrine. He recounts the church's origins and explains how the Mormon vision has evolved and with it the esteem in which Mormons have been held in the eyes of their countrymen. Admired on the one hand as hardworking paragons of family values, Mormons have also been derided as oddballs and persecuted as polygamists, heretics, and zealots. The place of Mormonism in public life continues to generate heated debate, yet the faith has never been more popular. One of the fastest-growing religions in the world, it retains an uneasy sense of its relationship with the main line of American culture.
Mormons will surely play an even greater role in American civic life in the years ahead. The Mormon People comes as a vital addition to the corpus of American religious history a frank and balanced demystification of a faith that remains a mystery for many.
Fascinating and fair-minded . . . a sweeping soup-to-nuts primer on Mormonism. The Boston Globe

A cogent, judicious, and important account of a faith that has been an important element in American history but remained surprisingly misunderstood. Michael Beschloss

A thorough, stimulating rendering of the Mormon past and present. Kirkus Reviews
A] smart, lucid history. Tom Brokaw
About the Author
Matthew Bowman received his Ph.D. in American religious history from Georgetown University in May 2011, and a master s in American history from the University of Utah. His dissertation, The Urban Pulpit: Evangelicals and the City in New York, 1880 1930, was funded by the prestigious Charlotte W. Newcombe Doctoral Dissertation Fellowship. His work on American evangelicism and Mormonism has appeared in, among other places, Religion and American Culture: A Journal of Interpretation, Journal of the Early Republic, and The New Republic. The associate editor of Dialogue: A Journal of Mormon Thought, Matthew Bowman teaches at Hampden-Sydney College."
Praise For The Mormon People: The Making of an American Faith…
Advance praise for The Mormon People
 
"The Mormon church has never been more important in American politics. In this smart, lucid history of the faith, Matthew Bowman explains a religion that many Americans don't understand but should. With Mitt Romney and Jon Huntsman in the race, this is essential reading for anyone interested in 2012 and beyond."—Tom Brokaw, author of The Time of Our Lives: A Conversation About America
 
"Matthew Bowman has brought us a cogent, judicious, and important account of a faith that has been an important element in American history but remained surprisingly misunderstood."—Michael Beschloss, author of Presidential Courage: Brave Leaders and How They Changed America, 1789–1989
 
"What do Mormons stand for? Are they quintessential good citizens or troubling religious deviants? Why are Mormons running for president? Matthew Bowman offers a quick, lively, and informative trip into the heart of Mormonism. All who are concerned or just curious will learn a lot about the making of modern Mormons from this book."—Richard Lyman Bushman, author of Joseph Smith: Rough Stone Rolling
Advertisement