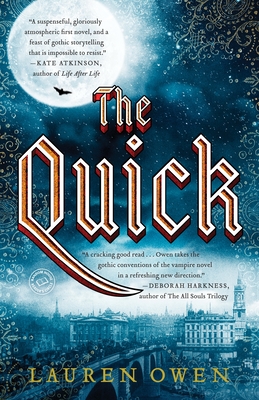 The Quick (Paperback)
A Novel
Random House Trade Paperbacks, 9780812983432, 560pp.
Publication Date: February 24, 2015
Other Editions of This Title:
Digital Audiobook (6/16/2014)
Hardcover (6/17/2014)
CD-Audio (6/17/2014)
* Individual store prices may vary.
July 2014 Indie Next List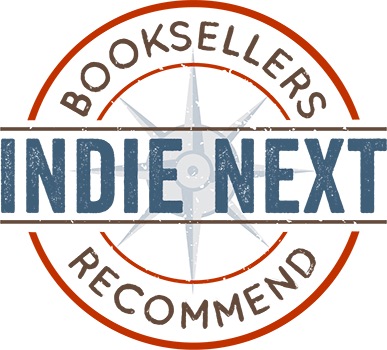 "In her debut novel, Owen captures the pacing and cadence of Victorian fiction without the sometimes florid language of that era. She manages to deftly balance a large cast of characters and several seemingly diverse story threads while keeping the reader guessing through all of the twists and turns in this tale. With its formal language, diverse cast of characters, explorations of prejudice and oppression, and a bloody secret at its center, The Quick is very much a Victorian gothic novel written for a 21st century reader."
— Billie Bloebaum,, Powell's Books, Inc, Portland, OR
View the List
Description
NAMED ONE OF THE BEST BOOKS OF THE YEAR BY SLATE • Includes an exclusive conversation between Lev Grossman and Lauren Owen

For fans of Anne Rice, The Historian, and The Night Circus, an astonishing debut, a novel of epic scope and suspense that conjures up all the magic and menace of Victorian London
 
1892: James Norbury, a shy would-be poet newly down from Oxford, finds lodging with a charming young aristocrat. Through this new friendship, he is introduced to the drawing-rooms of high society and finds love in an unexpected quarter. Then, suddenly, he vanishes without a trace. Alarmed, his sister, Charlotte, sets out from their crumbling country estate determined to find him. In the sinister, labyrinthine London that greets her, she uncovers a hidden, supernatural city populated by unforgettable characters: a female rope walker turned vigilante, a street urchin with a deadly secret, and the chilling "Doctor Knife." But the answer to her brother's disappearance ultimately lies within the doors of the exclusive, secretive Aegolius Club, whose predatory members include the most ambitious, and most bloodthirsty, men in England.
 
In her first novel, Lauren Owen has created a fantastical world that is both beguiling and terrifying. The Quick will establish her as one of fiction's most dazzling talents.
 
Look for special features inside. Join the Random House Reader's Circle for author chats and more.

"A suspenseful, gloriously atmospheric first novel, and a feast of gothic storytelling that is impossible to resist."—Kate Atkinson

"A cracking good read . . . Owen takes the gothic conventions of the vampire novel in a refreshing new direction."—Deborah Harkness, author of A Discovery of Witches and The Book of Life
 
"A good old-fashioned vampire novel . . . What fun."—The New York Times Book Review (Editor's Choice)
 
"The Quick is that rare book that reviewers and readers live for: both plot- and character-driven, a stay-up-all-night reading romp. . . . This is elegant, witty, force-of-nature writing."—The Dallas Morning News
 
"The book's energy, its wide reach and rich detail make it a confident example of the 'unputdownable' novel."—The Economist
 
"A seamless blend of Victorian London and rich imagination."—Tana French, author of In the Woods
 
"A thrilling tale . . . This book will give you chills even on a hot day."—Minneapolis Star Tribune
 
"Stylishly sinister . . . will have you sleeping with the lights on."—O: The Oprah Magazine
 
"A sly and glittering addition to the literature of the macabre."—Hilary Mantel, author of Wolf Hall
 
"A big, sly bucketful of the most tremendous fun . . . [Owen] weaves what's here with what's beyond as easily as J. K. Rowling does."—Slate
 
"[An author of] prodigious gifts . . . Owen captures Dickens's London with glee and produces a number of characters Dickens would be happy to call his own."—Pittsburgh Post-Gazette
About the Author
Lauren Owen was born in 1985. She studied at Oxford University and the University of East Anglia, where she received the 2009 Curtis Brown Prize for the best fiction dissertation. The Quick is her first novel. She lives in Northern England.
Praise For The Quick: A Novel…
"A suspenseful, gloriously atmospheric first novel, and a feast of gothic storytelling that is impossible to resist."—Kate Atkinson, bestselling author of Life After Life and Case Histories
 
"A cracking good read . . . Owen takes the gothic conventions of the vampire novel in a refreshing new direction."—Deborah Harkness, author of A Discovery of Witches and The Book of Life

"Reading the blurbs on the dust jacket of Lauren Owen's first novel—from such luminaries as Kate Atkinson, Hilary Mantel, and Tana French—readers might think they're about to embark on a high-handed version of the Gothic novel, full of metafictions and literary allusions. These do appear, along with some beautiful language, but by Page 100, when the first neck is about to be bitten, The Quick drops its cloak and becomes a good old-fashioned vampire novel. . . . [It's full of] wonderful inventions, while still providing the torn collars and hungry looks the genre demands. . . . What fun."—The New York Times Book Review (Editor's Choice)
 
"The Quick is that rare book that reviewers and readers live for: both plot- and character-driven, a stay-up-all-night-reading romp of more than 500 pages that you'll desperately wish was double that. This is elegant, witty, force-of-nature writing, and Lauren Owen should have a long and illustrious career ahead of her."—The Dallas Morning News
 
"The book's energy, its wide reach and rich detail make it a confident example of the 'unputdownable' novel."—The Economist

"Ambitious, elegant, atmospheric, and often deeply poignant, The Quick is a seamless blend of Victorian London and rich imagination. This is a book to savor."—Tana French, bestselling author of In the Woods and Broken Harbor
 
"[A] creepy debut . . . a thrilling tale . . . This book will give you chills even on a hot day."—Minneapolis Star Tribune
 
"Forget Jack the Ripper—it's the curiously pale aristocratic types you need to beware of in this supernatural Gothic nightmare. . . . Owen's stylishly sinister world of betrayal and Lovecraftian monsters will have you sleeping with the lights on."—O: The Oprah Magazine
 
"A sly and glittering addition to the literature of the macabre . . . As soon as you have breathed with relief, much worse horrors begin. It's a skilled, assured performance, and it's hard to believe it is a first novel."—Hilary Mantel, bestselling author of Wolf Hall and Bring Up the Bodies
 
"A big, sly bucketful of the most tremendous fun . . . At first, The Quick seems like a really terrific, plain old tale of yesteryear—à la John Banville or Peter Carey or Eleanor Catton. . . . [But then] things begin to really rollick. . . . [Owen] weaves what's here with what's beyond as easily as J.K. Rowling does, and as with Rowling, she seems to feel particularly at home with the beyond."—Slate

"[An author of] prodigious gifts . . . Owen captures Dickens's London with glee and produces a number of characters Dickens would be happy to call his own."—Pittsburgh Post-Gazette

"The Quick is ambitious in both scope and structure. . . . Her London is exquisitely detailed. . . . [Owen] inhabits the breadth and panorama of the Victorian tale."—The Washington Post

"The first quarter of this debut novel is a lovely, poetic tale. . . . The last half is entirely bonkers and totally unexpected. Read it with the lights on."—The New Republic
 
"Make no mistake, The Quick is good reading. . . . Adventure of the first order, firmly rooted in both the tropes of the genre and the skilfully rendered texture of the period . . . driven by sharp storytelling, thought-provoking ideas, and strong characters."—The Globe and Mail
 
"Like the best gothic fiction, this dark tale of manners and morals closely guards its secrets; over hundreds of pages, one unspoken word lurks in the corners of every character's and reader's mind. By the end of Owen's precocious first novel, set in the narrow streets and cavernous interiors of Victorian England, you will understand viscerally how monsters are made and what it means to be human."—More magazine

"Lauren Owen is an impressive storyteller and with this ambitious debut, the literary world will soon take notice. Part gothic mystery, part Victorian romance, The Quick is a novel where the glamorous and the macabre collide. . . . With suspenseful rhythm and illustrious prose, Owen succeeds at crafting a fresh, enchanting portrait of Victorian London wrapped around an irresistible mystery that is at once beautiful and terrifying."—Bustle
 
"[The Quick] hits the mark in terms of suspense and gothic literature. . . . Reminiscent of Bram Stoker's Dracula and [Elizabeth] Kostova's The Historian."—The Times-News

"If you are a fan of literary Gothic—think Susanna Clarke or John Harwood—buy this book. You won't regret it. . . . A long gallery of beautifully drawn characters makes the many pages of The Quick turn as swiftly as those of a Wilkie Collins novel."—BookPage

"Seductive . . . extraordinarily polished . . . a book for readers to lose themselves in."—Publishers Weekly (starred review)
 
"Lauren Owen—a brand-new author with an M.A. in Victorian Literature—has produced her own mind-bending tour de force."—Locus
 
"Owen has created an intricate world in which the reader feels a part. Take the trip, if you dare, into a luscious Victorian London rendered by a gifted young British writer who seems weaned on equal parts Sherlock Holmes, Buffy Summers and Harry Potter."—Shelf Awareness
 
"An intricate, sinister epic . . . an impressive feat . . . Owen proves a master at anticipating readers' thoughts about future happenings and then crumbling them into dust. Her world building is exceptional, and readers will simultaneously embrace and shrink from the atmosphere's elegant ghastliness."—Booklist
 
"An elegantly written gothic epic . . . Owen's soaring imagination and her light-handed take on magic save this story from being either obvious or boring. . . . The journey from one genre to another is satisfying and surprisingly fresh."—Kirkus Reviews
 
"An intriguing blend of historical, gothic, and supernatural fiction . . . [The Quick features] wonderful atmospheric writing."—Library Journal