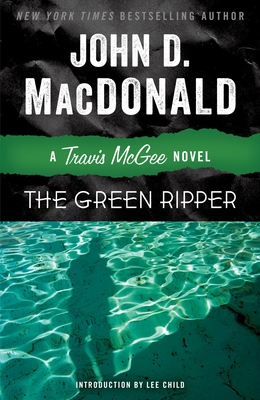 The Green Ripper
A Travis McGee Novel
Paperback

* Individual store prices may vary.
Other Editions of This Title:
Compact Disc (12/16/2014)
MP3 CD (10/8/2013)
Compact Disc (10/8/2013)
Compact Disc (10/8/2013)
MP3 CD (10/8/2013)
Description
From a beloved master of crime fiction, The Green Ripper is one of many classic novels featuring Travis McGee, the hard-boiled detective who lives on a houseboat.
 
Travis McGee has known his share of beautiful girls, but true love always passed him by—until Gretel. Life aboard the Busted Flush has never been so sweet. But suddenly, Gretel dies of an unidentified illness—or so he's told. Convinced that the woman who stole his heart has been murdered, McGee finds himself pursuing a less-than-noble cause: revenge.
 
"To diggers a thousand years from now, the works of John D. MacDonald would be a treasure on the order of the tomb of Tutankhamen."—Kurt Vonnegut
 
McGee has lost not only the love of his life but also his last hope for stability. Soon grief turns to blinding rage. So when he finds the people responsible for Gretel's death, McGee goes off the rails—and off the grid, three thousand miles from home.
 
McGee emerges in the California woods as Tom McGraw, a fisherman looking for his long-lost daughter. This mysterious newcomer starts knocking off targets one by one. But as he pursues his single-minded crusade for justice, he becomes more and more unhinged. McGee has spent his life saving other people, but now he'll need to find the strength to save himself—before he loses his mind.
 
Features a new Introduction by Lee Child
Praise For The Green Ripper: A Travis McGee Novel…
Praise for John D. MacDonald and the Travis McGee novels
 
"The great entertainer of our age, and a mesmerizing storyteller."—Stephen King
 
"My favorite novelist of all time . . . All I ever wanted was to touch readers as powerfully as John D. MacDonald touched me. No price could be placed on the enormous pleasure that his books have given me. He captured the mood and the spirit of his times more accurately, more hauntingly, than any 'literature' writer—yet managed always to tell a thunderingly good, intensely suspenseful tale."—Dean Koontz
 
"To diggers a thousand years from now, the works of John D. MacDonald would be a treasure on the order of the tomb of Tutankhamen."—Kurt Vonnegut
 
"A master storyteller, a masterful suspense writer . . . John D. MacDonald is a shining example for all of us in the field. Talk about the best."—Mary Higgins Clark
 
"A dominant influence on writers crafting the continuing series character . . . I envy the generation of readers just discovering Travis McGee, and count myself among the many readers savoring his adventures again."—Sue Grafton
 
"One of the great sagas in American fiction."—Robert B. Parker
 
"Most readers loved MacDonald's work because he told a rip-roaring yarn. I loved it because he was the first modern writer to nail Florida dead-center, to capture all its languid sleaze, racy sense of promise, and breath-grabbing beauty."—Carl Hiaasen
 
"The consummate pro, a master storyteller and witty observer . . . John D. MacDonald created a staggering quantity of wonderful books, each rich with characterization, suspense, and an almost intoxicating sense of place. The Travis McGee novels are among the finest works of fiction ever penned by an American author and they retain a remarkable sense of freshness."—Jonathan Kellerman
 
"What a joy that these timeless and treasured novels are available again."—Ed McBain
 
"Travis McGee is the last of the great knights-errant: honorable, sensual, skillful, and tough. I can't think of anyone who has replaced him. I can't think of anyone who would dare."—Donald Westlake
 
"There's only one thing as good as reading a John D. MacDonald novel: reading it again. A writer way ahead of his time, his Travis McGee books are as entertaining, insightful, and suspenseful today as the moment I first read them. He is the all-time master of the American mystery novel."—John Saul
Random House Trade Paperbacks, 9780812984095, 256pp.
Publication Date: October 8, 2013
About the Author
John D. MacDonald was an American novelist and short-story writer. His works include the Travis McGee series and the novel The Executioners, which was adapted into the film Cape Fear. In 1962 MacDonald was named a Grand Master of the Mystery Writers of America; in 1980, he won a National Book Award. In print he delighted in smashing the bad guys, deflating the pompous, and exposing the venal. In life, he was a truly empathetic man; his friends, family, and colleagues found him to be loyal, generous, and practical. In business, he was fastidiously ethical. About being a writer, he once expressed with gleeful astonishment, "They pay me to do this! They don't realize, I would pay them." He spent the later part of his life in Florida with his wife and son. He died in 1986.