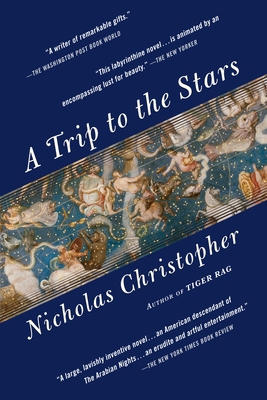 A Trip to the Stars (Paperback)
Dial Press, 9780812984798, 512pp.
Publication Date: January 15, 2013
Description
"A large, lavishly inventive novel . . . an American descendant of The Arabian Nights . . . erudite and artful entertainment."--The New York Times Book Review

At a Manhattan planetarium in 1965, ten-year-old Enzo is whisked away from his young adoptive aunt, Mala. His abductor turns out to be a blood relative: his great-uncle Junius Samax, a wealthy former gambler who lives in a converted Las Vegas hotel surrounded by a priceless art collection and a host of fascinating, idiosyncratic guests. In Samax's magical world, Enzo receives a unique education and pieces together the mystery of his mother's life and the complicated history of his adoption. Back in New York, Mala only knows that Enzo has disappeared. After a yearlong search proves fruitless, she enlists in the Navy Nursing Corps and on a hospital ship off Vietnam falls in love with a wounded B-52 navigator, who disappears on his next mission. Devastated again, Mala embarks on a restless, adventurous journey around the world, hoping to overcome the losses that have transformed her life.
Fusing imagination, scholarship, and suspense with remarkable narrative skill, Nicholas Christopher builds a story of tremendous scope, an epic tale of love and destiny, as he traces the intricate latticework of Mala's and Enzo's lives. Each remains separate from each other but tied in ways they cannot imagine--until the final miraculous chapter of this extraordinary novel.

"A writer of remarkable gifts."--The Washington Post Book World
"This labyrinthine novel . . . is animated by an encompassing lust for beauty."--The New Yorker
" Nicholas] Christopher is North America's Garcia Marquez; Borges with emotional weight. . . . This is one of those rare books that, by connecting the stars, catches you in its web."--The Globe and Mail

Includes an excerpt of Nicholas Christopher's Tiger Rag

About the Author
Nicholas Christopher is the author of six novels--The Soloist, Veronica, A Trip to the Stars, Franklin Flyer, The Bestiary, and Tiger Rag--eight collections of poetry, and a nonfiction book, Somewhere in the Night: Film Noir and the American City. He lives in New York City.
Praise For A Trip to the Stars…
"A writer of remarkable gifts."—The Washington Post Book World
 
"This labyrinthine novel . . . is animated by an encompassing lust for beauty."—The New Yorker
 
"A large, lavishly inventive novel . . . an American descendant of The Arabian Nights . . . erudite and artful entertainment."—The New York Times Book Review
 
"[Nicholas] Christopher is North America's García Márquez; Borges with emotional weight. . . . This is one of those rare books that, by connecting the stars, catches you in its web."—The Globe and Mail
 
"Spellbinding . . . the ultimate treasure—the gift of a thoughtful story, told with intelligence and immeasurable heart."—The Denver Post
 
"The intriguing confluence of fate and chance . . . bubble like champagne in Christopher's brilliantly labyrinthine novel."—Publishers Weekly (starred review)
 
"Breathtaking . . . a dazzling epic . . . as lithe and pleasing as a bedtime fable."—Time Out New York
Advertisement