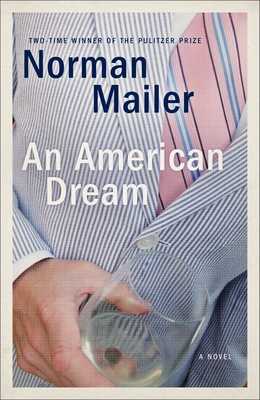 An American Dream (Paperback)
A Novel
Random House Trade Paperbacks, 9780812986136, 288pp.
Publication Date: February 17, 2015
Other Editions of This Title:
Paperback (5/4/1999)
Compact Disc (8/23/2016)
MP3 CD (8/23/2016)
Compact Disc (8/23/2016)
Paperback (5/1/2007)
* Individual store prices may vary.
Description
In this wild battering ram of a novel, which was originally published to vast controversy in 1965, Norman Mailer creates a character who might be a fictional precursor of the philosopher-killer he would later profile in The Executioner's Song. As Stephen Rojack, a decorated war hero and former congressman who murders his wife in a fashionable New York City high-rise, runs amok through the city in which he was once a privileged citizen, Mailer peels away the layers of our social norms to reveal a world of pure appetite and relentless cruelty. One part Nietzsche, one part de Sade, and one part Charlie Parker, An American Dream grabs the reader by the throat and refuses to let go.
 
Praise for An American Dream
 
"Perhaps the only serious New York novel since The Great Gatsby."—Joan Didion, National Review
 
"A devil's encyclopedia of our secret visions and desires . . . the expression of a devastatingly alive and original creative mind."—Life
 
"A work of fierce concentration . . . perfectly, and often brilliantly, realistic [with] a pattern of remarkable imaginative coherence and intensity."—Harper's
 
"At once violent, educated, and cool . . . This is our history as Hawthorne might have written it."—Commentary
 
Praise for Norman Mailer
 
"[Norman Mailer] loomed over American letters longer and larger than any other writer of his generation."—The New York Times
 
"A writer of the greatest and most reckless talent."—The New Yorker
 
"Mailer is indispensable, an American treasure."—The Washington Post
 
"A devastatingly alive and original creative mind."—Life
 
"Mailer is fierce, courageous, and reckless and nearly everything he writes has sections of headlong brilliance."—The New York Review of Books
 
"The largest mind and imagination [in modern] American literature . . . Unlike just about every American writer since Henry James, Mailer has managed to grow and become richer in wisdom with each new book."—Chicago Tribune
 
"Mailer is a master of his craft. His language carries you through the story like a leaf on a stream."—The Cincinnati Post
About the Author
Born in 1923 in Long Branch, New Jersey, and raised in Brooklyn, New York, Norman Mailer was one of the most influential writers of the second half of the twentieth century and a leading public intellectual for nearly sixty years. He is the author of more than thirty books. The Castle in the Forest, his last novel, was his eleventh New York Times bestseller. His first novel, The Naked and the Dead, has never gone out of print. His 1968 nonfiction narrative, The Armies of the Night, won the Pulitzer Prize and the National Book Award. He won a second Pulitzer for The Executioner's Song and is the only person to have won Pulitzers in both fiction and nonfiction. Five of his books were nominated for National Book Awards, and he won a lifetime achievement award from the National Book Foundation in 2005. Mr. Mailer died in 2007 in New York City.
Praise For An American Dream: A Novel…
Praise for An American Dream
 
"Perhaps the only serious New York novel since The Great Gatsby."—Joan Didion, National Review
 
"A devil's encyclopedia of our secret visions and desires . . . the expression of a devastatingly alive and original creative mind."—Life
 
"A work of fierce concentration . . . perfectly, and often brilliantly, realistic [with] a pattern of remarkable imaginative coherence and intensity."—Harper's
 
"At once violent, educated, and cool . . . This is our history as Hawthorne might have written it."—Commentary
 
Praise for Norman Mailer
 
"[Norman Mailer] loomed over American letters longer and larger than any other writer of his generation."—The New York Times
 
"A writer of the greatest and most reckless talent."—The New Yorker
 
"Mailer is indispensable, an American treasure."—The Washington Post
 
"A devastatingly alive and original creative mind."—Life
 
"Mailer is fierce, courageous, and reckless and nearly everything he writes has sections of headlong brilliance."—The New York Review of Books
 
"The largest mind and imagination [in modern] American literature . . . Unlike just about every American writer since Henry James, Mailer has managed to grow and become richer in wisdom with each new book."—Chicago Tribune
 
"Mailer is a master of his craft. His language carries you through the story like a leaf on a stream."—The Cincinnati Post