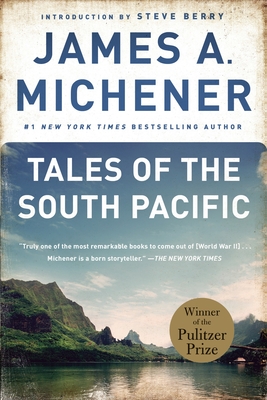 Tales of the South Pacific (Paperback)
Dial Press Trade Paperback, 9780812986358, 384pp.
Publication Date: September 9, 2014
* Individual store prices may vary.
Description
Tales of the South Pacific is the iconic, Pulitzer Prize–winning masterpiece that inspired a Broadway classic and launched the career of James A. Michener, one of America's most beloved storytellers. This thrilling work invites the reader to enter the exotic world of the South Pacific and luxuriate in the endless ocean, the coconut palms, the waves breaking into spray against the reefs, the full moon rising behind the volcanoes. And yet here also are the men and women caught up in the heady drama of World War II: the young Marine who falls for a beautiful Tonkinese girl; the Navy nurse whose prejudices are challenged by a French aristocrat; and all the soldiers and sailors preparing for war against the seemingly peaceful backdrop of a tropical paradise.
 
Praise for James A. Michener and Tales of the South Pacific
 
"Truly one of the most remarkable books to come out of [World War II] . . . Michener is a born storyteller."—The New York Times
 
"Riveting and emotional . . . Ever since James Michener wrote Tales of the South Pacific, the dreamers among us have been searching for our own Bali Ha'i."—The Washington Post
 
"Atmospheric . . . [Tales of the South Pacific marks] the beginning of Michener's long exploration of what happens when cultures connect, or fail to."—Los Angeles Times
 
"Few writers changed the face of American fiction as profoundly as did James Michener."—San Francisco Chronicle


From the Paperback edition.
About the Author
James A. Michener was one of the world's most popular writers, the author of more than forty books of fiction and nonfiction, including the Pulitzer Prize–winning Tales of the South Pacific, the bestselling novels The Source, Hawaii, Alaska, Chesapeake, Centennial, Texas, Caribbean, and Caravans, and the memoir The World Is My Home. Michener served on the advisory council to NASA and the International Broadcast Board, which oversees the Voice of America. Among dozens of awards and honors, he received America's highest civilian award, the Presidential Medal of Freedom, in 1977, and an award from the President's Committee on the Arts and Humanities in 1983 for his commitment to art in America. Michener died in 1997 at the age of ninety.


From the Paperback edition.
Praise For Tales of the South Pacific…
Praise for James A. Michener and Tales of the South Pacific
 
"Truly one of the most remarkable books to come out of [World War II] . . . Michener is a born storyteller."—The New York Times
 
"Riveting and emotional . . . Ever since James Michener wrote Tales of the South Pacific, the dreamers among us have been searching for our own Bali Ha'i."—The Washington Post
 
"Atmospheric . . . [Tales of the South Pacific marks] the beginning of Michener's long exploration of what happens when cultures connect, or fail to."—Los Angeles Times
 
"Few writers changed the face of American fiction as profoundly as did James Michener."—San Francisco Chronicle