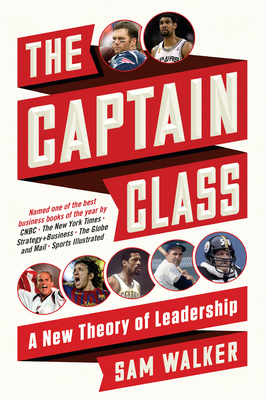 The Captain Class (Paperback)
A New Theory of Leadership
Random House Trade Paperbacks, 9780812987072, 368pp.
Publication Date: May 1, 2018
Other Editions of This Title:
Digital Audiobook (5/15/2017)
Hardcover (5/16/2017)
* Individual store prices may vary.
Description
A bold new theory of leadership drawn from elite captains throughout sports—named one of the best business books of the year by CNBC, The New York Times, Forbes, strategy+business, The Globe and Mail, and Sports Illustrated
 
"The book taught me that there's no cookie-cutter way to lead. Leading is not just what Hollywood tells you. It's not the big pregame speech. It's how you carry yourself every day, how you treat the people around you, who you are as a person."—Mitchell Trubisky, quarterback, Chicago Bears

Now featuring analysis of the five-time Super Bowl champion New England Patriots and their captain, Tom Brady

The seventeen most dominant teams in sports history had one thing in common: Each employed the same type of captain—a singular leader with an unconventional set of skills and tendencies. Drawing on original interviews with athletes, general managers, coaches, and team-building experts, Sam Walker identifies the seven core qualities of the Captain Class—from extreme doggedness and emotional control to tactical aggression and the courage to stand apart. Told through riveting accounts of pressure-soaked moments in sports history, The Captain Class will challenge your assumptions of what inspired leadership looks like.
 
Praise for The Captain Class
 
"Wildly entertaining and thought-provoking . . . makes you reexamine long-held beliefs about leadership and the glue that binds winning teams together."—Theo Epstein, president of baseball operations, Chicago Cubs
 
"If you care about leadership, talent development, or the art of competition, you need to read this immediately."—Daniel Coyle, author of The Culture Code
 
"The insights in this book are tremendous."—Bob Myers, general manager, Golden State Warriors
 
"An awesome book . . . I find myself relating a lot to its portrayal of the out-of the-norm leader."—Carli Lloyd, co-captain, U.S. Soccer Women's National Team
 
"A great read . . . Sam Walker used data and a systems approach to reach some original and unconventional conclusions about the kinds of leaders that foster enduring success. Most business and leadership books lapse into clichés. This one is fresh."—Jeff Immelt, chairman and former CEO, General Electric 
 
"I can't tell you how much I loved The Captain Class. It identifies something many people who've been around successful teams have felt but were never able to articulate. It has deeply affected my thoughts around how we build our culture."—Derek Falvey, chief baseball officer, Minnesota Twins
About the Author
Sam Walker is The Wall Street Journal's deputy editor for enterprise, the unit that oversees the paper's in-depth page-one features and investigative reporting projects. A former reporter, columnist, and sports editor, Walker founded the Journal's prizewinning daily sports coverage in 2009. He is the author of Fantasyland, a bestselling account of his attempt to win America's top fantasy baseball expert competition (of which he is a two-time champion). Walker attended the University of Michigan. He lives in New York City with his wife and two children.
Praise For The Captain Class: A New Theory of Leadership…
"The book taught me that there's no cookie-cutter way to lead. Leading is not just what Hollywood tells you. It's not the big pregame speech. It's how you carry yourself every day, how you treat the people around you, who you are as a person."—Mitchell Trubisky, quarterback, Chicago Bears

"Wildly entertaining and thought-provoking . . . makes you reexamine long-held beliefs about leadership and the glue that binds winning teams together."—Theo Epstein, president of baseball operations, Chicago Cubs
 
"If you care about leadership, talent development, or the art of competition, you need to read this immediately."—Daniel Coyle, author of The Culture Code
 
"The insights in this book are tremendous."—Bob Myers, general manager, Golden State Warriors
 
"An awesome book . . . I find myself relating a lot to its portrayal of the out-of the-norm leader."—Carli Lloyd, co-captain, U.S. Soccer Women's National Team
 
"A great read . . . Sam Walker used data and a systems approach to reach some original and unconventional conclusions about the kinds of leaders that foster enduring success. Most business and leadership books lapse into clichés. This one is fresh."—Jeff Immelt, chairman and former CEO, General Electric 
 
"I can't tell you how much I loved The Captain Class. It identifies something many people who've been around successful teams have felt but were never able to articulate. It has deeply affected my thoughts around how we build our culture."—Derek Falvey, chief baseball officer, Minnesota Twins
 
"The Captain Class really resonated with me. It will absolutely be part of my thought process as we continue to build our roster."—Ryan Pace, general manager, Chicago Bears
 
"I've been involved with an undefeated high school team, an undefeated college team, and coached in two Super Bowls. The Captain Class made me think back to those teams. The captains were indeed characters with a bit of uniqueness and a certain grittiness."—Pat Ruel, offensive line coach, Seattle Seahawks

"The best book I've read this year."—Mike Dunlap, head basketball coach, Loyola Marymount University
 
"I couldn't agree more with the premise of The Captain Class. Like the greatest athletic teams, every elite team and fighting unit I've seen in the military that has displayed consistent excellence over time has a leader like Sam Walker describes."—Jason Armagost, U.S. Air Force brigadier general, commander of the 379th Air Expeditionary Wing, Al Udeid Air Base, Qatar
 
"The most fabulous book on freakish sporting success and leadership traits commonly shared across the greatest teams of all time."—Rich Buchanan, performance director, Swansea City FC (English Premier League)

"A stunning mix of research and narrative."—Susan Cain, bestselling author of Quiet

"I'm not even a sports nut and I couldn't put it down."—Dan Heath, co-author of the New York Times bestseller Made to Stick

"One of the most surprising, best-written—and fun—sports books published in recent years."—Don Van Natta Jr., Pulitzer Prize winner and New York Times bestselling author of First Off the Tee