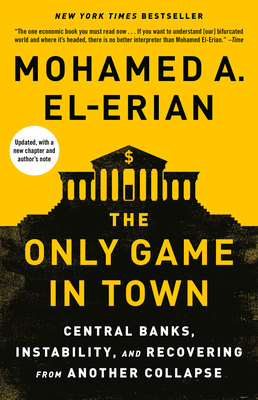 The Only Game in Town
Central Banks, Instability, and Recovering from Another Collapse
Paperback

* Individual store prices may vary.
Other Editions of This Title:
Digital Audiobook (3/28/2016)
Description
NEW YORK TIMES BESTSELLER • A roadmap to what lies ahead and the decisions we must make now to stave off the next global economic and financial crisis, from one of the world's most influential economic thinkers and the author of When Markets Collide • Updated, with a new chapter and author's note

"The one economic book you must read now . . . If you want to understand [our] bifurcated world and where it's headed, there is no better interpreter than Mohamed El-Erian."—Time

Our current economic path is coming to an end. The signposts are all around us: sluggish growth, rising inequality, stubbornly high pockets of unemployment, and jittery financial markets, to name a few. Soon we will reach a fork in the road: One path leads to renewed growth, prosperity, and financial stability, the other to recession and market disorder.

In The Only Game in Town, El-Erian casts his gaze toward the future of the global economy and markets, outlining the choices we face both individually and collectively in an era of economic uncertainty and financial insecurity. Beginning with their response to the 2008 global crisis, El-Erian explains how and why our central banks became the critical policy actors—and, most important, why they cannot continue is this role alone. They saved the financial system from collapse in 2008 and a multiyear economic depression, but lack the tools to enable a return to high inclusive growth and durable financial stability. The time has come for a policy handoff, from a prolonged period of monetary policy experimentation to a strategy that better targets what ails economies and distorts the financial sector—before we stumble into another crisis.

The future, critically, is not predestined. It is up to us to decide where we will go from here as households, investors, companies, and governments. Using a mix of insights from economics, finance, and behavioral science, this book gives us the tools we need to properly understand this turning point, prepare for it, and come out of it stronger. A comprehensive, controversial look at the realities of our global economy and markets, The Only Game in Town is required reading for investors, policymakers, and anyone interested in the future.
Praise For The Only Game in Town: Central Banks, Instability, and Recovering from Another Collapse…
"How come the global economy is now run largely by unelected central banks? In this highly intelligent analysis, the author, a respected investor and CEO, explains how elected governments are failing in their basic job to take care of the economy and why this might lead to a massive unmanageable crisis."—Fareed Zakaria, CNN (book of the week)

"El-Erian expertly offers a balanced view, commending the central banks for their necessarily aggressive policy views while noting, for example, the failure of the Fed to recognize the pre-crisis housing bubble. But title aside, this is hardly just a book about central banks. Instead, El-Erian offers a grand tour of the challenges we face, along with ideal solutions and more likely outcomes. . . . We desperately need a system in which the central banks are no longer the only game in town."—Steven Rattner, The New York Times Book Review

"What better moment could there be for a book subtitled 'Central Banks, Instability, and Avoiding the Next Collapse'? And who better to write it than Mohamed El-Erian—the man who captured the essence of the present era of low growth, low inflation and low investment returns better than anyone else with his memorable concept of the 'new normal'? . . . It is refreshing to read a policy book with the confidence to say that it is pointless to dispense elevator-pitch solutions to epochal economic challenges. . . . [A] sobering book."—Financial Times
 
"A warning on the Federal Reserve's limits . . . For those who consider Washington politicians incapable of acting effectively, [El-Erian's] diagnosis is chilling. . . . What's vital now, Mr. El-Erian argues, are large-scale investments in the 'real economy' with greater potential to create stable, widely distributed growth. They are measures only a president and Congress can take: improved public infrastructure, enhanced education and job training, an overhaul for a convoluted tax system rife with perverse incentives."—The New York Times

"Mohamed El-Erian has had an extraordinary career as an investment analyst, investor, and market commentator. His 'new normal' concept was prescient, provocative, and has proven out. Agree or disagree, his go-forward thoughts contained in this bracing book are well worth considering."—Lawrence H. Summers, former secretary of the U.S. Treasury

"The Only Game in Town achieves the nearly impossible: It takes complex financial issues and events and makes them both enlightening and entertaining. It's a must-read for anyone who cares about the global economy and its future, raising critical questions, exploring all the relevant topics, and offering sound policy recommendations. It's a terrific book."—Jack Welch
 
"The Only Game in Town may well be the only book you need to read on how the global financial system works, the serious trouble we may be in, and what to do about it. El-Erian's gift for clarity and his use of compelling examples make important economic issues accessible."—Anne-Marie Slaughter, president and CEO, New America
 
"From the rise of Airbnb and disruptive technologies to worries about Russian foreign policy and turmoil in the Middle East to negative interest rates and 'the new mediocre,' the world is an increasingly confusing place. The job of policymakers is mind-bogglingly hard. Who better than Mohamed El-Erian, with his knowledge of markets, his knowledge of policy, and his brilliant mind, to help organize their (and our) thoughts. The Only Game in Town is a great read."—Olivier Blanchard, senior fellow at the Peterson Institute for International Economics
 
"Today's global economy is beset by low growth and rising inequality. By looking at the tools now being used by the world's major central banks, Mohamed El-Erian shows how we can instead promote inclusive economic growth. This is a must-read from one of the most astute financial analysts of our time."—Walter Isaacson, author of Steve Jobs
 
"Widely regarded as one of the most astute observers of global economic trends, Mohamed El-Erian is famous for having coined the now-ubiquitous phrase 'the new normal.' Five years ago, he was worried that the global economy might take years to regain its footing. Now El-Erian worries it could fall off a cliff. The Only Game in Town is simply a must-read for anyone trying to understand how the global economy might unfold in the next five years."—Kenneth Rogoff, Thomas D. Cabot Professor of Public Policy at Harvard University, and former chief economist and director of research at the International Monetary Fund
 
"Mohamed El-Erian knows the global economy as an investor, a public servant, and as an analyst with a rare ability to grasp its essentials. He has an urgent message to convey here: Central banks cannot continue to carry the global economy on their backs for much longer without a high risk of a very bad global outcome. If he's right—as he has often been before—all of us, governments, business, finance, and individuals, need to understand why and how to take evasive action."—Jessica Mathews, former president, Carnegie Endowment for International Peace
Random House Trade Paperbacks, 9780812987300, 352pp.
Publication Date: May 9, 2017
About the Author
Mohamed A. El-Erian is the chair of President Obama's Global Development Council and chief economic advisor at Allianz, the corporate parent of PIMCO where he was previously the CEO and co-CIO. He is a contributing editor at the Financial Times and a Bloomberg columnist. Earlier in his career, he served as Deputy Director at the International Monetary Fund, Managing Director at Salomon Smith Barney, and president and CEO of the Harvard Management Company. El-Erian was on Foreign Policy's list of Top 100 Global Thinkers for four consecutive years, and named by that journal as one of the 500 most powerful people on the planet. He is regularly on CNN, CNBC, and Bloomberg, and his writings have also appeared in Fortune, The Wall Street Journal, The Washington Post, Business Insider, Newsweek, The Atlantic, Latin Finance, Project Syndicate, and other outlets. El-Erian's last book, When Markets Collide, was a New York Times and Wall Street Journal bestseller, won the Financial Times/Goldman Sachs Award for best business book of the year, was named as a best book of the year by The Economist, and was called a best business book of all time by The Independent. El-Erian earned his master's degree and doctorate at Oxford University, having obtained his undergraduate degree at the University of Cambridge, where he holds an honorary fellowship at Queens' College.