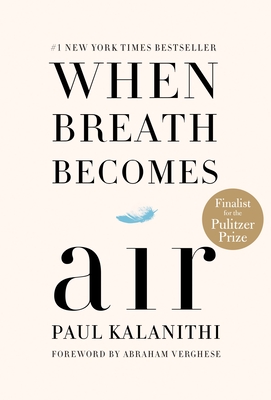 When Breath Becomes Air
Hardcover

* Individual store prices may vary.
Other Editions of This Title:
Digital Audiobook (1/11/2016)
CD-Audio (2/16/2016)
January 2016 Indie Next List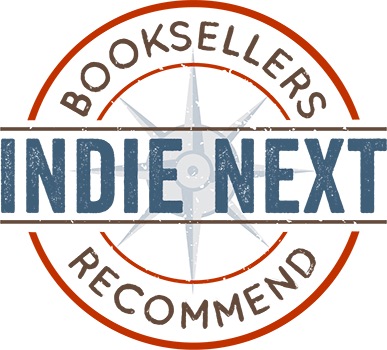 "With a message both mournful and life-affirming, When Breath Becomes Air chronicles a young doctor's journey from literature student to promising neurosurgeon and finally to a patient in his own hospital after being diagnosed with Stage IV lung cancer. Always profound, never sentimental, this important book refuses to take refuge in platitudes, instead facing mortality with honesty and humility. Written in engaging prose and filled with penetrating insights, this story is relevant to everyone and will captivate fans of memoir, literature, philosophy, and popular science alike. Lyrical passages of great beauty and vulnerability are deftly balanced by bright, candid moments of joy and even humor. Come prepared with plenty of tissues; over and over again this exquisite book will break your heart."
— Carmen Tracey, Loganberry Books, Shaker Hts, OH
View the List
Description
#1 NEW YORK TIMES BESTSELLER • PULITZER PRIZE FINALIST • This inspiring, exquisitely observed memoir finds hope and beauty in the face of insurmountable odds as an idealistic young neurosurgeon attempts to answer the question What makes a life worth living?

NAMED ONE OF PASTE'S BEST MEMOIRS OF THE DECADE • NAMED ONE OF THE BEST BOOKS OF THE YEAR BY The New York Times Book Review • People • NPR • The Washington Post • Slate • Harper's Bazaar • Time Out New York • Publishers Weekly • BookPage

Finalist for the PEN Center USA Literary Award in Creative Nonfiction and the Books for a Better Life Award in Inspirational Memoir

At the age of thirty-six, on the verge of completing a decade's worth of training as a neurosurgeon, Paul Kalanithi was diagnosed with stage IV lung cancer. One day he was a doctor treating the dying, and the next he was a patient struggling to live. And just like that, the future he and his wife had imagined evaporated. When Breath Becomes Air chronicles Kalanithi's transformation from a naïve medical student "possessed," as he wrote, "by the question of what, given that all organisms die, makes a virtuous and meaningful life" into a neurosurgeon at Stanford working in the brain, the most critical place for human identity, and finally into a patient and new father confronting his own mortality.

What makes life worth living in the face of death? What do you do when the future, no longer a ladder toward your goals in life, flattens out into a perpetual present? What does it mean to have a child, to nurture a new life as another fades away? These are some of the questions Kalanithi wrestles with in this profoundly moving, exquisitely observed memoir.

Paul Kalanithi died in March 2015, while working on this book, yet his words live on as a guide and a gift to us all. "I began to realize that coming face to face with my own mortality, in a sense, had changed nothing and everything," he wrote. "Seven words from Samuel Beckett began to repeat in my head: 'I can't go on. I'll go on.'" When Breath Becomes Air is an unforgettable, life-affirming reflection on the challenge of facing death and on the relationship between doctor and patient, from a brilliant writer who became both.
Praise For When Breath Becomes Air…
"I guarantee that finishing this book and then forgetting about it is simply not an option. . . . Part of this book's tremendous impact comes from the obvious fact that its author was such a brilliant polymath. And part comes from the way he conveys what happened to him—passionately working and striving, deferring gratification, waiting to live, learning to die—so well. None of it is maudlin. Nothing is exaggerated. As he wrote to a friend: 'It's just tragic enough and just imaginable enough.' And just important enough to be unmissable."—Janet Maslin, The New York Times

"Paul Kalanithi's memoir, When Breath Becomes Air, written as he faced a terminal cancer diagnosis, is inherently sad. But it's an emotional investment well worth making: a moving and thoughtful memoir of family, medicine and literature. It is, despite its grim undertone, accidentally inspiring."—The Washington Post

"Paul Kalanithi's posthumous memoir, When Breath Becomes Air, possesses the gravity and wisdom of an ancient Greek tragedy. . . . [Kalanithi] delivers his chronicle in austere, beautiful prose. The book brims with insightful reflections on mortality that are especially poignant coming from a trained physician familiar with what lies ahead. . . . The narrative voice is so assured and powerful that you almost expect him to survive his own death and carry on describing what happened to his friends and family after he is gone."—The Boston Globe

"Devastating and spectacular . . . [Kalanithi] is so likeable, so relatable, and so humble, that you become immersed in his world and forget where it's all heading."—USA Today

"It's [Kalanithi's] unsentimental approach that makes When Breath Becomes Air so original—and so devastating. . . . Its only fault is that the book, like his life, ends much too early."—Entertainment Weekly

"[When Breath Becomes Air] split my head open with its beauty."—Cheryl Strayed

"Rattling, heartbreaking, and ultimately beautiful, the too-young Dr. Kalanithi's memoir is proof that the dying are the ones who have the most to teach us about life."—Atul Gawande

"Thanks to When Breath Becomes Air, those of us who never met Paul Kalanithi will both mourn his death and benefit from his life. This is one of a handful of books I consider to be a universal donor—I would recommend it to anyone, everyone."—Ann Patchett

"Dr. Kalanithi describes, clearly and simply, and entirely without self-pity, his journey from innocent medical student to professionally detached and all-powerful neurosurgeon to helpless patient, dying from cancer. Every doctor should read this book—written by a member of our own tribe, it helps us understand and overcome the barriers we all erect between ourselves and our patients as soon as we are out of medical school."—Henry Marsh, author of Do No Harm: Stories of Life, Death, and Brain Surgery
Random House, 9780812988406, 256pp.
Publication Date: January 12, 2016
About the Author
Paul Kalanithi was a neurosurgeon and writer. He grew up in Kingman, Arizona, and graduated from Stanford University with a BA and MA in English literature and a BA in human biology. He earned an MPhil in history and philosophy of science and medicine from the University of Cambridge and graduated cum laude from the Yale School of Medicine, where he was inducted into the Alpha Omega Alpha national medical honor society. He returned to Stanford to complete his residency training in neurological surgery and a postdoctoral fellowship in neuroscience, during which he received the American Academy of Neurological Surgery's highest award for research. He died in March 2015. He is survived by his large, loving family, including his wife, Lucy, and their daughter, Elizabeth Acadia.
Coverage from NPR