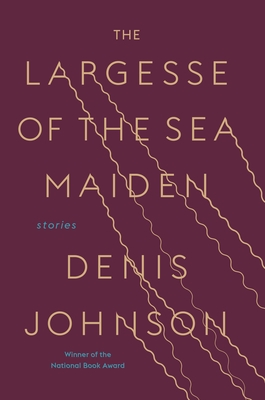 The Largesse of the Sea Maiden (Hardcover)
Stories
Random House, 9780812988635, 224pp.
Publication Date: January 16, 2018
Description
Twenty-five years after Jesus' Son, a haunting new collection of short stories on mortality and transcendence, from National Book Award winner and two-time Pulitzer Prize finalist Denis Johnson The Largesse of the Sea Maiden is the long-awaited new story collection from Denis Johnson. Written in the luminous prose that made him one of the most beloved and important writers of his generation, this collection finds Johnson in new territory, contemplating the ghosts of the past and the elusive and unexpected ways the mysteries of the universe assert themselves. Finished shortly before Johnson's death, this collection is the last word from a writer whose work will live on for many years to come. Praise for The Largesse of the Sea Maiden "Denis Johnson's posthumous collection winks from beyond the grave. . . . Johnson told aspiring authors to write as if ink were blood, because it is precious. So are farewells like this. . . . It is a vital addition to Johnson's oeuvre."--Time "Johnson offers visions and sadness and laughter. But it's the sentences--those adamantine, poetic sentences--that made him one of America's great and lasting writers. It's the sentences that live on."--The Boston Globe "The secret of all this is the shifting wattage, the slipshod magnificence and crazy wonder of the Johnsonian sentence. Clause by clause, word by word, anything becomes plausible. . . . Whatever Johnson had gone through, however he expressed it on the page, it would all have been wasted had it not ended up being funny, because then a major percentage of wisdom would have been missing. . . . He led a certain life and found ways of giving expression to that life."--Geoff Dyer, The Guardian "We lost one of the great writers of his generation last year, but before his death, Denis Johnson finished off one final, brilliant short story collection. . . . Beautifully indicates Johnson's singular voice, the way he contemplated the past and edges toward the cosmic."--Entertainment Weekly "These four stories rank with Johnson's best work, but the title story, a catalogue of singular moments related by a man who tells us he's passing through life as if it were a masquerade, ranks with the best fiction published by any American writer during this short century."--New York Magazine
About the Author
Denis Johnson was the author of nine novels, one novella, two books of short stories, five collections of poetry, two collections of plays, and one book of reportage. Among other honors, his novel Tree of Smoke won the 2007 National Book Award and was a finalist for the 2007 Pulitzer Prize, and Train Dreams was a finalist for the 2012 Pulitzer Prize.
Coverage from NPR
Advertisement