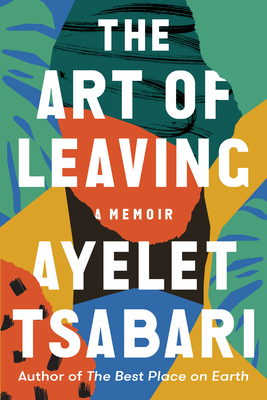 The Art of Leaving (Hardcover)
A Memoir
Random House, 9780812988987, 336pp.
Publication Date: February 19, 2019
Other Editions of This Title:
Digital Audiobook (2/18/2019)
* Individual store prices may vary.
Description
An intimate memoir in essays by an award-winning Israeli writer who travels the world, from New York to India, searching for love, belonging, and an escape from grief following the death of her father when she was a young girl

NAMED ONE OF THE BEST BOOKS OF THE YEAR BY KIRKUS REVIEWS

This searching collection opens with the death of Ayelet Tsabari's father when she was just nine years old. His passing left her feeling rootless, devastated, and driven to question her complex identity as an Israeli of Yemeni descent in a country that suppressed and devalued her ancestors' traditions.

In The Art of Leaving, Tsabari tells her story, from her early love of writing and words, to her rebellion during her mandatory service in the Israeli army. She travels from Israel to New York, Canada, Thailand, and India, falling in and out of love with countries, men and women, drugs and alcohol, running away from responsibilities and refusing to settle in one place. She recounts her first marriage, her struggle to define herself as a writer in a new language, her decision to become a mother, and finally her rediscovery and embrace of her family history—a history marked by generations of headstrong women who struggled to choose between their hearts and their homes. Eventually, she realizes that she must reconcile the memories of her father and the sadness of her past if she is ever going to come to terms with herself.

With fierce, emotional prose, Ayelet Tsabari crafts a beautiful meditation about the lengths we will travel to try to escape our grief, the universal search to find a place where we belong, and the sense of home we eventually find within ourselves.

Praise for The Art of Leaving

"The Art of Leaving is, in large part, about what is passed down to us, and how we react to whatever it is. . . . [It] is not self-help—we cannot become whatever we put our mind to—yet it suggests that we can begin to heal from what has broken us, if we only let ourselves. . . . Tsabari's intense prose gave me pause."—The New York Times Book Review "Shortlist"

"Told in a series of fierce, unflinching essays . . . an Israeli Canadian author explores her upbringing and the death of her father in this stark, beautiful memoir." —Shelf Awareness (starred review)

"The Art of Leaving will take you on an emotional journey you won't soon forget."—Hello Giggles

"Candid, affecting . . . [Ayelet Tsabari's] linked essays cohere into a tender, moving memoir."—Kirkus Reviews (starred review)
About the Author
Ayelet Tsabari was born in Israel to a large family of Yemeni descent. After serving in the Israeli army, she traveled extensively throughout Southeast Asia and North America, and now lives in Tel Aviv. She teaches creative writing at the University of King's College's MFA Program in Creative Nonfiction and at Tel Aviv University. Tsabari's first book, The Best Place on Earth, won the Sami Rohr Prize for Jewish Literature and the Edward Lewis Wallant Award for Jewish Fiction, and was nominated for the Frank O'Connor International Short Story Award. It was also a New York Times Editors' Choice pick and included in Kirkus Reviews' Best Debut Fiction of 2016. Essays from this book have also won several awards, including a National Magazine Award. In addition to writing, Tsabari has worked as a photographer and a journalist.
Praise For The Art of Leaving: A Memoir…
"The Art of Leaving is, in large part, about what is passed down to us, and how we react to whatever it is. . . . [It] is not self-help—we cannot become whatever we put our mind to—yet it suggests that we can begin to heal from what has broken us, if we only let ourselves. . . . Tsabari's intense prose gave me pause."—The New York Times Book Review "Shortlist"
 
"Told in a series of fierce, unflinching essays . . . an Israeli Canadian author explores her upbringing and the death of her father in this stark, beautiful memoir." —Shelf Awareness (starred review)
 
"The Art of Leaving will take you on an emotional journey you won't soon forget."—Hello Giggles

"Candid, affecting . . . [Ayelet Tsabari's] linked essays cohere into a tender, moving memoir."—Kirkus Reviews (starred review)

"Ayelet Tsabari's memoir is a passionate account of the pain, fire, and fury of adolescence and young adulthood, the search for a sense of belonging, and reconciling the disparate parts of our lives and ultimately ourselves."—Camilla Gibb, author of This Is Happy and The Beauty of Humanity Movement
 
"Ayelet Tsabari is a fierce-tender writer. Her work is an enchanting mix of vivid anecdote and vigorous insight—spanning generations and geographies, glittering with humor and heart."—Kyo Maclear, author of Birds Art Life: A Year of Observation

"Ayelet Tsabari has written a beautiful, complex, and emotionally breathtaking memoir that captures and transcends her journey of self-discovery as a Jewish Yemeni woman within and beyond Israel's borders. The Art of Leaving is a marvel of a book, at once tender and fearless, from a writer at the peak of her creative powers."—Kamal Al-Solaylee, author of Intolerable and Brown
 
"In The Art of Leaving, Ayelet Tsabari excavates the dark loam of her memory, unearthing treasure after treasure. Her discoveries are nuanced, complex, and beautiful. These essays are timely and urgent, and they've been polished until they shine."—Alison Pick, author of Between Gods: A Memoir and Strangers with the Same Dream