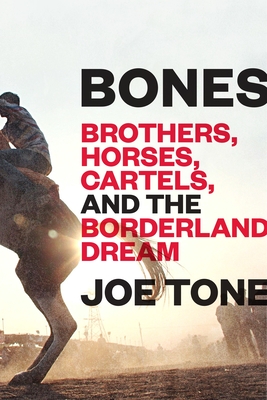 Bones
Brothers, Horses, Cartels, and the Borderland Dream
Hardcover

* Individual store prices may vary.
Other Editions of This Title:
Digital Audiobook (8/7/2017)
Description
The dramatic true story of two brothers living parallel lives on either side of the U.S.-Mexico border—and how their lives converged in a major criminal conspiracy

José and Miguel Treviño were bonded by blood and a shared vision of a better life. But they chose different paths that would end at the same violent crossroads—with considerable help from the FBI and an enigmatic, all-American snitch.

José was a devoted family man who cut no corners in his pursuit of the American dream. Born in Nuevo Laredo, a Mexican border town on a crucial smuggling route, José was one of thirteen children raised by a hardworking ranch hand. He grew up loving the sprawling countryside and its tough, fast quarter horses, but in search of opportunity he crossed the border into Texas to look for work as a bricklayer. He kept his nose clean. He stayed out of trouble.

Back in Mexico, José's younger brother Miguel was leading a different life. While José struggled to make ends meet, Miguel ascended to the top ranks of Los Zetas, a notoriously bloody drug cartel—his crimes had become the stuff of legend and myth on both sides of the border. He was said to have burned rivals alive, murdered Mexican and American law enforcement officers, and launched grenades at a U.S. consulate. 

José, married with kids and now a U.S. citizen, gave every indication of rejecting his brother's criminal lifestyle. Then one day he showed up at a quarter-horse auction and bid close to a million dollars for a horse—the largest amount ever paid for a quarter horse at an auction. The humble bricklayer quickly became a major player in the quarter-horse racing scene that thrived in the American Southwest and Mexico. That caught the attention of an eager young FBI agent named Scott Lawson. He enlisted Tyler Graham, an American rancher who would eventually breed José's champion horse—nicknamed Bones—to help the FBI infiltrate what was revealing itself to be a major money-laundering operation, with the ultimate goal of capturing the infamous Miguel Treviño.

Joe Tone's riveting, exquisitely layered crime narrative, set against the high-stakes world of horse racing, is an intimate story about family, loyalty, and the tragic costs of a failed drug war. Compelling and complex, Bones sheds light on the perilous lives of American ranchers, the morally dubious machinery of drug and border enforcement, and the way greed and fear mingle with race, class, and violence along America's vast Southwestern border. 

Praise for Bones

"The true-life tale of the Zetas' foray into quarter horses is masterfully recounted. . . . [a] finely-painted cast of characters . . . Tone weaves the threads together with skillful pacing and sharp prose, marking him as an important new talent in narrative nonfiction. . . . Tone adds some vivid details [and] digs deep into the colorful world of quarter-horse racing."—The New York Times Book Review
Praise For Bones: Brothers, Horses, Cartels, and the Borderland Dream…
"The true-life tale of the Zetas' foray into quarter horses is masterfully recounted. . . . [a] finely-painted cast of characters . . . Tone weaves the threads together with skillful pacing and sharp prose, marking him as an important new talent in narrative nonfiction. . . . Tone adds some vivid details [and] digs deep into the colorful world of quarter-horse racing."—The New York Times Book Review

"[Joe] Tone reports in brilliant detail. . . . Relying on extensive court records and interviews with Scott Lawson, the rookie FBI agent who discovered the brothers' scheme, Tone re-creates the early successes that led José and Tempting Dash into the winner's circle, and then the U.S. government's crosshairs. Bones is an important addition to the literature on the U.S.-Mexico drug trade and a fascinating window into the subculture of American quarter-horse racing."—Outside
 
"Riveting . . . Tone chronicles these brothers, who became enmeshed in the American quarter-horse racing and breeding industry, eventually attracting the attention of an FBI agent who caught on to their multi-faceted money-laundering scheme. Working with rich material, Tone constructs a powerful narrative that reveals tensions of class and race—and unbreakable family bonds."—National Book Review Online
 
"Action and intrigue spill off the pages: there are scenes of tense surveillance operations, feverishly manic horse races, confrontations between lawmen competing for their slice of investigative glory, unnerving meetings between Zeta operatives who have snitched and the bosses they're hoping don't realize they've snitched, and, at the end, a dramatic courtroom showdown."—Texas Monthly
 
"Much of Bones reads like . . . a colorful thriller. But this book is the result of reporting that took Tone from North Texas to tracks across the Southwest, as he explored how the murderous Zeta drug cartel came to be a major player in quarter-horse racing. . . . We highly recommend it."—D Magazine
 
"[Bones] stands out for its excellent reporting . . . [and] its first-rate narrative."—The Dallas Morning News

"A riveting read that transcends the larger-than-life cartels, cowboys, and fast horses at its heart. It's about how hard it is to determine what makes a good guy and a bad guy along our embattled border."—Joe Drape, author of the New York Times bestseller American Pharoah

"One magnificent piece of border reporting."—Sam Quinones, author of Dreamland: The True Tale of America's Opiate Epidemic

"What a cast of characters: a bloodthirsty Mexican drug lord, his unassuming blue-collar brother, a daring Texas rancher, and an idealistic young FBI agent. And then there are the racehorses, as fast as the wind, competing for million-dollar purses on the quarter-horse tracks of the American Southwest. Through amazingly detailed research, Joe Tone has brought us a riveting tale about the pursuit of justice in the most dangerous of worlds."—Skip Hollandsworth, author of the New York Times bestseller The Midnight Assassin

"Joe Tone takes us deep into the harsh, violent, and fascinating world of drug cartels and quarter horses along the Texas-Mexico border, and what a great and harrowing ride it is. Full of inside dope on everything from racetracks to money laundering to the finer points of smuggling, Bones delivers a killer tale that is a scary joy to read."—Doug J. Swanson, author of Blood Aces

"Bones shows you the inner workings of a Mexican drug cartel, via the intriguingly oddball sport of quarter-horse racing. The outstanding reporting takes you back and forth across the border, from the perspectives of kingpins, traffickers, federal agents, and stooges. It's a gripping story, and totally satisfying."—Ben Westhoff, author of Original Gangstas: The Untold Story of Dr. Dre, Eazy-E, Ice Cube, Tupac Shakur, and the Birth of West Coast Rap

"A suspenseful story as well as a fascinating depiction of the mechanics of money laundering, the largely unfamiliar world of quarter-horse racing, and the dynamics of an extended family, the book draws readers into the complexities of life at the border."—Kirkus Reviews (starred review) 

"Journalist Tone's first foray into a book-length investigation is thorough and relentless. Painstakingly grounding this story in the misty beginnings of quarter-horse racing, Tone carefully describes the modern art and science of the sport. He gives the same careful treatment to every aspect of this story as it gallops between racetracks in Texas, Oklahoma, New Mexico, and California, chasing money and mayhem across the Mexican border. . . . Tone's fluid style and light touch reveal the detention, riches, obscurity, or horrifying death that awaits all the major players, including law-enforcement agents and collusive American ranchers. Tone's thoughtful coverage tells a tale of a borderland dream turned nightmare."—Booklist
One World, 9780812989601, 352pp.
Publication Date: August 8, 2017
About the Author
Joe Tone was most recently the editor of the award-winning Dallas Observer. He has written extensively about sports, crime, and immigration, among other topics, and has been honored for his investigative reporting, sportswriting, and narrative storytelling. His work has appeared in The Washington Post, The Village Voice, LA Weekly, and elsewhere. Tone holds a master's degree from the Medill School of Journalism at Northwestern University. He was born and raised in Northern California, and now lives in the Washington, D.C., area with his wife and two sons. This is his first book.
or
Not Currently Available for Direct Purchase