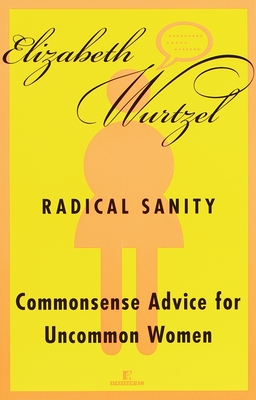 Radical Sanity (Paperback)
Atrandom, 9780812991604, 108pp.
Publication Date: October 1, 1998
Description
Miss Wurtzel is back, and this time she's armed with advice for the modern woman. She's found the secret of life, and it's within everyone's reach. It's about enjoying your mistakes. It's about being strong. It's about eating dessert. It's about having opinions. It's about adoring feminism. It's about embracing fanaticism. It's also about saying your prayers, not overpacking, and making your boyfriend do the dishes.. Some of her words of wisdom: - Think Productively: It's not that you have to see it to believe it; on the contrary, you have to believe it to see it.
- Be Gorgeous: I myself believe that I am about ten times prettier than I actually am. By dint of sheer will power, I have managed to convince many people of this.
- Enjoy Your Single Years: Do not think that the whole point of being single is being married; men don't think this way, and neither should you. In Radical Sanity, these lessons, and many more, are delivered with the sharp wit and candor we've come to expect -- and love -- from Elizabeth Wurtzel.
About the Author
Elizabeth Wurtzel graduated from Harvard College, where she received the 1986 Rolling Stone College Journalism Award. She was music critic at The New Yorker and New York, and her articles have appeared in numerous magazines. She is the author of the best-selling Prozac Nation and Bitch: In Praise of Difficult Women, and she currently lives in New York City. The film Prozac Nation starring Christina Ricci and Jessica Lange will be released in 2001.
Praise For Radical Sanity…
Praise for Bitch: In Praise of Difficult Women

"One of the more honest, insightful and witty books on the subject of women to have come along in a while."
-Karen Lehrman, New York Times Book Review

"The Courtney Love of letters--an extraordinarily thought-provoking, absorbing, wise, often poignant read. You can disagree with Wurtzel, but at least she always has a passionate point of view."
-Dana Kennedy, Entertainment Weekly

"It's got the preposterous energy of a great, drunken tantrum, and a voluptuous, sprawling style, with lots of good, zinging jokes."
-Mary Gaitskill, The Village Voice Literary Supplement


Praise for Prozac Nation:

"Sparkling, luminescent prose...by turns wrenching and comical, self-indulgent and self-aware, Prozac Nation possesses the raw candor of Joan Didion's essays, the irritating emotional exhibitionism of Sylvia Plath's Bell Jar, the wry, dark humor of a Bob Dylan song...a powerful portrait of one girl's journey through the purgatory of depression and back."
-Michiko Kakutani, New York Times

"Thoughtful...Very brave...like all provocateurs, she poses questions which make you think."
-Julia Phillips, Vanity Fair

"Sylvia Plath with the ego of Madonna."
-The New York Times Book Review
Advertisement