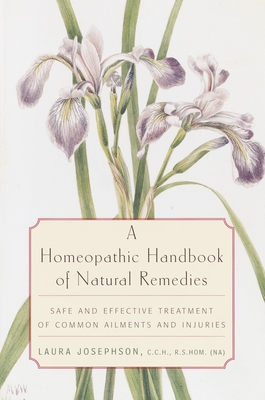 A Homeopathic Handbook of Natural Remedies: Safe and Effective Treatment of Common Ailments and Injuries (Paperback)
Safe and Effective Treatment of Common Ailments and Injuries
Villard Books, 9780812991888, 354pp.
Publication Date: August 13, 2002
Description
A Homeopathic Handbook of Natural Remedies offers the most succinct and up-to-date information available on homeopathy, a method of healing that works by stimulating the body's natural defenses. Laura Josephson provides an overview of the healing principles and history of homeopathy, clear guidelines for identifying and treating symptoms, and instructions for preparing and stocking your home kit.
In addition to homeopathic first aid treatment for such ailments as back pain, puncture wounds, eye injuries, fractures, and insect bites, the book outlines remedies for a wide range of everyday complaints, including allergies, coughs, colds, flu, fevers, digestive problems, headaches, PMS, earaches, insomnia, jet lag, and more. A separate section deals specifically with childhood conditions.
Also included is an extensive resource directory of homeopathic pharmacies and a list of articles and other publications that provide further information.
About the Author
Laura Josephson, C.C.H., R.S.Hom. (NA) has been in homeopathic practice since 1992. She is currently the president of the New York State Homeopathic Association. Her interest in homeopathy grew out of her study of herbology and hermetic science. She has studied at the New York School of Homeopathy, the Atlantic Academy of Classical Homeopathy, the New England School of Homeopathy, and with various leaders in the field from around the world. A native of Northern California, she maintains a private practice in Rockland County, New York, where she lives with her husband, four daughters, and a menagerie of dogs, cats, and birds.
Praise For A Homeopathic Handbook of Natural Remedies: Safe and Effective Treatment of Common Ailments and Injuries…
"An easy-to-use step-by-step guide. Josephson has sagely set her recommendations within a set of guidelines to make it safe for the patient. I recommend this book to those wanting a clear and concise introduction to homeopathy." —Dr. Andrew H. Lockie, M.F.Hom., M.R.C.G.P. Dip. Obst. R.C.O.G., author of Complete Guide to Homeopathy and The Family Guide to Homeopathy

"Packed with easily accessible information for exploring how to heal yourself with the gentle yet effective administrations of the minimum dose." —Miranda Castro, F.S.Hom., author of The Complete Homeopathy Handbook and Homeopathy for Pregnancy, Birth, and Your Baby's First Years
Advertisement