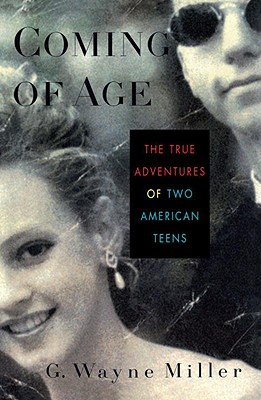 Coming of Age: The True Adventures of Two American Teens (Paperback)
The True Adventures of Two American Teens
Random House (NY), 9780812992069, 272pp.
Publication Date: December 1, 1995
Description
G. Wayne Miller explores the drama and passion teenagers hide from everyone but their peers in this warm, funny, and eye-opening account of two kids from a small New England town as they come of age. As Dave Bettencourt, seventeen, begins his senior year of high school, there are many things he wants to do: be elected class clown; start on the varsity basketball team; turn his high school upside down with his radical underground newspaper, Total Godhead; finally convince his mother, a biology teacher, that he'll never be a scientist; and take his strikingly beautiful girlfriend, Beth Sunn--whose passion is in-your-face rap--to the prom. Beth's plans for her sophomore year include: loving Dave forever; being a cheerleader; surviving school; and staying absolutely cool. All over America, teens like Beth and Dave are coming of age in a world that is dramatically different from the one in which most of us grew up. But their experience is universal: They're falling in love, defying their parents, learning to be independent, and discovering who they are. This is the true story of two kids growing up on Main Street, U.S.A., away from urban violence and the glare of the national media--a place where, despite all the pressures of a new age, it is still possible to believe the good things about being young. "Offers a sympathetic and insightful portrait of high school life in the heartland."--Julie Salamon, author of Devil's Candy
About the Author
G. Wayne Miller is a staff writer at The Providence Journal-Bulletin. A Harvard graduate, he lives in Pascoag, Rhode Island, with his wife and three children.
Advertisement