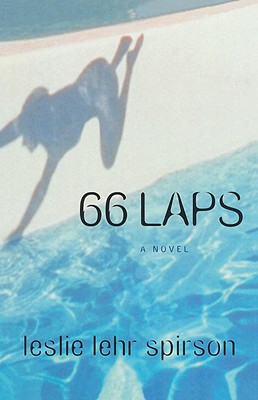 66 Laps
Paperback

* Individual store prices may vary.
Description
I slipped off my clothes and dove into the pool. We are 96 percent liquid. There is nothing more sensuous than a good splash against naked skin: the initial rush of cold, the smooth acquiescence of inner fluid to the outer mantle of wet.

Thirty-two-year-old Audrey Hastings swims a mile each day in her backyard pool: sixty-six laps. These meticulously counted crossings are the balm for her frustrations as a new mother, and her hedge against the insecurity she feels upon discovering her first gray hair. But the smooth waters through which she so assiduously glides grow cloudy when it becomes crystal clear that her good-looking, easy-going husband has begun an affair with a comely co-worker named Kim--who resembles Audrey, ten years younger.
        Audrey rages and stews and swims while contemplating this threat to her very existence. A fan-tasy of revenge--taking a younger lover of her own--becomes real when Audrey catches the eye of a sexy grad student at the park where she takes her two-year-old, Gina, to play.
        Audrey hesitates, resists, succumbs. And Au-drey learns that the consequences of jealousy, suspicion, and adultery can be more disastrous than she ever imagined.
        Precise, intelligent, and intense, 66 Laps is an altogether irresistible novel written with scalpel-like precision.
Praise For 66 Laps…
"The prose is luminous and passionate, and
the story of Audrey's season of doubt and love is irresistible and ultimately heartbreaking. The author knows what Tolstoy knew, that it's the simple, ordinary life that is the most terrible, the most tragic, the most compelling. The story is about the new monogamy, the old infidelity, about the power we give to strangers and the fragility of intimacy. It's about dreams and nightmares, betrayal and seduction. The voice is engaging, the characters memorable and moving, the subject important. You can't trust a woman in love, Audrey tells us. Indeed. 66 Laps reminded me of why I started reading stories in the first place: to be enchanted, to live in a world that is more vivid and more compelling than the one I come from."

--John Dufresne, author of Love Warps the
    Mind a Little and Louisiana Power & Light
Villard, 9780812992304, 224pp.
Publication Date: March 7, 2000
About the Author
Leslie Lehr Spirson is the winner of the 1998 Pirate's Alley Faulkner Society Gold Medal for Best Novella. She wrote the film Heartless as well as several humorous parenting books; 66 Laps is her first novel. A graduate of the U.S.C. School of Cinema/ TV, she lives in Southern California with her husband and daughters. "From the Hardcover edition."
or
Not Currently Available for Direct Purchase