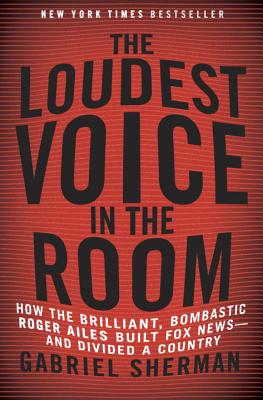 The Loudest Voice in the Room
How the Brilliant, Bombastic Roger Ailes Built Fox News--and Divided a Country
Hardcover

* Individual store prices may vary.
Other Editions of This Title:
Digital Audiobook (1/15/2014)
Paperback (2/14/2017)
Description
A revelatory journey inside the world of Fox News and Roger Ailes—the brash, sometimes combative network head who helped fuel the rise of Donald Trump

NEW YORK TIMES BESTSELLER • NOW A SHOWTIME LIMITED SERIES • NAMED ONE OF THE BEST BOOKS OF THE YEAR BY NPR

When Rupert Murdoch enlisted Roger Ailes to launch a cable news network in 1996, American politics and media changed forever. With a remarkable level of detail and insight, Vanity Fair magazine reporter Gabriel Sherman puts Ailes's unique genius on display, along with the outsize personalities—Bill O'Reilly, Sean Hannity, Megyn Kelly, Sarah Palin, Karl Rove, Glenn Beck, Mike Huckabee, Gretchen Carlson, Bill Shine, and others—who have helped Fox News play a defining role in the great social and political controversies of the past two decades. From the Clinton-Lewinsky scandal to the Bush-Gore recount, from the war in Iraq to the Tea Party attack on the Obama presidency, Roger Ailes developed an unrivaled power to sway the national agenda. Even more, he became the indispensable figure in conservative America and the man any Republican politician with presidential aspirations had to court.

How did this man become the master strategist of our political landscape? In revelatory detail, Sherman chronicles the rise of Ailes, a frail kid from an Ohio factory town who, through sheer willpower, the flair of a showman, fierce corporate politicking, and a profound understanding of the priorities of middle America, built the most influential television news empire of our time.

Drawing on hundreds of interviews with Fox News insiders past and present, Sherman documents Ailes's tactical acuity as he battled the press, business rivals, and countless real and perceived enemies inside and outside Fox. Sherman takes us inside the morning meetings in which Ailes and other high-level executives strategized Fox's presentation of the news to advance Ailes's political agenda; provides behind-the-scenes details of Ailes's crucial role as finder and shaper of talent, including his sometimes rocky relationships with Fox News stars such as O'Reilly, Hannity, and Carlson; and probes Ailes's fraught partnership with his equally brash and mercurial boss, Rupert Murdoch.

Roger Ailes's life is a story worthy of Citizen Kane. The Loudest Voice in the Room is an extraordinary feat of reportage with a compelling human drama at its heart.
Praise For The Loudest Voice in the Room: How the Brilliant, Bombastic Roger Ailes Built Fox News--and Divided a Country…
"[An] actually fair and balanced, carefully documented biography."—Jacob Weisberg, The New York Times Book Review
 
"The book excels at compiling data establishing Ailes's control freakishness and authoritarian nature. . . . A veteran of the New York media-reporting scene, Sherman nails the Fox News palace intrigue and brings to light interactions that Ailes clearly never wanted to go public."—Erik Wemple, The Washington Post
 
"[An] enormously entertaining new biography."—The New Republic
 
"A thoroughly reported look behind that curtain . . . Part of the reason [Ailes] and his allies have campaigned against the book is not because it is false, but because it tells a true story."—David Carr, The New York Times
 
"Sherman is at his best writing with sweep about the history of cable news and placing Ailes in context."—Los Angeles Times
 
"[An] eye-opening biography of the would-be political kingmaker and Fox News mastermind . . . A well-reported, engaging book. A bonus: Bill O'Reilly won't like it, either. Politics and media junkies, on the other hand, will have a field day."—Kirkus Reviews
Random House, 9780812992854, 560pp.
Publication Date: January 14, 2014
About the Author
Gabriel Sherman is a special correspondent for Vanity Fair. Most recently, Sherman served as national affairs editor at New York magazine, and he is a regular contributor to NBC News and MSNBC. His journalism has appeared in The New York Times, The New Republic, The New York Observer, and GQ, among other publications. He lives in New York City with his wife, Jennifer Stahl. This is his first book.
Coverage from NPR
or
Not Currently Available for Direct Purchase