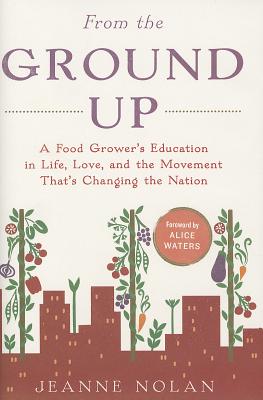 From the Ground Up (Hardcover)
A Food Grower's Education in Life, Love, and the Movement That's Changing the Nation
Spiegel & Grau, 9780812992991, 304pp.
Publication Date: July 16, 2013
Other Editions of This Title:
Hardcover (3/10/2020)
Paperback (3/10/2020)
* Individual store prices may vary.
Description
An inspiring story for everyone who's ever dreamed of growing the food they eat
 
When Jeanne Nolan, a teenager in search of a less materialistic, more authentic existence, left Chicago in 1987 to join a communal farm, she had no idea that her decades-long journey would lead her to the heart of a movement that is currently changing our nation's relationship to food. Now a leader in the sustainable food movement, Nolan shares her story in From the Ground Up, helping us understand the benefits of organic gardening—for the environment, our health, our wallets, our families, and our communities. The great news, as Nolan shows us, is that it has never been easier to grow the vegetables we eat, whether on our rooftops, in our backyards, in our school yards, or on our fire escapes.
 
From the Ground Up chronicles Nolan's journey as she returned seventeen years later, disillusioned with communal life, to her parents' suburban home on the North Shore as a single mother with few marketable skills. Her mother suggested she plant a vegetable garden in their yard, and it grew so abundantly that she established a small business planting organic gardens in suburban yards. She was then asked to create an organic farm for children at Chicago's Lincoln Park Zoo, and she soon began installing gardens around the city—on a restaurant's rooftop, in school yards, and for nonprofit organizations. Not only did she realize that practically anyone anywhere could grow vegetables on a small scale but she learned a greater lesson as well: rather than turn her back on mainstream society, she could make a difference in the world. The answer she was searching for was no further than her own backyard.  
 
In this moving and inspiring account, which combines her fascinating personal journey with the knowledge she gained along the way, Nolan helps us understand the importance of planting and eating organically—both for our health and for the environment—and provides practical tips for growing our food. With the message that we can create utopias in our very own backyards and rooftops, From the Ground Up can inspire each of us to reassess our relationship to the food we eat.

Praise for From the Ground Up
 
"One of the most intelligent, surprising and impressive garden memoirs I've read in a long time . . . radiant with hope and love."—The New York Times Book Review

"The joy of From the Ground Up is not Nolan's own happy ending but rather the illuminating way she applies her vision to practical problems. . . . The hardest memoir to write is the one that is honest but not self-obsessed; Nolan accomplishes this with clarity and poise."—Jane Smiley, Harper's

"[A] rare and improbable thing: a gripping gardening memoir . . . [Nolan's] voice is an honest and reassuring one."—Chicago Reader

"[A] refreshing narrative . . . From the Ground Up triumphs the backyard micro-garden as it imparts lessons from Nolan's life about family. . . . The book is a good read for foodies and lovers of a good story alike, and an inspiration to garden wherever you can find space."—Fredericksburg Free Lance–Star

"From the Ground Up resonates powerfully with me, as a gardener, and inspires me to 'double dig' my garden bed. But even readers who keep their fingernails clean will benefit from this beautiful story and powerful message."—Sophia Siskel, president and CEO of the Chicago Botanic Garden
About the Author
Jeanne Nolan has been growing food organically for more than twenty years. She is a well-known educator and consultant and the founder of the Organic Gardener Ltd., which works with families to develop gardens that are beautiful, productive, and uniquely suited to their homes and lifestyles. She also works extensively with schools, restaurants, not-for-profit organizations, and other institutions. In partnership with Green City Market, she designed, installed, and maintains the Edible Gardens, a five-thousand-square-foot vegetable garden for children in Chicago's Lincoln Park Zoo. She lives with her husband and two daughters in Glencoe, Illinois.
Praise For From the Ground Up: A Food Grower's Education in Life, Love, and the Movement That's Changing the Nation…
"One of the most intelligent, surprising and impressive garden memoirs I've read in a long time . . . radiant with hope and love."—The New York Times Book Review

"The joy of From the Ground Up is not Nolan's own happy ending but rather the illuminating way she applies her vision to practical problems. . . . The hardest memoir to write is the one that is honest but not self-obsessed; Nolan accomplishes this with clarity and poise."—Jane Smiley, Harper's

"[A] rare and improbable thing: a gripping gardening memoir . . . [Nolan's] voice is an honest and reassuring one."—Chicago Reader

"[A] refreshing narrative . . . From the Ground Up triumphs the backyard micro-garden as it imparts lessons from Nolan's life about family. . . . The book is a good read for foodies and lovers of a good story alike, and an inspiration to garden wherever you can find space."—Fredericksburg Free Lance–Star

"By bravely sharing her personal journey in this remarkable book, Jeanne Nolan gives each of us a gift—one that has the power to motivate us to pursue the values we believe in, to free ourselves from convention, to be better parents, and to accept the love of family and community—however we define those. From the Ground Up resonates powerfully with me, as a gardener, and inspires me to 'double dig' my garden bed. But even readers who keep their fingernails clean will benefit from this beautiful story and powerful message."—Sophia Siskel, president and CEO of the Chicago Botanic Garden

"I didn't expect that a book about the food movement would turn out to be a can't-put-it-down page-turner, but that's just what From the Ground Up is. Jeanne Nolan's personal journey is a richly observed saga set against the broad landscape of social and ecological change, and spurred by a reawakened awareness about the food that must sustain us."—Bill Kurtis, television journalist and founder of Tallgrass Beef
 
"To garden well is to question, to wonder, to believe, to hope, and to love. The same is true for living well. All this and more comes through in the story of Jeanne Nolan's quest to find her place in the world. Her book reinforced my beliefs about the power of a garden to heal, and opened my eyes to so much more. There is something to touch everyone along the way of this remarkable journey."—Suzy Bales, author of Down-to-Earth Gardener
 
"We talk of 'farm to table' but not of 'child to garden.' Growing and harvesting your first vegetables stays in your memory and on your palate forever. Jeanne Nolan inspires us all to establish a truer connection to our food. I have never been more excited to get my hands dirty!"—Art Smith, author of Art Smith's Healthy Comfort
 
"Sometimes a garden is just a garden, but not for Jeanne Nolan. In From the Ground Up, she gives us a deeply personal account of finding her path in life through building urban gardens—and in Chicago, no less. Anyone with an interest, from casual to professional, in creating urban food systems and communities—or eating homegrown fresh vegetables—will be moved and inspired by her story."—Marion Nestle, professor of nutrition, food studies, and public health at New York University and author of Eat, Drink, Vote: An Illustrated Guide to Food Politics
 
"Jeanne Nolan's story is not only about how seeds sprout, but about how our own lives can blossom in the most unanticipated and beautiful ways. Although I've been thinking about the importance of food my entire professional life, Jeanne Nolan's captivating book has helped me think about its role in our lives in an entirely new way, one that gives me hope we may someday solve the problems of hunger and scarcity. If there's ever been a book about how to change the world while changing your own life, From the Ground Up is it."—Bill Shore, founder and CEO of Share Our Strength
 
"The earth—particularly the garden as our portal to it—is our wisest teacher. And Jeanne Nolan's captivating, beautifully written memoir–cum–gardening guide overflows with lessons learned and stories of honesty, insight, healing, and hope. Plus, the appendix unexpectedly, concisely, and brilliantly summarizes the essentials we all need to know for successfully growing our own organic vegetables."—Rick Bayless, chef and owner of Frontera Grill and host of Mexico: One Plate at a Time

"Nolan's enthusiasm for bettering the world is charming and infectious."—Publishers Weekly
or
Not Currently Available for Direct Purchase