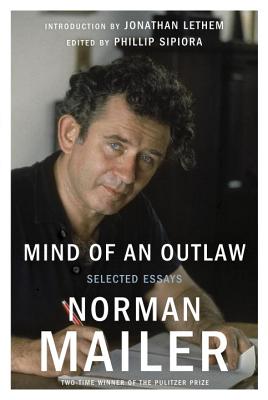 Mind of an Outlaw (Hardcover)
Selected Essays
Random House, 9780812993479, 656pp.
Publication Date: October 15, 2013
Other Editions of This Title:
Paperback (6/3/2014)
Compact Disc (11/29/2016)
MP3 CD (11/29/2016)
Compact Disc (11/29/2016)
* Individual store prices may vary.
Description
NAMED ONE OF THE BEST BOOKS OF THE YEAR BY THE GLOBE AND MAIL

Norman Mailer was one of the towering figures of twentieth-century American letters and an acknowledged master of the essay. Mind of an Outlaw, the first posthumous publication from this outsize literary icon, collects Mailer's most important and representative work in the form that many rank as his most electrifying.
 
As America's foremost public intellectual, Norman Mailer was a ubiquitous presence in our national life—on the airwaves and in print—for more than sixty years. With his supple mind and pugnacious persona, he engaged society more than any other writer of his generation. The trademark Mailer swagger is much in evidence in these pages as he holds forth on culture, ideology, politics, sex, gender, and celebrity, among other topics. Here is Mailer on boxing, Mailer on Hemingway, Mailer on Marilyn Monroe, and, of course, Mailer on Mailer—the one subject that served as the beating heart of all of his nonfiction.
 
From his early essay "A Credo for the Living," published in 1948, when the author was twenty-five, to his final writings in the year before his death, Mailer wrestled with the big themes of his times. He was one of the most astute cultural commentators of the postwar era, a swashbuckling intellectual provocateur who never pulled a punch and was rarely anything less than interesting. Mind of an Outlaw spans the full arc of Mailer's evolution as a writer, including such essential pieces as his acclaimed 1957 meditation on hipsters, "The White Negro"; multiple selections from his seminal collection Advertisements for Myself; and a never-before-published essay on Sigmund Freud.
 
Incendiary, erudite, and unrepentantly outrageous, Norman Mailer was a dominating force on the battlefield of ideas. Featuring an incisive Introduction by Jonathan Lethem, Mind of an Outlaw forms a fascinating portrait of Mailer's intellectual development across the span of his career as well as the preoccupations of a nation in the last half of the American century.

Praise for Mind of an Outlaw
 
"[Mailer's] best and brightest."—Esquire
 
"The fifty essays collected in this retrospective volume span sixty-four years and show [Norman] Mailer (1923–2007) at his brawny, pugnacious, and egotistical best. . . . This provocative collection brims with insights and reflections that show why Mailer is regarded as a great literary mind of his generation."—Publishers Weekly
 
"The selections open a window onto the capacious mind and process of one of the most volatile intellects of the twentieth century."—Library Journal
 
"Vintage Mailer: brilliant, infuriating, witty and never, ever boring."—Tampa Bay Times
 
"As good an introduction to Mailer's habits of mind as there's ever been."—Kirkus Reviews
 
"There's no arguing about Mailer the essayist—he was outstanding. . . . These insightful essays educate, argue and persuade on everything from politics and literature to film, philosophy and the human condition."—Shelf Awareness
About the Author
Born in 1923 in Long Branch, New Jersey, and raised in Brooklyn, New York, Norman Mailer was one of the most influential writers of the second half of the 20th century and a leading public intellectual for nearly sixty years. He is the author of more than thirty books." The Castle in the Forest," his last novel, was his eleventh "New York Times "bestseller. His first novel, "The Naked and the Dead," has never gone out of print. His 1968 nonfiction narrative, "The Armies of the Night," won the Pulitzer Prize and the National Book Award. He won a second Pulitzer for "The Executioner's Song" and is the only person to have won Pulitzers in both fiction and nonfiction. Five of his books were nominated for National Book Awards, and he won a lifetime achievement award from the National Book Foundation in 2005. Mr. Mailer died in 2007 in New York City.

Jonathan Lethem is the author of eight novels, including most recently "Dissident Gardens." A recipient of the MacArthur fellowship, Lethem has published his stories and essays in "The New Yorker, Harper's, Rolling Stone, Esquire, " and "The""New York Times, " among others. He lives in California.

Phillip Sipiora is a professor of English and film studies at the University of South Florida. He is the author or editor of four books and has lectured nationally and internationally on twentieth-century literature and film. He is a longtime scholar of Norman Mailer and the editor of "The Mailer Review."
Praise For Mind of an Outlaw: Selected Essays…
Praise for Mind of an Outlaw

"[Mailer's] best and brightest."—Esquire
 
"The fifty essays collected in this retrospective volume span sixty-four years and show [Norman] Mailer (1923–2007) at his brawny, pugnacious, and egotistical best. . . . This provocative collection brims with insights and reflections that show why Mailer is regarded as a great literary mind of his generation."—Publishers Weekly
 
"The selections open a window onto the capacious mind and process of one of the most volatile intellects of the twentieth century."—Library Journal
 
"Vintage Mailer: brilliant, infuriating, witty and never, ever boring."—Tampa Bay Times
 
"As good an introduction to Mailer's habits of mind as there's ever been."—Kirkus Reviews
 
"There's no arguing about Mailer the essayist—he was outstanding. . . . These insightful essays educate, argue and persuade on everything from politics and literature to film, philosophy and the human condition."—Shelf Awareness

Praise for Norman Mailer
 
"[Norman Mailer] loomed over American letters longer and larger than any other writer of his generation."—The New York Times
 
"A writer of the greatest and most reckless talent."—The New Yorker
 
"Mailer is indispensable, an American treasure."—The Washington Post
 
"A devastatingly alive and original creative mind."—Life
 
"Mailer is fierce, courageous, and reckless and nearly everything he writes has sections of headlong brilliance."—The New York Review of Books
 
"The largest mind and imagination [in modern] American literature . . . Unlike just about every American writer since Henry James, Mailer has managed to grow and become richer in wisdom with each new book."—Chicago Tribune
 
"Mailer is a master of his craft. His language carries you through the story like a leaf on a stream."—The Cincinnati Post
or
Not Currently Available for Direct Purchase