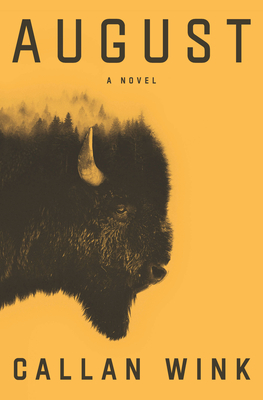 August
A Novel
Hardcover

* Individual store prices may vary.
Description
A boy coming of age in a part of the country that's being left behind is at the heart of this dazzling novel—the first by an award-winning author of short stories that evoke the American West.

LONGLISTED FOR THE CENTER FOR FICTION FIRST NOVEL PRIZE • "August reads like early Hemingway, retooled for the present."—William Finnegan, Pulitzer Prize–winning author of Barbarian Days

Callan Wink has been compared to masters like Jim Harrison and Thomas McGuane. His short stories have been published in The New Yorker and have won numerous accolades. Now his enormous talents are showcased in a debut novel that follows a boy growing up in the middle of the country through those difficult years between childhood and adulthood.

August is an average twelve-year-old. He likes dogs and fishing and doesn't mind early-morning chores on his family's Michigan dairy farm. But following his parents' messy divorce, his mother decides that she and August need to start over in a new town. There, he tries to be an average teen—playing football and doing homework—but when his role in a shocking act of violence throws him off course once more, he flees to a ranch in rural Montana, where he learns that even the smallest communities have dark secrets.

Covering August's adolescence, from age twelve to nineteen, this gorgeously written novel bears witness to the joys and traumas that irrevocably shape us all. Filled with unforgettable characters and stunning natural landscapes, this book is a moving and provocative look at growing up in the American heartland.
Praise For August: A Novel…
"August is an exceptional coming-of-age story. Callan Wink is too wise and empathetic a writer to ever allow his readers easy judgments as we follow his memorable young protagonist on his precarious way through adolescence. An outstanding debut novel and worthy follow-up to Wink's widely praised collection of stories."—Ron Rash, New York Times bestselling author of The Risen and Serena
 
"Callan Wink's characters are as real and vivid as if they'd stepped into your living room, uninvited, to tell their stories. His style is as clear, precise, and starkly poetic as the young Hemingway's, but with a more droll sense of humor. This book is simply super—a deft, beautiful, deeply engaging read."—Brad Watson, author of Miss Jane
 
"August is the rural coming-of-age that so many of us experience but so rarely see in print. Callan Wink has a voice like Annie Proulx's; he lands every detail with concrete authenticity and every emotional moment with tangible feeling."—Rae DelBianco, author of 2019 Prix Littéraire Lucien-Barrière winner Rough Animals

"August is alive. I haven't connected with a character so intensely—and sometimes uncomfortably—since I first read Jim Harrison's early novels almost thirty years ago. Wink's prose has Harrison's into-the-vein immediacy and Tom McGuane's perfect pitch, and there's a hard-to-pin-down hint of Cormac McCarthy in there too (so that makes three of my heroes). But the voice and ethos are new to me, and absolutely Wink's."—James A. McLaughlin, Edgar Award–winning author of Bearskin
Random House, 9780812993752, 304pp.
Publication Date: March 31, 2020
About the Author
Callan Wink has been awarded fellowships by the National Endowment for the Arts and Stanford University, where he was a Wallace Stegner Fellow. His stories and essays appear widely, including in The New Yorker, Granta, Zoetrope All–Story, Playboy,  Men's Journal and The Best American Short Stories anthology. His first book, Dog Run Moon, was shortlisted for the Dylan Thomas Prize and received a PEN/Hemingway Award Honorable Mention. He lives in Livingston, Montana, where he is a fly-fishing guide on the Yellowstone River.