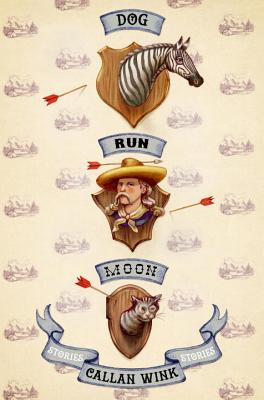 Dog Run Moon (Hardcover)
Stories
The Dial Press, 9780812993776, 256pp.
Publication Date: February 9, 2016
* Individual store prices may vary.
Description
In the tradition of Richard Ford, Annie Proulx, and Kent Haruf comes a dazzling debut story collection by a young writer from the American West who has been published in The New Yorker, Granta, and The Best American Short Stories.

SHORTLISTED FOR THE DYLAN THOMAS PRIZE • 2017 PEN/HEMINGWAY AWARD HONORABLE MENTION

A construction worker on the run from the shady local businessman whose dog he has stolen; a Custer's Last Stand reenactor engaged in a long-running affair with the Native American woman who slays him on the battlefield every year; a middle-aged high school janitor caught in a scary dispute over land and cattle with her former stepson: Callan Wink's characters are often confronted with predicaments few of us can imagine. But thanks to the humor and remarkable empathy of this supremely gifted writer, the nine stories gathered in Dog Run Moon are universally transporting and resonant.

Set mostly in Montana and Wyoming, near the borders of Yellowstone National Park, this revelatory collection combines unforgettable insight into the fierce beauty of the West with a powerful understanding of human beings. Tender, frequently hilarious, and always electrifying, Dog Run Moon announces the arrival of a bold new talent writing deep in the American grain.

Praise for Dog Run Moon

"[An] excellent first book of stories . . . One of the great things about Dog Run Moon is how resilient and funny [the characters] are. They're at the end of their ropes, but they can still howl about the joy and pain each day brings, as if the young Levon Helm were singing their stories. . . . This is Thomas McGuane territory, and also that of writers like Joy Williams and Jim Harrison."—The New York Times

"Wink is definitely not a writer of half measures; each of these stories demonstrates his ability to lay life bare. A significant collection highly deserving of the spotlight."—Library Journal (starred review)

"Myth and history color these highly satisfying fictions about the way men and women struggle to shape their lives."—Kirkus Reviews (starred review)

"The perils of work and the weight of bequeathal fuel these stories, and each one holds a lasting, unshakable image. Sometimes grace is bestowed upon the characters in a sidewindering, not altogether fabulous fashion; sometimes it's not bestowed at all. Callan Wink seems to know well the stratagems and delusions of men's hearts. He also seems born and bred to short-story mastery."—Joy Williams, author of The Visiting Privilege

"Callan Wink's debut is impressive indeed. Fine, old-fashioned, rich and juicy fiction. Weeks later I'm still living with the characters."—Jim Harrison, author of Legends of the Fall

"Callan Wink's fresh, urgent stories have an energy and propulsion that set them well apart from the cerebral finger painting of so much literary fiction. Here is a writer with a great big horizon."—Thomas McGuane, author of Crow Fair

"Callan Wink's stories remind me of expertly tied trout flies—beautifully crafted, true to reality, and barbed. What a fine young writer."—Ron Rash, author of Above the Waterfall

"As in all the best collections, each and every story in Dog Run Moon sings in the essential registers of love and death, work and nature. Callan Wink has the wisdom to write only of the things that matter, and the talent to make these stories as fresh as the literary headwaters from which they come."—Smith Henderson, author of Fourth of July Creek
About the Author
Callan Wink was born in Michigan in 1984. He lives in Livingston, Montana, where he is a fly-fishing guide on the Yellowstone River. He is the recipient of an NEA Creative Writing Fellowship and a Stegner Fellowship at Stanford University. His work has been published in The New Yorker, Granta, Men's Journal, and The Best American Short Stories.
Praise For Dog Run Moon: Stories…
"[An] excellent first book of stories . . . One of the great things about Dog Run Moon is how resilient and funny [the characters] are. They're at the end of their ropes, but they can still howl about the joy and pain each day brings, as if the young Levon Helm were singing their stories. . . . This is Thomas McGuane territory, and also that of writers like Joy Williams and Jim Harrison."—The New York Times
 
"[Callan] Wink is definitely not a writer of half measures; each of these stories demonstrates his ability to lay life bare. A significant collection highly deserving of the spotlight."—Library Journal (starred review)

"Myth and history color these highly satisfying fictions about the way men and women struggle to shape their lives."—Kirkus Reviews (starred review)
 
"Wink stakes his bold claim to Big Sky literary territory, the terrain of Thomas McGuane, Norman Maclean, and Jim Harrison. . . . A fly-fishing guide in Montana, Wink suffuses every page with his love of the land. No matter what their circumstances, he never condescends to his characters, who all suffer from longings that cause them to make decisions they don't quite understand. But through the transparency of his writing, at once delicate and brutally precise, the author gifts us with the wonderful feeling of knowing someone you've only met in a book."—Publishers Weekly

"The perils of work and the weight of bequeathal fuel these stories, and each one holds a lasting, unshakable image. Sometimes grace is bestowed upon the characters in a sidewindering, not altogether fabulous fashion; sometimes it's not bestowed at all. Callan Wink seems to know well the stratagems and delusions of men's hearts. He also seems born and bred to short-story mastery."—Joy Williams, author of The Visiting Privilege
 
"Callan Wink's debut is impressive indeed. Fine, old-fashioned, rich and juicy fiction. Weeks later I'm still living with the characters."—Jim Harrison, author of Legends of the Fall
 
"Callan Wink's fresh, urgent stories have an energy and propulsion that set them well apart from the cerebral finger painting of so much literary fiction. Here is a writer with a great big horizon."—Thomas McGuane, author of Crow Fair

"Callan Wink's stories remind me of expertly tied trout flies—beautifully crafted, true to reality, and barbed. What a fine young writer."—Ron Rash, author of Above the Waterfall

"As in all the best collections, each and every story in Dog Run Moon sings in the essential registers of love and death, work and nature. Callan Wink has the wisdom to write only of the things that matter, and the talent to make these stories as fresh as the literary headwaters from which they come."—Smith Henderson, author of Fourth of July Creek
or
Not Currently Available for Direct Purchase