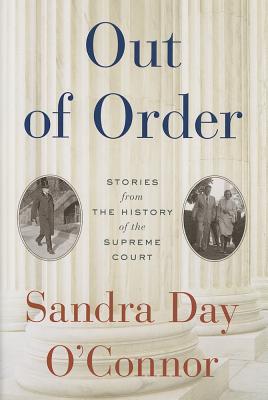 Out of Order (Hardcover)
Stories from the History of the Supreme Court
Random House, 9780812993929, 256pp.
Publication Date: March 5, 2013
Other Editions of This Title:
Digital Audiobook (3/4/2013)
Paperback (2/25/2014)
Compact Disc (3/5/2013)
* Individual store prices may vary.
Description
NEW YORK TIMES BESTSELLER

"I called this book Out of Order because it reflects my goal, which is to share a different side of the Supreme Court. Most people know the Court only as it exists between bangs of the gavel, when the Court comes to order to hear arguments or give opinions. But the stories of the Court and the Justices that come from the 'out of order' moments add to the richness of the Court as both a branch of our government and a human institution."—Justice Sandra Day O'Connor
 
From Justice Sandra Day O'Connor, the first woman to sit on the United States Supreme Court, comes this fascinating book about the history and evolution of the highest court in the land.
 
Out of Order sheds light on the centuries of change and upheaval that transformed the Supreme Court from its uncertain beginnings into the remarkable institution that thrives and endures today. From the early days of circuit-riding, when justices who also served as trial judges traveled thousands of miles per year on horseback to hear cases, to the changes in civil rights ushered in by Earl Warren and Thurgood Marshall; from foundational decisions such as Marbury v. Madison to modern-day cases such as Hamdi v. Rumsfeld, Justice O'Connor weaves together stories and lessons from the history of the Court, charting turning points and pivotal moments that have helped define our nation's progress.
 
With unparalleled insight and her unique perspective as a history-making figure, Justice O'Connor takes us on a personal exploration, painting vivid pictures of Justices in history, including Oliver Wendell Holmes Jr., one of the greatest jurists of all time; Thurgood Marshall, whose understated and succinct style would come to transform oral argument; William O. Douglas, called "The Lone Ranger" because of his impassioned and frequent dissents; and John Roberts, whom Justice O'Connor considers to be the finest practitioner of oral argument she has ever witnessed in Court. We get a rare glimpse into the Supreme Court's inner workings: how cases are chosen for hearing; the personal relationships that exist among the Justices; and the customs and traditions, both public and private, that bind one generation of jurists to the next—from the seating arrangements at Court lunches to the fiercely competitive basketball games played in the Court Building's top-floor gymnasium, the so-called "highest court in the land."
 
Wise, candid, and assured, Out of Order is a rich offering of inspiring stories of one of our country's most important institutions, from one of our country's most respected pioneers.

Praise for Out of Order
 
"[A] succinct, snappy account of how today's court—so powerful, so controversial and so frequently dissected by the media—evolved from such startlingly humble and uncertain beginnings."—The New York Times
 
"A brief and accessible history of the nation's highest court, narrated by a true historical figure and a jurisprudential giant."—The Boston Globe
 
"A vibrantly personal book [that] displays O'Connor's uncommon common sense, her dry wit and her reverence for the nation's institutions."—Richmond Times-Dispatch
 
"Full of riveting anecdotes . . . a compact history . . . albeit a more lighthearted, personality-filled one than you might find in a high school classroom."—Associated Press
About the Author
Sandra Day O'Connor was born in El Paso, Texas, and raised on the Lazy B Ranch. She attended Stanford University, where she took Wallace Stegner's writing course. She began her public service in Phoenix, and was majority leader of the Arizona Senate before becoming a judge. She is the author of Lazy B, a memoir about growing up in the Southwest, and The Majesty of the Law, a reflection on American law and life. President Reagan nominated her as Associate Justice of the Supreme Court of the United States, and she served from 1981 to 2006. She serves as Chancellor of the College of William & Mary, and is on the board of trustees of the National Constitution Center in Philadelphia.
Praise For Out of Order: Stories from the History of the Supreme Court…
"[A] succinct, snappy account of how today's court—so powerful, so controversial and so frequently dissected by the media—evolved from such startlingly humble and uncertain beginnings."—The New York Times
 
"A brief and accessible history of the nation's highest court, narrated by a true historical figure and a jurisprudential giant."—The Boston Globe
 
"A vibrantly personal book [that] displays O'Connor's uncommon common sense, her dry wit and her reverence for the nation's institutions."—Richmond Times-Dispatch
 
"Full of riveting anecdotes . . . a compact history . . . albeit a more lighthearted, personality-filled one than you might find in a high school classroom."—Associated Press
 
"Candid, opinionated and even entertaining throughout . . . a well-considered, lively survey of what the Supreme Court does, how it's constituted and, bonus round, how to argue before it."—Kirkus Reviews

"In this delightful collection of tales, Sandra Day O'Connor shows us the personal side of the Supreme Court while reminding us of the critical role the Court plays. It's a lovely book—and a valuable treasure for all Americans."—Walter Isaacson, author of Steve Jobs
 
"A maker of history, Sandra Day O'Connor proves herself an engaging historian in this fine book, taking us inside perhaps the most important and least understood institution in American life: the Supreme Court. With her characteristic clear-eyed common sense and a natural talent for storytelling, Justice O'Connor has given us a valuable and entertaining gift."—Jon Meacham, author of Thomas Jefferson: The Art of Power
 
"We have always known that Sandra Day O'Connor was a wise and thoughtful Justice of the Supreme Court. But we haven't always appreciated what a talented storyteller and historian she is as well. This, her most recent book, contains succinct and readable stories from the history of the Supreme Court, and it nicely demonstrates that remarkable talent."—Gordon S. Wood, author of The Idea of America
 
"Justice O'Connor has written an insightful and charming insider's take on the workings of the Supreme Court of the United States throughout history. A historical figure herself—the first woman to sit on the Court—O'Connor is the perfect guide through the twists and turns that have made the Court such a powerful force in shaping American society from the Founding to present times."—Annette Gordon-Reed, author of The Hemingses of Monticello
 
"Justice O'Connor has written a brief  history of the Supreme Court that is lively, informative, and often inspiring. Drawing on her own experience and wisdom, she is giving us a civics lesson, but it's like nothing you remember from high school."—Evan Thomas, author of Ike's Bluff
or
Not Currently Available for Direct Purchase