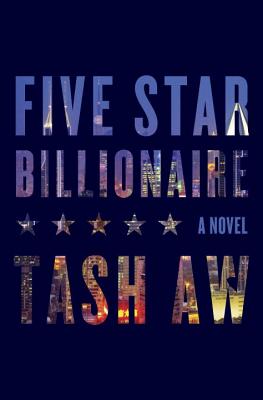 Five Star Billionaire (Hardcover)
Spiegel & Grau, 9780812994346, 400pp.
Publication Date: July 2, 2013
Other Editions of This Title:
Digital Audiobook (9/29/2013)
MP3 CD (9/30/2013)
Paperback (7/29/2014)
Compact Disc (9/30/2013)
Compact Disc (9/30/2013)
Pre-Recorded Audio Player (12/1/2013)
* Individual store prices may vary.
Description
LONGLISTED FOR THE MAN BOOKER PRIZE NAMED ONE OF THE BEST BOOKS OF THE YEAR BY NPR AND "BOOKPAGE"
An expansive, eye-opening novel that captures the vibrancy of China today
Phoebe is a factory girl who has come to Shanghai with the promise of a job but when she arrives she discovers that the job doesn t exist. Gary is a country boy turned pop star who is spinning out of control. Justin is in Shanghai to expand his family's real estate empire, only to find that he might not be up to the task. He has long harbored a crush on Yinghui, a poetry-loving, left-wing activist who has reinvented herself as a successful Shanghai businesswoman. Yinghui is about to make a deal with the shadowy Walter Chao, the five star billionaire of the novel, who with his secrets and his schemes has a hand in the lives of each of the characters. All bring their dreams and hopes to Shanghai, the shining symbol of the New China, which, like the novel's characters, is constantly in flux and which plays its own fateful role in the lives of its inhabitants.
"Five Star Billionaire "is a dazzling, kaleidoscopic novel that offers rare insight into the booming world of Shanghai, a city of elusive identities and ever-changing skylines, of grand ambitions and outsize dreams. Bursting with energy, contradictions, and the promise of possibility, Tash Aw's remarkable new book is both poignant and comic, exotic and familiar, cutting-edge and classic, suspenseful and yet beautifully unhurried.
Praise for "Five Star Billionaire"
""
Estimable . . . artful . . . Mr. Aw is a patient writer, and an elegant one. His supple yet unshowy prose can resemble Kazuo Ishiguro's. . . . He's a writer to watch. "The New York Times"
In "Five Star Billionaire, " the Taiwanese-born, Malaysian writer Tash Aw chooses a refreshingly novel perspective. . . . Through five distinct Malaysian-Chinese voices, Mr. Aw wonderfully expresses the grit and cosmopolitan glamour of Shanghai today. . . . Mr. Aw has done more than merely satirize a social milieu; he has created a cast of compelling characters, all of whom have come to Shanghai to remake themselves, yet are haunted by their pasts in ways that they barely understand. . . . In "Five Star Billionaire, " Mr. Aw has achieved something remarkable. "The Wall Street Journal"
""
Aw s] ever-spiraling web of connections is as improbable as it is entertaining, but he knits his various threads with an elegance . . . coupled with a photorealistic eye for the minutiae of urban life. "The Boston Globe"
The ambition of the book perfectly reflects its subject. In one scene, we re introduced to a folk guitarist whose slangy lyrics spoke of urban migration and loneliness. Aw might be describing himself, except that his threnodies are set to sophisticated modern jazz. Pico Iyer, "Time"
Goes beyond the bounds of the ordinary . . . Aw] provides a richly drawn landscape of compelling characters, and a deep immersion in their lives. . . . "Five Star Billionaire" is a fiercely contemporary tale of tradition, modernity and the cost of progress. Ellah Allfrey, All Things Considered, NPR
Aw has woven an impressive and contemporary human tapestry of a country that Western audiences would do well to better understand. The Daily Beast.
About the Author
Tash Aw was born in Taipei, in the Republic of China, and brought up in Malaysia. He moved to England to attend university and now lives in London. He is the author of "The Harmony Silk Factory, "which was the winner of the Whitbread Award for First Novel and the Commonwealth Book Prize for best first novel and was longlisted for the Man Booker Prize, and "Map of the Invisible World. "His other awards include the inaugural M Literary fellowship in Shanghai and an O. Henry Award.
Praise For Five Star Billionaire…
Praise for Five Star Billionaire
 
"Estimable . . . artful . . . Mr. Aw is a patient writer, and an elegant one. His supple yet unshowy prose can resemble Kazuo Ishiguro's. . . . He's a writer to watch."—The New York Times

"In Five Star Billionaire, the Taiwanese-born, Malaysian writer Tash Aw chooses a refreshingly novel perspective. . . . Through five distinct Malaysian-Chinese voices, Mr. Aw wonderfully expresses the grit and cosmopolitan glamour of Shanghai today. . . . Mr. Aw has done more than merely satirize a social milieu; he has created a cast of compelling characters, all of whom have come to Shanghai to remake themselves, yet are haunted by their pasts in ways that they barely understand. . . . In Five Star Billionaire, Mr. Aw has achieved something remarkable."—The Wall Street Journal
 
"[Aw's] ever-spiraling web of connections is as improbable as it is entertaining, but he knits his various threads with an elegance . . . coupled with a photorealistic eye for the minutiae of urban life."—The Boston Globe

"[Five Star Billionaire] aches with grieving humanity as it follows the crisscrossing ups and downs of five migrant characters trying to make their mark on contemporary Shanghai. . . . Towering about them all is the theater of illusions that is the novel's dominant character, Shanghai. Aw brings to its whirligig, cashed-up culture the hyperobservant eye and the sympathetic heart he displayed in The Harmony Silk Factory and Map of the Invisible World. Sometimes it seems as if he has ingested every last detail of rising Asia's latest glossy magazines, yet never lost sight of the emptiness in the models' eyes or the wistfulness in the lonely readers' hearts. . . . As Aw orchestrates the overlapping of his lost souls, the story comes to acquire the mirrored complexity of its setting. No one knows who anyone is—not even themselves—and when one character reveals himself as a (real) celebrity, he's taken to be the most shameless fake of all. And because Aw's polyphonic structure shows us every character as they look to themselves, and as they're seen by others, we teeter at every moment on the gap between reality and appearance. . . . As an evocation of a world in which friendships are business deals and people conduct virtual lives . . . Five Star Billionaire is hard to beat. . . . The ambition of the book perfectly reflects its subject. In one scene, we're introduced to a 'folk guitarist whose slangy lyrics spoke of urban migration and loneliness.' Aw might be describing himself, except that his threnodies are set to sophisticated modern jazz."—Pico Iyer, Time

"Goes beyond the bounds of the ordinary . . . [Aw] provides a richly drawn landscape of compelling characters, and a deep immersion in their lives. . . . Five Star Billionaire is a fiercely contemporary tale of tradition, modernity and the cost of progress."—Ellah Allfrey, All Things Considered, NPR

"Aw has woven an impressive and contemporary human tapestry of a country that Western audiences would do well to better understand."—The Daily Beast

"Tash Aw's brilliant new novel focuses on four Malaysian immigrants, all determinedly on the make. . . . The unputdownable story of how these lives interconnect and touch upon the billionaire of the title, a shadowy avenging angel, is played out against the noisy, glitzy backdrop of a society on the cusp between abandoning old values and embracing a lifestyle as flashy as its neon glow."—Daily Mail (UK)
 
"Aw is a master storyteller and Five Star Billionaire can be read as The Way We Live Now for our times. . . . [It is a story] of lives lost and found, of the transience of material success and the courage required to hope and to trust again, to forgive oneself and to believe in the possibility of love."—The Guardian (UK)
 
"An innovative novel of the twenty-first-century immigrant experience . . . a new kind of immigrant novel."—The Telegraph (UK)
 
"Engrossing . . . seductive."—The Observer (UK)
 
"A must-read . . . Exciting plot twists and page-turning drama are aplenty. . . . In the end, the novel has a hopeful tone—when everything appears bleak there's always a silver lining, and you are the only one who can take charge of your own fate."—The Star (Malaysia)
 
"Few people can write about a place with both the astute observation of an outsider and the deep understanding of an insider. When the place is Shanghai, and when that writer is Tash Aw, we get a novel that is as multifaceted as the city itself, in which stories of the old and the new, the rich and the poor, the dreaming and the disillusioned, are woven together by a master storyteller. Tash Aw is an essential voice for the global world we live in today."—Yiyun Li, author of Gold Boy, Emerald Girl

"A literary victory . . . Think of Aw's third novel as an ingenious game called 'How To Be a Billionaire.' . . . The playing board is Shanghai, that twenty-first-century city of limitless possibility; the power broker is the epyonymous Five Star Billionaire. A quartet of players . . . are revealed one by one. . . . Aw moves fluidly between past and present, creating a multilayered narrative about chasing, catching, and sometimes losing elusive opportunities."—Library Journal (starred review)
Coverage from NPR
or
Not Currently Available for Direct Purchase