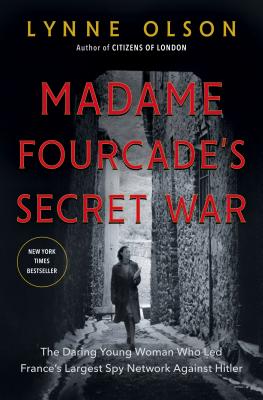 Madame Fourcade's Secret War
The Daring Young Woman Who Led France's Largest Spy Network Against Hitler
Hardcover

* Individual store prices may vary.
Other Editions of This Title:
Digital Audiobook (3/4/2019)
Paperback (3/3/2020)
Description
NEW YORK TIMES BESTSELLER • The little-known true story of Marie-Madeleine Fourcade, the woman who headed the largest spy network in occupied France during World War II, from the bestselling author of Citizens of London and Last Hope Island

"Brava to Lynne Olson for a biography that should challenge any outdated assumptions about who deserves to be called a hero."—The Washington Post

NAMED ONE OF THE BEST BOOKS OF THE YEAR BY NPR AND THE WASHINGTON POST 

In 1941 a thirty-one-year-old Frenchwoman, a young mother born to privilege and known for her beauty and glamour, became the leader of a vast intelligence organization—the only woman to serve as a chef de résistance during the war. Strong-willed, independent, and a lifelong rebel against her country's conservative, patriarchal society, Marie-Madeleine Fourcade was temperamentally made for the job. Her group's name was Alliance, but the Gestapo dubbed it Noah's Ark because its agents used the names of animals as their aliases. The name Marie-Madeleine chose for herself was Hedgehog: a tough little animal, unthreatening in appearance, that, as a colleague of hers put it, "even a lion would hesitate to bite."

No other French spy network lasted as long or supplied as much crucial intelligence—including providing American and British military commanders with a 55-foot-long map of the beaches and roads on which the Allies would land on D-Day—as Alliance. The Gestapo pursued them relentlessly, capturing, torturing, and executing hundreds of its three thousand agents, including Fourcade's own lover and many of her key spies. Although Fourcade, the mother of two young children, moved her headquarters every few weeks, constantly changing her hair color, clothing, and identity, she was captured twice by the Nazis. Both times she managed to escape—once by slipping naked through the bars of her jail cell—and continued to hold her network together even as it repeatedly threatened to crumble around her.

Now, in this dramatic account of the war that split France in two and forced its people to live side by side with their hated German occupiers, Lynne Olson tells the fascinating story of a woman who stood up for her nation, her fellow citizens, and herself.

"Fast-paced and impressively researched . . . Olson writes with verve and a historian's authority. . . . With this gripping tale, Lynne Olson pays [Marie-Madeleine Fourcade] what history has so far denied her. France, slow to confront the stain of Vichy, would do well to finally honor a fighter most of us would want in our foxhole."—The New York Times Book Review
Praise For Madame Fourcade's Secret War: The Daring Young Woman Who Led France's Largest Spy Network Against Hitler…
"A hell of a yarn . . . Why the heck have we never heard of [Marie-Madeleine] Fourcade? The only woman to lead a major French resistance network. A woman who in later life was elected to the European Parliament. And who, upon her death in 1989 at the age of seventy-nine, became the first woman to be granted a funeral at Les Invalides, the complex in central Paris where Napoleon Bonaparte and other French military heroes are buried. Olson posits a few possible reasons for Fourcade's relegation to the footnotes of history. The inescapable one, though, circles back to where we began: her gender."—The Washington Post

"Lynne Olson is a gifted author and her books about the Allies in World War II are carefully researched and compulsively readable. . . . Thankfully, a new generation of writers is expanding our knowledge of individuals whose roles in World War II deserve more attention."—The Christian Science Monitor

"In Madame Fourcade's Secret War, Lynne Olson tells one of the great stories of the French Resistance, a story of one woman's courage amid great danger, a story of heroism, defiance, and, ultimately, victory."—Alan Furst, author of A Hero of France

"Lynne Olson has added yet another brilliant chapter to her vital historical project: documenting the extraordinary efforts of individuals, such as spymaster Marie-Madeleine Fourcade, who helped liberate twentieth-century Europe from Nazi occupation. Much like Madame Fourcade herself, Olson goes to great lengths to unearth truth and preserve dignity for those who lived and died during Hitler's reign of terror—and for that, both the author and her daring subject deserve high praise."—Former Secretary of State Madeleine K. Albright

"The organizational genius of Fourcade shines through tales of her cat-and-mouse game with the Gestapo, including multiple daring escapes from Nazi captivity. As well researched and engrossing as her previous books, showcasing her adroit ability to weave personal narratives, political intrigue, and wartime developments to tell a riveting story, Olson's latest is highly recommended to readers interested in World War II, the history of espionage, women's history, and European history."—Library Journal (starred review)

"A brilliant, cinematic biography of resistance leader Marie-Madeleine Fourcade . . . Olson's weaving of Fourcade's diary artfully and liberally into her own writing and her heart-stopping descriptions of Paris, escapes, and internecine warring create a narrative that's as dramatic as a novel or a film. Olson honors Fourcade's fight for freedom and her 'refusal to be silenced' with a gripping narrative that will thrill WWII history buffs."—Publishers Weekly (starred review)

"Incredibly absorbing and long-overdue . . . This masterfully told true story reads like fiction and will appeal to readers who devour WWII thrillers à la Kristen Hannah's The Nightingale."—Booklist (starred review)
Random House, 9780812994766, 464pp.
Publication Date: March 5, 2019
About the Author
Lynne Olson is the New York Times bestselling author of Last Hope Island: Britain, Occupied Europe, and the Brotherhood That Helped Turn the Tide of War; Those Angry Days: Roosevelt, Lindbergh, and America's Fight Over World War II, 1939–1941; and Citizens of London: The Americans Who Stood with Britain in Its Darkest, Finest Hour. Among her five other books is Troublesome Young Men: The Rebels Who Brought Churchill to Power and Helped Save England. Lynne Olson lives with her husband in Washington, D.C.