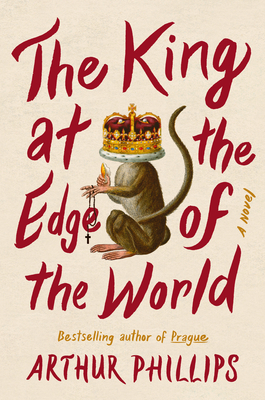 The King at the Edge of the World
A Novel
Hardcover

* Individual store prices may vary.
Other Editions of This Title:
Digital Audiobook (2/10/2020)
Paperback (5/11/2021)
Description
Queen Elizabeth's spymasters recruit an unlikely agent—the only Muslim in England—for an impossible mission in a mesmerizing novel from "one of the best writers in America" (The Washington Post)

"Evokes flashes of Hilary Mantel, John le Carré and Graham Greene, but the wry, tricky plot that drives it is pure Arthur Phillips."—The Wall Street Journal

NAMED ONE OF THE BEST BOOKS OF THE YEAR BY THE NEW YORK TIMES BOOK REVIEW AND THE WASHINGTON POST
 
The year is 1601. Queen Elizabeth I is dying, childless. Her nervous kingdom has no heir. It is a capital crime even to think that Elizabeth will ever die. Potential successors secretly maneuver to be in position when the inevitable occurs. The leading candidate is King James VI of Scotland, but there is a problem.
 
The queen's spymasters—hardened veterans of a long war on terror and religious extremism—fear that James is not what he appears. He has every reason to claim to be a Protestant, but if he secretly shares his family's Catholicism, then forty years of religious war will have been for nothing, and a bloodbath will ensue. With time running out, London confronts a seemingly impossible question: What does James truly believe?
 
It falls to Geoffrey Belloc, a secret warrior from the hottest days of England's religious battles, to devise a test to discover the true nature of King James's soul. Belloc enlists Mahmoud Ezzedine, a Muslim physician left behind by the last diplomatic visit from the Ottoman Empire, as his undercover agent. The perfect man for the job, Ezzedine is the ultimate outsider, stranded on this cold, wet, and primitive island. He will do almost anything to return home to his wife and son.
 
Arthur Phillips returns with a unique and thrilling novel that will leave readers questioning the nature of truth at every turn.
Praise For The King at the Edge of the World: A Novel…
"A rich, old-fashioned spy thriller set in Elizabethan England . . . Its plot is an intricate set of intersecting mechanisms and locks and keys, which, when they finally all fall into place, provide the reader with the gawping satisfaction of having been well and truly fooled . . . Sentence by sentence, the book blends the leanness of a taut thriller with the marbled fatness of Elizabethan prose."—The New York Times Book Review
 
"Darkly entertaining . . . Phillips writes with such breadth, intelligence and wit . . . The novel is brilliant—textured, witty and Shakespeare-deep with palace intrigue, lust, conspiracy, xenophobia and Iago-level villainy."—Minneapolis Star Tribune

"Arthur Phillips fans will recognize—and new readers will thrill to—the immersive mix of erudition, brio, and heart in The King at the Edge of the World. Phillips is an original—and in top form."—Jennifer Egan

"Terrifically engaging . . . [a] rich historical novel."—The Washington Post
 
"A rare combination of literary finesse and quick-paced plot—and another triumph from the versatile Phillips. . . . One is reminded of Hilary Mantel's magisterial Wolf Hall but perhaps more pointedly of Graham Greene's novels."—Kirkus Reviews (starred review)
 
"Highly recommended . . . truly original . . . The indefatigably imaginative Phillips . . . offers historical fiction with aching contemporary overtones."—Library Journal (starred review)
 
"[An] inventively multilayered novel . . . evoked in exquisite language full of subtle shadings. . . . Readers will flock to the latest from esteemed bestseller Phillips, whose signature literary prowess and nimble imagination remain ascendant."—Booklist

"Phillips masterfully renders the period and packs the narrative with surprising twists. This clever, serpentine novel recalls the historical dramas of Hilary Mantel and the thrillers of John le Carré, and will reverberate in readers' minds."—Publishers Weekly
Random House, 9780812995480, 288pp.
Publication Date: February 11, 2020
About the Author
Arthur Phillips is the internationally bestselling author of The Tragedy of Arthur; The Song Is You, which was a New York Times Notable Book and named one of the best novels of the year by The Washington Post; Angelica, which was adapted into a 2015 film; The Egyptologist; and Prague, which was also a New York Times Notable Book and the winner of the Los Angeles Times Art Seidenbaum Award for First Fiction. He lives in New York.
or
Not Currently Available for Direct Purchase