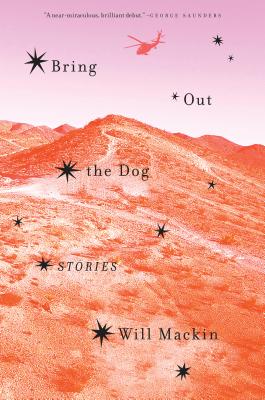 Bring Out the Dog
Stories
Hardcover

* Individual store prices may vary.
Other Editions of This Title:
Digital Audiobook (3/5/2018)
Paperback (1/7/2020)
Description
"A near-miraculous, brilliant debut."—George Saunders, Man Booker Prize–winning author of Lincoln in the Bardo

"In one exquisitely crafted story after the next, Will Mackin maps the surreal psychological terrain of soldiers in a perpetual war."—Phil Klay, National Book Award–winning author of Redeployment

WINNER OF THE PEN/ROBERT W. BINGHAM PRIZE FOR DEBUT SHORT STORY COLLECTION

The eleven stories in Will Mackin's mesmerizing debut collection draw from his many deployments with a special operations task force in Iraq and Afghanistan. They began as notes he jotted on the inside of his forearm in grease pencil and, later, as bullet points on the torn-off flap of an MRE kit. Whenever possible he incorporated those notes into his journals. Years later, he used those journals to write this book.

Together, the stories in Bring Out the Dog offer a remarkable portrait of the absurdity and poetry that define life in the most elite, clandestine circles of modern warfare. It is a world of intense bonds, ancient credos, and surprising compassion—of success, failure, and their elusive definitions. Moving between settings at home and abroad, in vivid language that reflects the wonder and discontent of war, Mackin draws the reader into a series of surreal, unsettling, and deeply human episodes: In "Crossing the River No Name," a close call suggests that miracles do exist, even if they are in brutally short supply; in "Great Circle Route Westward Through Perpetual Night," the death of the team's beloved dog plunges them into a different kind of grief; in "Kattekoppen," a man struggles to reconcile his commitments as a father and his commitments as a soldier; and in "Baker's Strong Point," a man whose job it is to pull things together struggles with a loss of control.

Told without a trace of false bravado and with a keen, Barry Hannah–like sense of the absurd, Bring Out the Dog manages to capture the tragedy and heroism, the degradation and exultation, in the smallest details of war.

Praise for Bring Out the Dog

"Cuts through all the shiny and hyped-up rhetoric of wartime, and aggressively and masterfully draws a picture of the brutal, frightening, and even boring moments of deployment. . . . The Things They Carried, Redeployment, and now Bring Out the Dog: war stories for your bookshelf that will last a very long time, and serve as reminders of what America was, is, and can still become."—Chicago Review of Books
Praise For Bring Out the Dog: Stories…
"Tobias Wolff once lamented that 'when people use the word 'Nam' it's like salt on a slug.' But a recent spate of fiction about contemporary war signals an end to the combat clichés. Onto this fertile ground parachutes Will Mackin's Bring Out the Dog. A U.S. Navy veteran with five combat tours in Iraq and Afghanistan under his belt, Mackin also produces the kind of simultaneously sharp and ethereal writing that caused George Saunders to bless him with a story-length blurb. On one page of Mackin's debut are 'Taliban [leaping] from the ditch'; on the next, 'Time passed mysteriously inside the clouds.'"—Vanity Fair

"Bring Out the Dog is not just one hell of a stunning debut—it's also proof that Mackin is one to watch going forward. Drawing from notes he took while working in special operations in Iraq and Afghanistan, the stories illuminate the human condition in unimaginable, haunting ways—and bring to life a voice that is unlike any other in the modern canon."—PopSugar

"[Bring Out the Dog] is blustery, unsettling, observant, absurd, and all too real."—Fiction Advocate

"Gritty, crisply written, cinematic stories."—Albuquerque Journal

"Mackin has produced something that holds up alongside the very best war literature of the twenty-first century. . . . Bring Out the Dog is both complex and compelling, offering up small glimpses of the surreal alongside moments of heartbreak and of heroism. Mackin's prose displays a deftness that belies its basic muscularity; it's an ideal mix in terms of presenting these stories with the ring of genuine truth. . . . This is a brilliant debut, a work unafraid to use brute force to evoke an uncommon grace. Mackin's vision consummately captures the lives of soldiers dealing with the physical and psychological stresses of a seemingly unending war. . . . It is magnificent."—The Maine Edge

"The short book of short stories launches the twenty-three-year Navy veteran into the pantheon-in-progress of literary fiction coming out of today's wars."—Military Times (best books of the year)

"Every war seems to spawn its own bookshelf of fiction (e.g., Hemingway, Heller, O'Brien, Stone and, more recently, Klay, Powers and Ackerman), and the writers who endure display talents for observation, voice and narrative that outlive the high-strung emotion of the battlefield. A navy veteran with multiple deployments in Iraq and Afghanistan, Will Mackin is one of those with staying power. The stories in his debut, Bring Out the Dog, are told with such verisimilitude, such balance between compassion and cynicism, such lean haunting prose, that one can't easily shake them. . . . Read Bring Out the Dog for its insight into those who fight our modern wars, but read it again for its grasp of the vicissitudes of the human heart."—Shelf Awareness (starred review)

"Unforgettable . . . spellbinding and adrenaline-fueled . . . It is the language as much as the experience that drives the action, creating taut, almost terrifying suspense. Mackin's masterful prose is both poetic and aggressive."—Publishers Weekly (starred review)
Random House, 9780812995640, 192pp.
Publication Date: March 6, 2018
About the Author
A veteran of the U.S. Navy, Will Mackin served in Iraq and Afghanistan, first as a weapons system officer aboard a carrier-based jet, then as a joint terminal attack controller attached to a SEAL team. His writing has appeared in The New Yorker, GQ, The New York Times Magazine, and Tin House and been anthologized in The Best American Short Stories 2014. Originally from New Jersey, he lives in New Mexico with his wife and their two children.
or
Not Currently Available for Direct Purchase