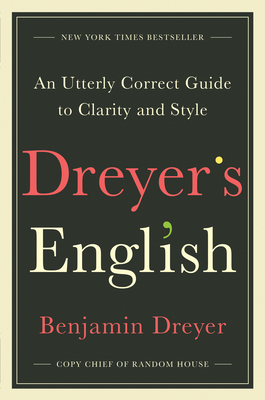 Dreyer's English
An Utterly Correct Guide to Clarity and Style
Hardcover

* Individual store prices may vary.
Other Editions of This Title:
Digital Audiobook (1/28/2019)
Paperback (8/4/2020)
Description
NEW YORK TIMES BESTSELLER • A sharp, funny grammar guide they'll actually want to read, from Random House's longtime copy chief and one of Twitter's leading language gurus
 
NAMED ONE OF THE BEST BOOKS OF THE YEAR BY O: The Oprah Magazine • Paste • Shelf Awareness

"Essential (and delightful!)"—People

We all write, all the time: books, blogs, emails. Lots and lots of emails. And we all want to write better. Benjamin Dreyer is here to help.

As Random House's copy chief, Dreyer has upheld the standards of the legendary publisher for more than two decades. He is beloved by authors and editors alike—not to mention his followers on social media—for deconstructing the English language with playful erudition. Now he distills everything he has learned from the myriad books he has copyedited and overseen into a useful guide not just for writers but for everyone who wants to put their best prose foot forward.

As authoritative as it is amusing, Dreyer's English offers lessons on punctuation, from the underloved semicolon to the enigmatic en dash; the rules and nonrules of grammar, including why it's OK to begin a sentence with "And" or "But" and to confidently split an infinitive; and why it's best to avoid the doldrums of the Wan Intensifiers and Throat Clearers, including "very," "rather," "of course," and the dreaded "actually." Dreyer will let you know whether "alright" is all right (sometimes) and even help you brush up on your spelling—though, as he notes, "The problem with mnemonic devices is that I can never remember them."

And yes: "Only godless savages eschew the series comma."

Chockful of advice, insider wisdom, and fun facts, this book will prove to be invaluable to everyone who wants to shore up their writing skills, mandatory for people who spend their time editing and shaping other people's prose, and—perhaps best of all—an utter treat for anyone who simply revels in language.

Praise for Dreyer's English

"Playful, smart, self-conscious, and personal . . . One encounters wisdom and good sense on nearly every page of Dreyer's English."—The Wall Street Journal

"Destined to become a classic."—The Millions

"Dreyer can help you . . . with tips on punctuation and spelling. . . . Even better: He'll entertain you while he's at it."—Newsday 
Praise For Dreyer's English: An Utterly Correct Guide to Clarity and Style…
"Interwoven with cultural history and lively self-revelation, this bracing manual will up your game even if all you're writing is emails."—People (Book of the Week)
 
"Call it the hedonic appeal. Dreyer beckons readers by showing that his rules make prose pleasurable. . . . His book is in love with the toothsomeness of language. Its sentences capture writing's physicality."—Katy Waldman, The New Yorker
 
"Brimming with wit and revelatory wisdom, this style manual-cum-linguistic jubilee from Random House's copy chief . . . entertains as it enlightens."—O: The Oprah Magazine

"Random House copy chief and managing editor Benjamin Dreyer is a fixture in the publishing industry and on Twitter for his authoritative yet approachable take on style and grammar. Now he is a Random House author himself. . . . Dreyer's English [is] a helpful, funny style guide replete with supporting references from literature and popular culture."—New York 

"An utterly delightful book to read, Dreyer's English will stand among the classics on how to use the English language properly."—Elizabeth Strout

"A mind-blower—sure to jumpstart any writing project, just by exposing you, the writer, to Dreyer's astonishing level of sentence-awareness."—George Saunders

"Farewell, Strunk and White. Benjamin Dreyer's brilliant, pithy, incandescently intelligent book is to contemporary writing what Geoffrey Chaucer's poetry was to medieval English: a gift that broadens and deepens the art and the science of literature by illustrating that convention should not stand in the way of creativity, so long as that creativity is expressed with clarity and with conviction."—Jon Meacham

"It is Benjamin Dreyer's intense love for the English language and his passion for the subject that make the experience of reading Dreyer's English such a pleasure, almost regardless of the invaluable and practical purpose his book serves in such dark and confusing times for grammar and meaning."—Ayelet Waldman & Michael Chabon

"If Oscar Wilde had wanted to be helpful as well as brilliant, if E. B. White and Noël Coward had had a wonderful little boy who grew up to cherish and model clarity, the result would be Benjamin Dreyer and his frankly perfect book. Anyone who writes anything should have a copy by their computer, and perhaps another on the nightstand, just for pleasure."—Amy Bloom

"Dreyer's English is essential to anyone who cares about language. It's as smart and funny as Dreyer is himself. He makes you smile and makes you smarter at the same time."—Lyle Lovett

"Like Dreyer himself, this book reassures as it teaches. The reader never feels spoken down to, as in so many other style guides, but is instead lifted up, inspired to communicate with more clarity and zing. I'll be buying this for friends."—Brian Koppelman, co-creator and showrunner of Billions

"This work is that rare writing handbook that writers might actually want to read straight through, rather than simply consult."—Publishers Weekly (starred review)
Random House, 9780812995701, 320pp.
Publication Date: January 29, 2019
About the Author
Benjamin Dreyer is vice president, executive managing editor and copy chief, of Random House. He began his publishing career as a freelance proofreader and copy editor. In 1993, he became a production editor at Random House, overseeing books by writers including Michael Chabon, Edmund Morris, Suzan-Lori Parks, Michael Pollan, Peter Straub, and Calvin Trillin. He has copyedited books by authors including E. L. Doctorow, David Ebershoff, Frank Rich, and Elizabeth Strout, as well as Let Me Tell You, a volume of previously uncollected work by Shirley Jackson. A graduate of Northwestern University, he lives in New York City.
Coverage from NPR