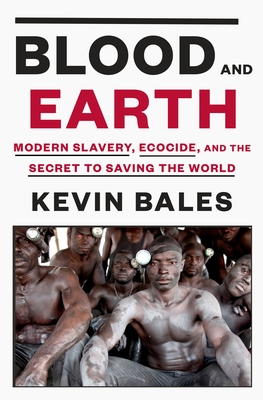 Blood and Earth (Hardcover)
Modern Slavery, Ecocide, and the Secret to Saving the World
Spiegel & Grau, 9780812995763, 304pp.
Publication Date: January 19, 2016
* Individual store prices may vary.
Description
For readers of such crusading works of nonfiction as Katherine Boo's Beyond the Beautiful Forevers and Tracy Kidder's Mountains Beyond Mountains comes a powerful and captivating examination of two entwined global crises: environmental destruction and human trafficking—and an inspiring, bold plan for how we can solve them.
 
A leading expert on modern-day slavery, Kevin Bales has traveled to some of the world's most dangerous places documenting and battling human trafficking. In the course of his reporting, Bales began to notice a pattern emerging: Where slavery existed, so did massive, unchecked environmental destruction. But why?
 
Bales set off to find the answer in a fascinating and moving journey that took him into the lives of modern-day slaves and along a supply chain that leads directly to the cellphones in our pockets. What he discovered is that even as it destroys individuals, families, and communities, new forms of slavery that proliferate in the world's lawless zones also pose a grave threat to the environment. Simply put, modern-day slavery is destroying the planet.
 
The product of seven years of travel and research, Blood and Earth brings us dramatic stories from the world's most beautiful and tragic places, the environmental and human-rights hotspots where this crisis is concentrated. But it also tells the stories of some of the most common products we all consume—from computers to shrimp to jewelry—whose origins are found in these same places.
 
Blood and Earth calls on us to recognize the grievous harm we have done to one another, put an end to it, and recommit to repairing the world. This is a clear-eyed and inspiring book that suggests how we can begin the work of healing humanity and the planet we share.

Praise for Blood and Earth
 
"A heart-wrenching narrative . . . Weaving together interviews, history, and statistics, the author shines a light on how the poverty, chaos, wars, and government corruption create the perfect storm where slavery flourishes and environmental destruction follows. . . . A clear-eyed account of man's inhumanity to man and Earth. Read it to get informed, and then take action."—Kirkus Reviews (starred review)
 
"[An] exposé of the global economy's 'deadly dance' between slavery and environmental disaster . . . Based on extensive travels through eastern Congo's mineral mines, Bangladeshi fisheries, Ghanian gold mines, and Brazilian forests, Bales reveals the appalling truth in graphic detail. . . . Readers will be deeply disturbed to learn how the links connecting slavery, environmental issues, and modern convenience are forged."—Publishers Weekly
 
"This well-researched and vivid book studies the connection between slavery and environmental destruction, and what it will take to end both."—Shelf Awareness (starred review)

"This is a remarkable book, demonstrating once more the deep links between the ongoing degradation of the planet and the ongoing degradation of its most vulnerable people. It's a bracing reminder that a mentality that allows throwaway people also allows a throwaway earth."—Bill McKibben, author of Eaarth: Making a Life on a Tough New Planet
About the Author
Kevin Bales is the co-founder and former president of Free the Slaves, the largest abolitionist organization in the world. He has also served as a trustee of Anti-Slavery International and as a consultant to the United Nations Global Program Against Trafficking in Human Beings. He is the author of numerous reports, monographs, and scholarly books on modern slavery, including the acclaimed Disposable People. He lives in Brighton, England.
Praise For Blood and Earth: Modern Slavery, Ecocide, and the Secret to Saving the World…
"A heart-wrenching narrative . . . Weaving together interviews, history, and statistics, the author shines a light on how the poverty, chaos, wars, and government corruption create the perfect storm where slavery flourishes and environmental destruction follows. . . . A clear-eyed account of man's inhumanity to man and Earth. Read it to get informed, and then take action."—Kirkus Reviews (starred review)
 
"[An] exposé of the global economy's 'deadly dance' between slavery and environmental disaster . . . Based on extensive travels through eastern Congo's mineral mines, Bangladeshi fisheries, Ghanian gold mines, and Brazilian forests, [Kevin] Bales reveals the appalling truth in graphic detail. . . . Readers will be deeply disturbed to learn how the links connecting slavery, environmental issues, and modern convenience are forged."—Publishers Weekly
 
"This well-researched and vivid book studies the connection between slavery and environmental destruction, and what it will take to end both."—Shelf Awareness (starred review)

"This is a remarkable book, demonstrating once more the deep links between the ongoing degradation of the planet and the ongoing degradation of its most vulnerable people. It's a bracing reminder that a mentality that allows throwaway people also allows a throwaway earth."—Bill McKibben, author of Eaarth: Making a Life on a Tough New Planet
Coverage from NPR