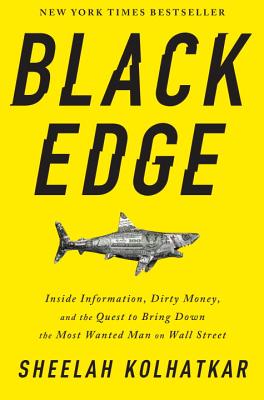 Black Edge (Hardcover)
Inside Information, Dirty Money, and the Quest to Bring Down the Most Wanted Man on Wall Street
Random House, 9780812995800, 368pp.
Publication Date: February 7, 2017
Other Editions of This Title:
Digital Audiobook (3/27/2017)
Paperback (1/23/2018)
* Individual store prices may vary.
Description
NEW YORK TIMES BESTSELLER • "An essential exposé of our times—a work that reveals the deep rot in our financial system . . . Everyone should read this book."—David Grann, author of Killers of the Flower Moon
 
ONE OF THE BEST BOOKS OF THE YEAR—The New York Times and The Economist • Finalist for the New York Public Library's Helen Bernstein Book Award for Excellence in Journalism
 
The hedge fund industry changed Wall Street. Its pioneers didn't lay railroads, build factories, or invent new technologies. Rather, they made their billions through financial speculation, by placing bets in the market that turned out to be right more often than not. In hedge fund circles, Steven A. Cohen was revered as one of the greatest traders who ever lived. But that image was shattered when his fund, SAC Capital, became the target of a seven-year government investigation. Prosecutors labeled SAC a "magnet for market cheaters" whose culture encouraged the relentless pursuit of "edge"—and even "black edge," which is inside information—and the firm was ultimately indicted and pleaded guilty to charges related to a vast insider trading scheme. Cohen, himself, however, was never charged. Black Edge is a riveting legal thriller that raises urgent questions about the power and wealth of those who sit at the pinnacle of high finance and how they have reshaped the economy.
 
Longlisted for the Andrew Carnegie Medal for Excellence in Nonfiction and the Financial Times and McKinsey Business Book of the Year Award
 
"A modern version of Moby-Dick, with wiretaps rather than harpoons."—Jennifer Senior, The New York Times
 
"If you liked James B. Stewart's Den of Thieves, Sheelah Kolhatkar's thrilling Black Edge should be next on your reading list."—The Wall Street Journal
 
"Excellent."—The Economist
 
"A true-life thriller with Shakespearian stakes . . . Her chilling account of a blighted industry is as mesmerizing as a human story as it is as a financial one."—Fortune
 
"A tour de force of groundbreaking reporting and brilliant storytelling."—Jeffrey Toobin, New York Times bestselling author of American Heiress
About the Author
Sheelah Kolhatkar, a former hedge fund analyst, is a staff writer at The New Yorker, where she writes about Wall Street, Silicon Valley, and politics, among other things. She has appeared as a speaker and commentator on business and economics issues at conferences and on broadcast outlets including CNBC, Bloomberg Television, Charlie Rose, PBS NewsHour, WNYC and NPR. Her writing has also appeared in Bloomberg Businessweek, New York, The Atlantic, The New York Times and other publications. She lives in New York City.
Praise For Black Edge: Inside Information, Dirty Money, and the Quest to Bring Down the Most Wanted Man on Wall Street…
"A modern version of Moby-Dick, with wiretaps rather than harpoons."—Jennifer Senior, The New York Times

"Excellent."—The Economist

"If you liked James B. Stewart's Den of Thieves, Sheelah Kolhatkar's thrilling Black Edge should be next on your reading list."—The Wall Street Journal

"A lot of people do not trust Wall Street. They regard it as a moneymaking machine for those who work there, which has little interest in practice in its stated aim of channeling capital into businesses and helping them to grow for the broader benefit of society. For such skeptics, Steven Cohen is Exhibit A."—John Gapper, Financial Times

"A richly reported, entertaining tale about the cat-and-mouse game between the government and Cohen."—Andrew Ross Sorkin, The New York Times Book Review

"Masterfully deconstructing a massive web of Wall Street operating, New Yorker staff writer Sheelah Kolhatkar retraces the seven-year government investigation that took down the firm—though not the man—in a true-life thriller with Shakespearian stakes. . . . Her chilling account of a blighted industry is as mesmerizing as a human story as it is as a financial one."—Fortune

"There are few financial-industry struggles as titanic as the one portrayed in these pages."—Reuters BreakingViews

"One of the best books about the 2008 financial meltdown."—The Globe and Mail

"Well-written, with pointed characterizations of the ambitious players and their motives, this book is highly recommended for readers interested in finance, crime, and politics."—Library Journal (starred review)

"A tour de force of groundbreaking reporting and brilliant storytelling, a revealing inside account of how the Feds track a high-profile target—and, just as important, an unsettling portrayal of how Wall Street works today."—Jeffrey Toobin, New York Times bestselling author of American Heiress

"Black Edge is not just a work of major importance, it is also addictively readable—and horrifyingly compelling. Sheelah Kolhatkar pulls back the curtain on the cheating, corruption, and skulduggery that underlie large swaths of the hedge fund industry and some of Wall Street's most fabled fortunes. This book is as hard to put down as it is to stomach."—Jane Mayer, New York Times bestselling author of Dark Money

"Fast-paced and filled with twists, Black Edge has the grip of a thriller. It is also an essential exposé of our times—a work that reveals the deep rot in our financial system. Everyone should read this book."—David Grann, New York Times bestselling author of The Lost City of Z

"Black Edge is a real-life thriller about the government's attempt to get the legendary trader Steve Cohen on insider trading charges—and the lengths to which he goes to elude them. Using deep reporting and top-notch storytelling, Sheelah Kolhatkar is able to shed new light on one of the least known and most fascinating characters on Wall Street."—Bethany McLean, co-author of The Smartest Guys in the Room
or
Not Currently Available for Direct Purchase