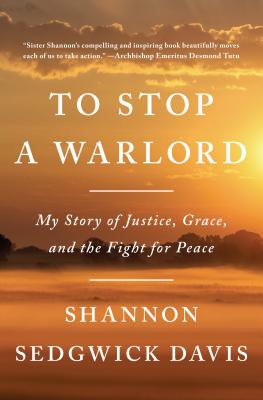 To Stop a Warlord
My Story of Justice, Grace, and the Fight for Peace
Hardcover

* Individual store prices may vary.
Other Editions of This Title:
Paperback (4/7/2020)
Description
One woman's inspiring true story of an unlikely alliance to stop the atrocities of a warlord, proving that there is no limit to what we can do, even in the face of unspeakable injustice and impossible odds

"This compelling and inspiring book beautifully moves each of us to take action to help the most vulnerable among us."—Archbishop Emeritus Desmond Tutu 

Late one night in the summer of 2010, Shannon Sedgwick Davis, a lawyer, human rights advocate, and Texas mom to two young boys, first met a Ugandan general to discuss an unconventional plan to stop Joseph Kony, a murderous warlord who'd terrorized communities in four countries across Central and East Africa. 

For twenty-five years, Kony and his Lord's Resistance Army had killed over a hundred thousand people, displaced millions, and abducted tens of thousands of children, forcing them to become child soldiers. After Sedgwick Davis met with survivors and community leaders, aid workers and lawmakers, it was clear that the current international systems were failing to protect the most vulnerable. Guided by the strength of her beliefs and convictions, Sedgwick Davis knew she had to help other parents to have the same right she had—to go to sleep each night knowing that their children were safe.

But Sedgwick Davis had no roadmap for how to stop a violent armed group. She would soon step far outside the bounds of traditional philanthropy and activism and partner her human rights organization, the Bridgeway Foundation, with a South African private military contractor and a specialized unit within the Ugandan army. The experience would bring her to question everything she had previously believed about her role as a humanitarian, about the meaning of justice, and about the very nature of good and evil.

In To Stop a Warlord, Shannon Sedgwick Davis tells the story, for the first time, of the unprecedented collaboration she helped build with the aim of finally ending Joseph Kony's war—and the unforgettable journey on an unexpected path to peace. A powerful memoir that reads like a thriller, this is a story that asks us just how hard we would fight for what we believe in.

100 percent of the author's net proceeds from this book will go to organizations seeking justice and protection for civilians in conflict zones.
Praise For To Stop a Warlord: My Story of Justice, Grace, and the Fight for Peace…
"How far would you go to stop a murderous Ugandan warlord who had turned thousands of children into soldiers? As the head of a human rights foundation, Shannon Sedgwick Davis did something unprecedented: She hired private military contractors to train an army to stop him. This is an extraordinary memoir by an extraordinary leader—it's impossible to read without feeling moved to do more to help those with less."—Adam Grant, New York Times bestselling author of Originals and Give and Take

"In this remarkable book, Shannon Sedgwick Davis proves what can be achieved when you have the courage and determination to end suffering. Her story reminds us that we have more in common than we suspect, and more power than we believe."—President Jimmy Carter

"Shannon Sedgwick Davis is a mom, a lawyer, and the leader of a powerful foundation, but most of all she is someone deeply committed to justice for all. Her captivating story takes the reader on an adventure like no other, one that challenges us to rethink how we make change in the world."—Sir Richard Branson, philanthropist and chairman of the Virgin Group

"I'd always admired Shannon Sedgwick Davis's deep compassion, relentless determination, motherly protective instinct, and steadfast courage. And then I read To Stop a Warlord, a beautifully written memoir, and smiled knowing that her story will inspire so many more to follow in her footsteps."—Blake Mycoskie, Founder and Chief Shoe Giver, TOMS

"Shannon Sedgwick Davis imagined, planned, and launched a brilliant, courageous effort that empowered local African heroes to defeat one of the world's most brutal and evil terrorist organizations. Even more stunning, she and her team helped win the peace. One of the most remarkable leaders I've ever encountered, Shannon proves what a citizen can do. Now she has shared her story in a superb book—a blend of grand vision, bold decisions, gritty operations, wrenching heartbreak, and enduring inspiration. She writes like she leads —with modesty in herself, unrelenting dedication to the mission, and hope for humanity."—Ambassador Henry A. Crumpton, former U.S. Coordinator for Counterterrorism, and author of the New York Times bestseller The Art of Intelligence

"I have met Joseph Kony face-to-face and spent years trying to convince him to peacefully surrender. As a Ugandan from the LRA-affected areas and a mother myself, I found this book truly remarkable and inspiring. It shows how we can make a change outside our backyards in a meaningful and culturally appropriate way."—Betty Bigombe, Senior Director for Fragility, Conflict, and Violence at the World Bank, Chief Mediator for the peace initiative with the Lord's Resistance Army, 1994–2005
Random House, 9780812995923, 352pp.
Publication Date: April 2, 2019
About the Author
Shannon Sedgwick Davis is the CEO of the Bridgeway Foundation, a philanthropic organization dedicated to stopping mass atrocities, and an award-winning advocate for social justice and international human rights. She previously served as the vice president of Geneva Global and director of public affairs at the International Justice Mission. She is an Advisory Council member of The Elders, the group of global statesmen founded by Nelson Mandela, and a board member of several organizations, including Humanity United and charity: water. She lives with her family in San Antonio, Texas.
or
Not Currently Available for Direct Purchase