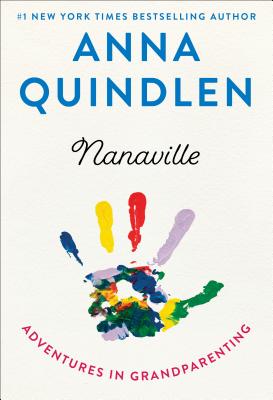 Nanaville
Adventures in Grandparenting
Hardcover

* Individual store prices may vary.
Other Editions of This Title:
Digital Audiobook (4/22/2019)
Paperback (11/10/2020)
Compact Disc (4/1/2020)
MP3 CD (4/1/2020)
Paperback, Large Print (5/14/2019)
Compact Disc (4/23/2019)
Description
NEW YORK TIMES BESTSELLER • The perfect gift for new parents and grandparents this Mother's Day: a bighearted book of wisdom, wit, and insight, celebrating the love and joy of being a grandmother, from the Pulitzer Prize–winning columnist and #1 bestselling author

"This tender book should be required reading for grandparents everywhere."—Booklist (starred review)

"I am changing his diaper, he is kicking and complaining, his exhausted father has gone to the kitchen for a glass of water, his exhausted mother is prone on the couch. He weighs little more than a large sack of flour and yet he has laid waste to the living room: swaddles on the chair, a nursing pillow on the sofa, a car seat, a stroller. No one cares about order, he is our order, we revolve around him. And as I try to get in the creases of his thighs with a wipe, I look at his, let's be honest, largely formless face and unfocused eyes and fall in love with him. Look at him and think, well, that's taken care of, I will do anything for you as long as we both shall live, world without end, amen."

Before blogs even existed, Anna Quindlen became a go-to writer on the joys and challenges of family, motherhood, and modern life, in her nationally syndicated column. Now she's taking the next step and going full nana in the pages of this lively, beautiful, and moving book about being a grandmother. Quindlen offers thoughtful and telling observations about her new role, no longer mother and decision-maker but secondary character and support to the parents of her grandson. She writes, "Where I once led, I have to learn to follow." Eventually a close friend provides words to live by: "Did they ask you?"

Candid, funny, frank, and illuminating, Quindlen's singular voice has never been sharper or warmer. With the same insights she brought to motherhood in Living Out Loud and to growing older in Lots of Candles, Plenty of Cake, this new nana uses her own experiences to illuminate those of many others.

Praise for Nanaville

"Witty and thoughtful . . . Nanaville serves up enough vivid anecdotes and fresh insights—about childhood, about parenthood, about grandparenthood and about life—to make for a gratifying read."—The New York Times

"Classic, bittersweet Quindlen . . . [Her] wonder at seeing her eldest child grow into his new role is lovely and moving. . . . The best parts of Nanaville are the charming vignettes of Quindlen's solo time with her grandson."—NPR
Praise For Nanaville: Adventures in Grandparenting…
"In Nanaville, Quindlen shares her honest and funny experiences with maneuvering through new territory as she learns the importance of stepping back, allowing Arthur's parents to take the lead and carving a new role for herself."—Time

"Grandparenting is new territory for this bestselling novelist and beloved former columnist, and as always in her warmly candid nonfiction, Quindlen voices concerns and celebrates high points with sensitivity and insight. As her life fills with unbreakable dishes, scattered Legos, and bite-sized treats, Quindlen savors a shared book, a held hand, a child's laugh, and a relationship built on mutual love and respect. This tender book should be required reading for grandparents everywhere. . . . Quindlen has established a close rapport with readers as she shares her life experiences, and her latest will thrill loyal fans and draw a new audience."—Booklist (starred review)
 
"In this wise and endearing book, former New York Times columnist Quindlen . . . addresses the subject of grandparenting, sharing her own experiences and advice. . . . The book is filled with Quindlen's playful sense of humor (if her baby daughter had wanted to sleep upside down "like a bat," she would have let her), along with thoughtful reflections on how parenting and grandparenting have changed (for instance, fathers are more involved, there's a lot more baby gear to buy, and more people are living long enough to become grandparents). This heartfelt and delightful work will especially appeal to readers already living within their own versions of Nanaville."—Publishers Weekly 
 
"A first-time grandmother discovers joy and self-knowledge in her new role. Pulitzer Prize–winning novelist, columnist, and memoirist Quindlen . . . celebrates the gift of being a grandmother: a new experience, she writes, that gives her 'a second chance, to see, to be, to understand the world, to look at it and reimagine my place in it, to feel as though I've made a mark.' Besides reporting sweet anecdotes about her toddler grandson, the author reflects on her changing relationship with her son and daughter-in-law, an inevitable shift from being central in the lives of her children to a 'peripheral place' in a new family dynamic. . . .The author was sixty-four when her grandson was born; her grandmother was forty-seven when she had her first grandchild, yet grandparents seemed so much older then: 'Our grandmothers were pre-gym, pre-Botox, pre–skinny jeans.' They never kissed, hugged, or praised; they would never have gotten down on the floor to play with their dozens of grandchildren. . . . The author imparts sensible advice with self-deprecating humor and sincere gratitude for the bounty of her life. A warmhearted memoir sure to appeal to other new grandmothers—and Quindlen's many fans."—Kirkus Reviews
Random House, 9780812996104, 176pp.
Publication Date: April 23, 2019
About the Author
Anna Quindlen is a novelist and journalist whose work has appeared on fiction, nonfiction, and self-help bestseller lists. She is the author of nine novels: Object Lessons, One True Thing, Black and Blue, Blessings, Rise and Shine, Every Last One, Still Life with Bread Crumbs, Miller's Valley, and Alternate Side. Her memoir Lots of Candles, Plenty of Cake, published in 2012, was a #1 New York Times bestseller. Her book A Short Guide to a Happy Life has sold more than a million copies. While a columnist at The New York Times she won the Pulitzer Prize and published two collections, Living Out Loud and Thinking Out Loud. Her Newsweek columns were collected in Loud and Clear.