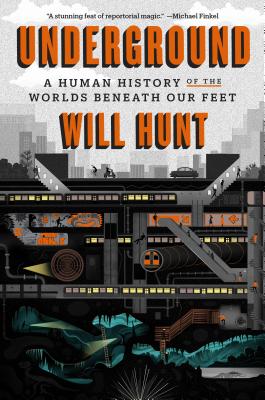 Underground
A Human History of the Worlds Beneath Our Feet
Hardcover

* Individual store prices may vary.
Other Editions of This Title:
Digital Audiobook (5/6/2020)
Digital Audiobook (1/28/2019)
Paperback (4/28/2020)
Description
"[A] winningly obsessive history of our relationship with underground places" (The Guardian), from sacred caves and derelict subway stations to nuclear bunkers and ancient underground cities—an exploration of the history, science, architecture, and mythology of the worlds beneath our feet

NAMED ONE OF THE BEST BOOKS OF THE YEAR BY NPR

When Will Hunt was sixteen years old, he discovered an abandoned tunnel that ran beneath his house in Providence, Rhode Island. His first tunnel trips inspired a lifelong fascination with exploring underground worlds, from the derelict subway stations and sewers of New York City to sacred caves, catacombs, tombs, bunkers, and ancient underground cities in more than twenty countries around the world. Underground is both a personal exploration of Hunt's obsession and a panoramic study of how we are all connected to the underground, how caves and other dark hollows have frightened and enchanted us through the ages.

In a narrative spanning continents and epochs, Hunt follows a cast of subterraneaphiles who have dedicated themselves to investigating underground worlds. He tracks the origins of life with a team of NASA microbiologists a mile beneath the Black Hills, camps out for three days with urban explorers in the catacombs and sewers of Paris, descends with an Aboriginal family into a 35,000-year-old mine in the Australian outback, and glimpses a sacred sculpture molded by Paleolithic artists in the depths of a cave in the Pyrenees.

Each adventure is woven with findings in mythology and anthropology, natural history and neuroscience, literature and philosophy. In elegant and graceful prose, Hunt cures us of our "surface chauvinism," opening our eyes to the planet's hidden dimension. He reveals how the subterranean landscape gave shape to our most basic beliefs and guided how we think about ourselves as humans. At bottom, Underground is a meditation on the allure of darkness, the power of mystery, and our eternal desire to connect with what we cannot see.

Praise for Underground

"A mesmerizingly fascinating tale . . . I could not stop reading this beautifully written book."—Michael Finkel, author of The Stranger in the Woods

"Few books have blown my mind so totally, and so often. In Will Hunt's nimble hands, excursion becomes inversion, and the darkness turns luminous. There are echoes of Sebald, Calvino, and Herzog in his elegant and enigmatic voice, but also real warmth and humor. . . . An intrepid—but far from fearless—journey, both theoretically and terrestrially."—Robert Moor, New York Times bestselling author of On Trails
Praise For Underground: A Human History of the Worlds Beneath Our Feet…
"Provocative and satisfying . . . Will Hunt taps into our deep fascination with what lies beneath the surface of things by exploring, quite literally, what's going on beneath the surface. . . . By the end of your excursion through Underground . . . you may never look at a hole in the ground in quite the same way again."—The New York Times Book Review

"Dynamic and engaging . . . [Hunt's] clear excitement about this information is contagious. . . . Underground is a thoughtful, inquisitive book. Hunt approaches the subject with an unusual dedication and open-mindedness that is difficult to resist. . . . These traits, alongside the striking photography that appears throughout the book, makes Hunt's debut an admirable and successful one."—NPR

"As Hunt's journey progresses, you get the sense these forays are about more than just an adrenaline rush. What Hunt is really chasing, through the muck and darkness and stench and clammy cold, is a story of shared humanity."—Vice

"It's Hunt's deeply personal connection to [the underground] that enlivens this endlessly fascinating book."—The Toronto Star

"Unclassifiably brilliant."—Nature

"Caves, catacombs, and tunnels come alive in this unusual guide to the surprising marvels and mysteries below us. . . . Hunt, who was first drawn underground as a curious child, finds plenty to appreciate, including ancient and modern artworks, signs of life's beginnings on earth, and a sense of the transcendent."—The Christian Science Monitor

"An unusual and intriguing travel book . . . Without belaboring the point, Hunt alludes to conjecture that all of life might have started underground, that it retains a revelatory diversity, and that the level below the Earth could be a womb as well as a tomb. Ultimately, he compellingly examines 'how much of our existence remains in mystery, how much of reality continues to elude us, and how much deeper our world runs beyond what we know.' A vivid illumination of the dark and an effective evocation of its profound mystery."—Kirkus Reviews (starred review)

"A fascinating journey that transcends culture and time, linking modern and ancient practices to create a colorful mosaic. . . . [Hunt's] excitement at traveling beneath the earth is infectious . . . a lively, informative read that nicely balances adventure with anthropology and science."—Shelf Awareness

"A thoughtful and often romantic examination of humanity's relationship to underground spaces. . . . This is no travel guide, but a historical and philosophical examination the dual nature of what's beneath us: since the birth of civilization, the underground has been a subject of fascination and fear, a symbol of birth and of death, of deprivation and of abundance, for the humans who walk above it. It remains a mystery, but this book brings us a little closer to illuminating the darkness."—Lit Hub
Random House, 9780812996746, 288pp.
Publication Date: January 29, 2019
About the Author
Will Hunt's writing, photography, and audio storytelling have appeared in The Economist, The Paris Review Daily, Discover, The Atavist Magazine, and Outside, among other places. A recipient of grants and fellowships from the Thomas J. Watson Foundation, the New York Foundation for the Arts, the Bread Loaf Writers' Conference, and the MacDowell Colony, he is currently a visiting scholar at the NYU Institute for Public Knowledge. Underground is his first book.
Coverage from NPR
or
Not Currently Available for Direct Purchase